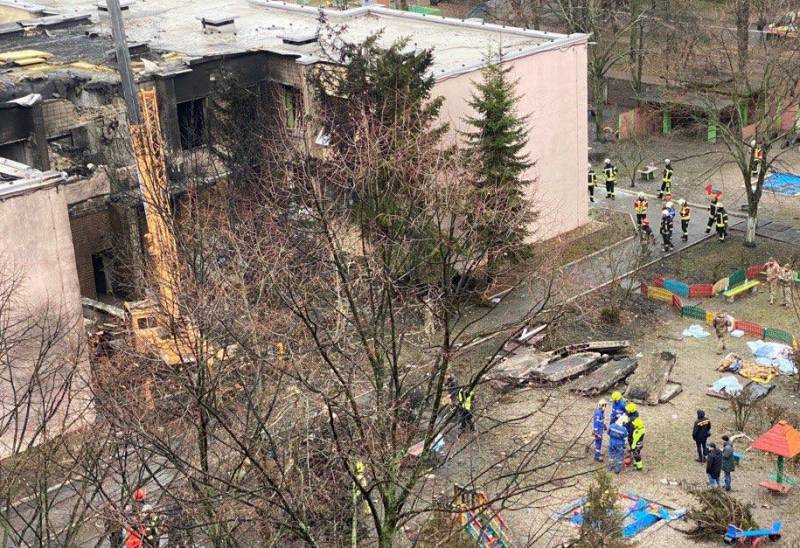 A few hours later at the crash site
Information appears in Ukrainian sources about the appearance of some new data related to the plane crash, in which the entire top of the Ministry of Internal Affairs of Ukraine died the day before in Brovary. Recall that among the dead as a result of a helicopter crash in the Kyiv region are Interior Minister Denis Monastyrsky and his first deputy Yevgeny Enin.
According to emerging information, in Kyiv they are inclined to the version that the crash of the Eurocopter Super Puma helicopter was not a tragic accident. Ukrainian officials on social networks, without any clear details, publish notes that the death of the top leadership of the Ministry of Internal Affairs could have been a planned action. Moreover, who carried out this "planned action" is not reported, however, it is said that the president's office will carry out "large-scale personnel changes and layoffs." It is added that they will also affect individual officials of regional administrations.
On the eve of Kyiv, it was announced that the sabotage trail is being considered as one of the versions of the plane crash in Brovary. This version began to be actively exaggerated after a survey of eyewitnesses of the incident. They stated that the helicopter caught fire in the air, after which it began to literally crumble into pieces. In this regard, Kyiv is also considering the version with an explosion on board as one of the versions of what happened, making it clear that the explosion could not have been accidental.
Denis Monastyrsky in Ukraine was positioned as a man of the "Zelensky team". Therefore, if the information about the possible targeted liquidation of the head of the Ministry of Internal Affairs is confirmed, then this incident can be considered a signal to the head of the Kyiv regime himself.
List of those who were on board the helicopter that crashed in the Kyiv region:
Interior Minister Denis Monastyrsky, First Deputy Minister Yevgeny Yenin, State Secretary of the Interior Ministry Yury Lubkovich, Assistant to the Interior Minister Tatyana Shutyak, Interior Minister's security chief Mikhail Pavlushko, photographer Nikolai Anatsky and crew members: Alexander Vasilenko, Konstantin Kovalenko and Ivan Kasyanov.