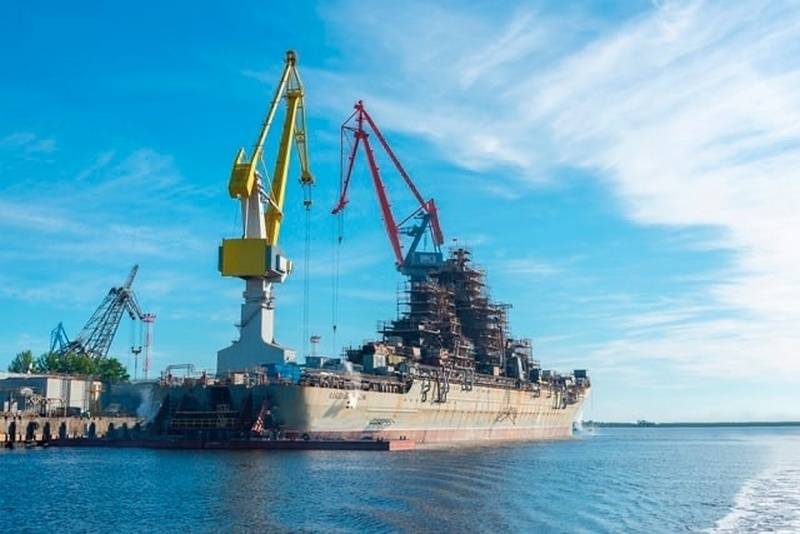 At Sevmash, where the major overhaul and modernization of the Admiral Nakhimov TARKR is underway, plans have been confirmed to bring the cruiser to trials this year. This was reported by the press service of the enterprise.
Work on the ship is proceeding according to the schedule agreed with the Ministry of Defense, at the moment, shipbuilders have begun one of the most important stages - receiving power and loading fuel. Although the company does not provide details, it can be argued that fuel is being loaded into a nuclear reactor, which means that the work is nearing completion. The cruiser was put in for repair back in 1999, but hands reached it only in 2013. In preparation for the repair, the old fuel was unloaded from the reactor.
Speaking about plans to repair the Admiral Nakhimov, Mikhail Budnichenko, general director of Sevmash, said that all systems, equipment and complexes were installed over the past year, this year it is necessary to prepare premises for settling in the crew and bring the ship to the testing stage.
In 2023, shipbuilders of Sevmash should form and finish the cabins and cockpits for the crew to move in and enter a new stage - testing the ship
- he stressed.
Earlier it was reported that the Ministry of Defense approved the schedule for preparing the cruiser for testing.
The cruiser "Admiral Nakhimov" of project 1144 "Orlan" was laid down on May 17, 1983 under the name "Kalinin". April 25, 1986 launched, December 30, 1988 became part of the Soviet Navy. April 22, 1992 renamed "Admiral Nakhimov". It is one of four Project 1144 Orlan heavy nuclear cruisers.