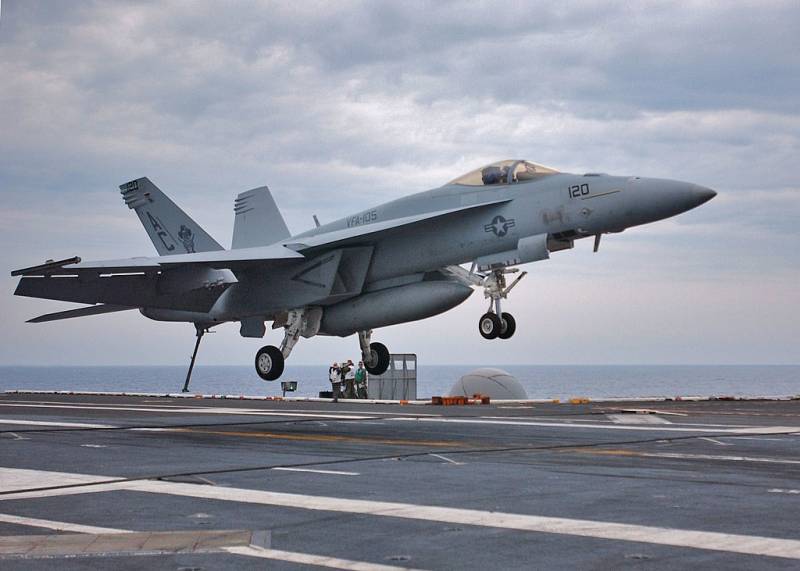 US Navy specialists repaired a jet engine of a marine aircraft
aviation
F/A-18E Super Hornet aboard the USS George HW Bush deployed at sea. The command of the Navy believes that the repair not only made it possible to quickly return the aircraft to service, but also confirmed the very possibility of carrying out such work at sea, while the aircraft carrier was sailing.
Recall that the aircraft carrier USS George HW Bush has been in the waters of the Adriatic Sea since August 2022. It performs a number of tasks assigned to it by the US European Command. A Naval Aircraft Super Hornet assigned to 136 Squadron suffered engine damage while flying on 31 August 2022.
Previously, with such damage, aircraft were removed from the board and delivered to the shore for repair work. But after examining the fighter, the commanders decided to carry out repairs on board the aircraft carrier. Since it was the first time this type of work had been carried out at sea, considerable planning time was required. But everything went well.
The necessary parts, tools were delivered to the aircraft carrier, specialists arrived. As a result, the work took 33 days and was handed over on January 9, 2023. As Captain Thomas Bodin, commander of the air wing, noted, this repair will also allow in the future to start repairing aircraft directly on the sides of aircraft carriers, which will significantly reduce various repair costs.
Our ability to maintain and repair our aircraft while the ship is sailing is a critical competency for combat operations.
- said the officer of the US Naval Aviation.
The US Navy has now demonstrated that it is not necessary to transport aircraft to shore for repairs. This significantly saves time and money, allows you to more quickly carry out quick repairs of aircraft.