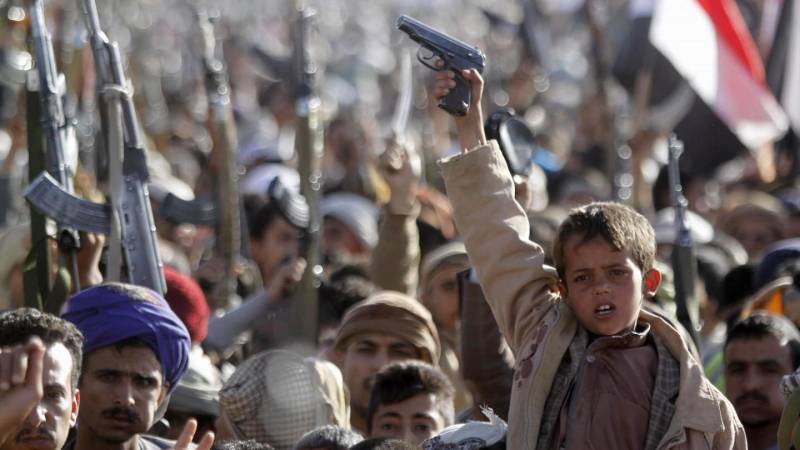 Growing up to be a killer...
"Anxious people can be good and evil.
If there are many restless and kind people in the world,
will be good".
J. Korczak "King Matt on a desert island"
History and culture.
Although on Earth since 1945, fortunately, there has not been a large-scale war, local wars have been fought repeatedly. In them, in the same way, although in smaller quantities, people died, material values ​​\uXNUMXb\uXNUMXbwere destroyed. But for what?
What are the goals of this action? It seems that at first glance, all wars and at all times have the same goals. But modern science today allows us to doubt this.
What is transmitted and what is not?
Moreover, only one can name the causes of armed conflicts today, although in fact they are based on something completely opposite! That is, not at all what it seemed to be at the very first glance!
Recall that one of the important provisions of such a science as cultural studies is the assertion that culture is not transmitted to descendants through the marriage of parents, that is, it is not genetically inherited. And it seems to have been proven time and time again.
There is a legend (or it is not a legend at all) that a certain king (I think it was some Indian Maharaja) wished to know which of the human languages ​​is the most ancient. He locked babies of different nationalities in the "male sex" tower and assigned deaf-and-dumb ministers to follow them. The children grew up, and then he ordered them to be brought to the palace and began to ask questions, hoping in this way to find out what language they would speak, because that language would then be the most ancient, and already from it, as he believed, the Maharaja, all the rest descended. But the children remained silent in response to his questions. They did not know how to speak at all, that is, the skills of articulate speech were not genetically transmitted to them.
An example is also known with two Indian girls raised by wolves. The eldest of them eventually died, unable to adapt to life in human society. The other, even at the age of 17, behaved like a seven-year-old child, and she never rose higher in her development. True, they still managed to teach her to wear clothes, eat not with her hands, but with a spoon and from a plate, and even talk a little.
At the same time, there are many examples when children who never met their parents behaved exactly the same as if they had lived next to them for many years. At the household level, we keep saying: "He is an exact copy of his father!", Although dad does not live with his son from the very moment of his birth. "She is all in her mother!" But how could it be, because her mother died in childbirth, and the girl never saw her, except perhaps in a photograph. However, she holds the fork in her hand exactly like her, and her habits are exactly the same. So something is still being transmitted, isn't it? Abilities are certainly transmitted, character traits are inherited, and quite a lot more ...
Consequences of the liberty of the nobility
But does it affect the life of human society? It turns out that it does, and how! And it has been for a very long time.
But we will not climb into the time of the ona, but why not start from the XNUMXth century?
And remember that on February 18, 1762, Peter III signed a very important document - the decree "On the Liberty of the Nobility." In accordance with it, the nobles could no longer serve in the army or in other state institutions, but freely live on their estates and not know grief!
Catherine II in 1785 confirmed this decree of her murdered husband, as a result of which many nobles moved to live in their estates and began to personally supervise their serfs. Well, it is clear that they did what they liked. Someone by hunting, someone by breeding horses and dogs, and someone from an excess of womanly love simply spoiled the peasant girls and rejoiced. And very soon the landlords noticed a seemingly banal thing: that purebred dogs have purebred puppies, and mongrel dogs have mongrel ones. Actually, this was known before, but now all this same thing was happening right before their eyes, that is, the landowners. And not only with horses and dogs, but also with people!
Because there were serfs of "exemplary behavior" who did not cause them any trouble? Were! And among the peasants there were also "presumptuous brawlers" and ... The landowners successfully got rid of the latter - they handed them over to the soldiers, and that was the end of it! Well, those who "at least eat with porridge, at least butter from them," they prudently married exactly the same stupid and complaisant girls, they say, "look at how she is: a good girl, full."
And this is what happened: in conditions when intellectual selection in society ceased to operate for several millennia (and it operated in conditions of tribal relations before the appearance of the first cities), stupid, but complaisant, and smart and restless (in in all respects, as King Matt correctly noted) ended up in the army. There, the chances of reproducing and passing on their genes to their offspring were minimal. But even their children still fell into the category of cantonists and replenished the entire same army of the Russian Empire!
So the victories of such generals as Rumyantsev, Suvorov and Kutuzov should not be particularly surprising. It's just that they had, one might say, excellent human material at hand from quick-witted and brave soldiers, who, without exaggeration, represented the elite of the Russian nation! But in the villages the most slow-witted and stupid men remained, so progress in the Russian countryside went at such a snail's pace.
Although ... there were exceptions. Even two parents of Downs happen to have normal children. Everything can be: "it happens that a girl's husband dies, but a widow lives."
Although not only Russian emperors were noted for experiments in the field of genetics. When the Prussian emperor Frederick II desired to have an army of tall soldiers, without thinking much, he ordered the adoption of a new inheritance law, according to which all the property of the late father was transferred without exception to the very ... undersized son! And - he really received an army of tall men, but at the same time - since they died in masses and did not multiply, in the most serious way he lowered the average growth of the German nation for whole centuries to come!
For a long time, Germany, in terms of the average height of men, occupied one of the last places in Europe and pulled up to 187-190 cm only in recent decades. Moreover, the increase in average height coincided with the first mass migration of Turkish men from Turkey to this country. That is, the migrants brought "fresh blood" with them, and the consequences of Frederick's ambitions gradually leveled off.
"The grenadiers are strong men, the grenadiers have a mustache, and they are tall!"
Napoleon Bonaparte - himself short, ordered to recruit people no lower than 180 cm into his guard. Then the whole mass of "six-foot people" died in the Battle of Waterloo to the cries of "The Guard is dying, but not surrendering." And, as a result of the Napoleonic Wars, tall men in France became a rarity.
But the Europeans still did not remain quite short. The fact is that the victorious Russian army entered Paris! And among them were ... Cossacks! Who directly "telesh" bathed in the Seine and ... There was something to see for French women who were hungry for male power. And yes, we had officers. So the women began to ... "welcome" them, which resulted in mass desertion!
There are different points of view on how many soldiers escaped from the Russian army then. The figure is called, and quite real - 4 thousand, and completely unrealistic - 40. It is impossible to check today which one is more accurate. But there are decrees of Emperor Alexander I on the forgiveness of deserters, and for some reason they acted for a very long time. And since special laws were even adopted, this suggests that this phenomenon was of a rather massive character.
In any case, the average height of the French leveled off quickly. At the same time, Russian genes were added to them, so they are also in front of us in the "genetic debt".
Hitler in "Mein Kampf" began to blame the French for incest with Annamites (Vietnamese) and Africans. And was he really wrong, it is very difficult to say, in any case, the type of a real Frenchwoman - that is, with white skin, blue eyes and golden hair - remained only where? In the fairy tales of Charles Perrault and in the novels of Emile Zola.
The United States has also experimented a lot with the human race. So, on May 20, 1862, the so-called Homestead Act was adopted there, granting land to all comers, and above all to the soldiers of the army of the North. Upon learning of this, a huge mass of people left Europe for America. Mostly enterprising, adventurous by nature. And by the way, it's very good that there
weapon
sold freely, so many of them or each other were simply shot in skirmishes in the saloons, or they were killed by the Indians.
Here the United States began to develop faster than all other states. And all because all the most active and enterprising people were drawn there like a magnet, while the tolerants, on the contrary, continued to sit in their national apartments.
However, let's turn again to Russia. The First World War, then the revolution, then the Civil War in the most tragic way changed both our society and its entire genetic component. "Purebred" representatives of noble families were either killed or emigrated. But those same patients who could "even eat with porridge, even churn butter" saw their chance in this, climbed up, and then it turned out what happened, for as much as 74 years.
People listened to beautiful words, but they did not understand what was happening around. Well, during the Great Patriotic War, again, the best among our male population died - the most responsible, most courageous, decisive and deeply decent. But it was just completely different who survived - careerists and opportunists, although, of course, not only they. But there were more of them than before, they passed on their genes to their children, those to theirs, and away we go!
Genetics of patriarchal relations...
By the way, the time has come to explain the absence of the genes of the Mongol-Tatar conquerors of Rus' in the blood of the Russian people - an example so often cited by individual "experts" in VO to confirm the alleged absence of the "yoke".
And it is not necessary to approach the life of the patriarchal society of that time with the standards of today. Then a woman who became a victim of violence from the side of the "nasty" (otherwise they were not called otherwise in Rus'!), who, in addition to everything else, "suffered", was declared outlawed, and the best thing she could think of was to drown herself! It was also possible to "throw off the fruit", although the stigma of "spoiled" remained on it. Well, if by some miracle a child was born, then ... outwardly, it was so much different from the Slavic type familiar to everyone that they didn't even consider him a person, but they called him "a filthy offspring", and ... for legs and about the corner of the hut. This is the end of all genes!
By the way, no matter how terrible it is to realize, but just like that - wars always kill two birds with one stone: political and economic tasks are solved and, in addition, human society also gets rid of potentially dangerous members of society. Preventing everyone else from living in peace.
And if so, then in the future this practice will undoubtedly be continued, although it is disguised by various "beautiful" words. Therefore, we should expect the emergence of not only new viruses, but also inspired movements of a messianic nature, the purpose of which is to gather under their banners "people restless, but evil."
Then, destructive ideas will be introduced into this movement so that force can be applied to them, with their subsequent total destruction. In fact, it will be a kind of ancient Greek "ostracism", but not at the social, but at the genetic level. That is, in the future, humanity will not allow people whose genes provoke people to antisocial behavior to multiply.
Find, nurture, and... destroy!
The example of ISIS (banned in the Russian Federation) in this case is very indicative. Why do they stand on ceremony with him for so long, do Russia and NATO really have no means to do away with him once and for all? And this is exactly what is not needed. We need a vacuum cleaner (or a magnet) that will attract all those whom official Islam gets in their throats in order to legally ... prevent them from multiplying!
And it will be so until... humanity can find a more humane and civilized way, how to "sell such people to the side." For example, they can be sent to colonize the Moon and Mars, study asteroids, and maybe even build someday a huge "star ark", gather them all together and send them to explore some suitable planet near Tau Ceti or Epsilon Eridani!