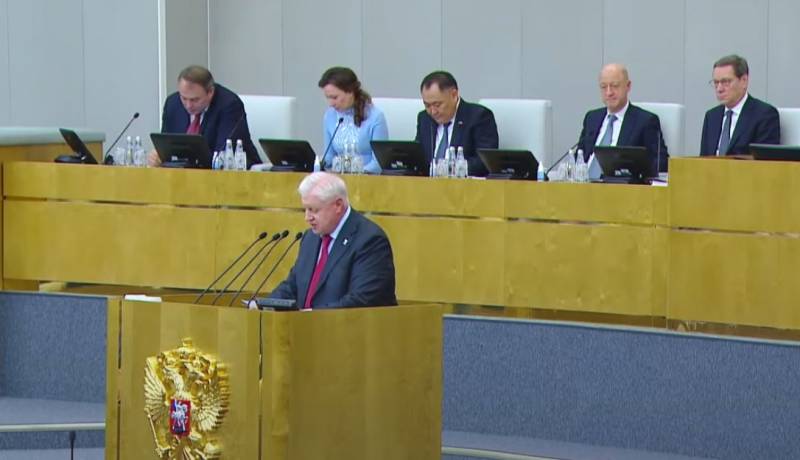 The lower house of the Russian parliament named one of the main goals of the special military operation in Ukraine. According to deputy Sergei Mironov, in order for the NVO to achieve its goals, it is necessary to liquidate the Kyiv regime headed by Vladimir Zelensky.
Mironov noted that the Kyiv authorities are not fighting for the independence of Ukraine, but for the interests and values ​​of their Western patrons.
The tasks set by the President of Russia (for the NVO) will not be fulfilled without the elimination of the Zelensky regime. I am absolutely convinced of this
- said Mironov, speaking about the need to eliminate the "regime" of Vladimir Zelensky in Kyiv.
Recall that the President of Ukraine Volodymyr Zelensky took this post in May 2019 as a result of the victory over the then President Petro Poroshenko. Against the backdrop of the Ukrainian conflict, the West has made him almost an icon for democracy. Zelensky's PR is carried out by the largest Western media alliances, agencies, media and politicians.
Last fall, Vladimir Zelensky presented conditions for the start of negotiations that Moscow would never agree to. So, Russia must leave all the territories that belonged to Ukraine at the time of the collapse of the USSR, including Crimea; compensate for the damage caused by military actions; punish criminals and fulfill a number of other requirements of Kyiv.
It is obvious that with such a position of Zelensky, Moscow has no other choice but to change him and his entourage.
Sergey Mironov:
Western countries are trying to divide Russia like a broom, into twigs, break them one by one, and then kindle with them the fading fire of their civilization.