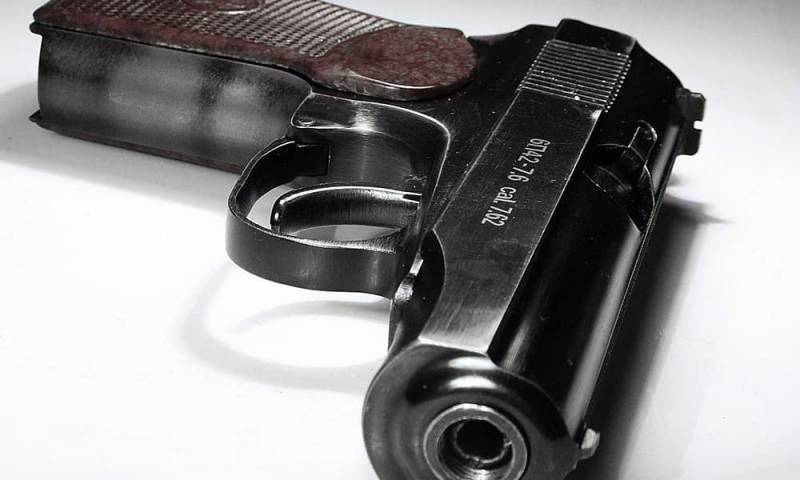 The topic of legalizing the short barrel again surfaced on the network. And to the traditional arguments of the supporters of this movement, the rather painful topic of the mobile reserve has been added today. A person who legally owns a pistol is better prepared for combat than one who does not have this pistol! I wonder why?
The one who served in a normal army is better prepared, who is taught to work with those types of weapons that are assigned to him in military specialty. The one who, after the service, periodically underwent retraining in the military unit where, in the event of a mobilization announcement, he will have to serve.
Personally, I know cases when soldiers and sergeants, after the announcement of mobilization, themselves wrote to the commanders of the military units in which they served, so that they would be called up in their unit. But these are the ones who have recently retired. Those who are still remembered by the commanders.
We are already traditionally frightened by rampant crime, where
weapon
exists without legalization. An interesting argument is made. The perpetrator will know that the victim may have a gun in his pocket and will not attack. Have you seen enough films about all sorts of supermen? You have a gun in a holster, and the criminal has it in his hand. And he has nothing to lose.
I understand the reasons why this question is raised. And why it was raised by those who are most active on the network today, who are read and who are deservedly respected as a source of truthful information about the war. I even understand one of the main arguments of legalization supporters.
"In the republics, possession of weapons up to 12,7 mm is allowed and nothing. Crime hasn't gone up."
In the conditions of life in the front line, in fact, on the line of contact, this would be the right decision indeed. The armament of the people, actually ready-made people's militia in case of a sudden attack by the enemy. What about crime? On the other hand, they are not fools either, the criminals are well aware that no one will especially re-educate them. And to persuade to surrender too.
To be honest, as a person who for some time was very close to a pistol, who actually shared a pillow with him, I do not understand such a desire to have a weapon at home. Any person who has had to deal with a weapon due to official necessity knows perfectly well that a gun creates more problems than it really protects.
Any shot will cost you so many nerves that the second time you think to shoot or not to shoot. Even if you act strictly according to the law. How many people suffered for the notorious "excess"?.. The law is good, but any law is interpreted by a person. Alas, it is.
Why am I against "arming the people"?
I'll start with a simple, but for some reason little-covered question - why is a personal weapon needed at all? The question is banal. For protection! .. It's clear. Each of us is attacked in some way every day. Someone's phone was taken away, someone was sweared at in line at the supermarket checkout, someone looked at someone the wrong way, someone was cut off by a reckless driver on the road ...
And then my wife passed out in the morning. The dunce son again dragged the deuces from school. The chief-satrap warmed up for the unfulfilled work. The battery in the car was discharged when it was necessary to urgently go. The traffic cop is waving his stick. Yes, and a concussion, once received in a hot spot, affects. I am a normal person and I react quite adequately to all attacks, but in this case ...
And this is where the biggest danger lies. A man without a weapon and a man with a weapon are completely different people. How many neighbors in your high-rise building do you know? Units! Can you easily resolve conflict with words? Ordinary human language?
Silly questions? But these are very serious questions. He took out a gun, and your opponent immediately agreed with your arguments. Or shot back. The responsibility of a "man with a gun" in a normal civilian life is an order of magnitude higher than that of a person without this same gun.
I remembered a recent video of a soldier's attempt to capture the enemy. Quite justified during the war episode. Or you, or you. He offered to surrender, they tried to deceive and turn their guns on you. The answer is destruction. Correctly during the war, but during the world? In a peaceful environment.
Once upon a time, back in the days of the USSR, we had a new "weapon" - martial arts. The generation of "survival time" remembers this very well, the rest of the militants of the late XX century to help. Then there was no coach who would not start training with the fact that karate is, first of all, a way of protection. But in life, everything turned out to be the opposite. The short barrel is exactly the same weapon.
Alas, our society is not ready to legalize weapons. What is legally in the hands of the population today is quite enough for protection and other things. We talk a lot about education, about ideology, about some kind of training of the mob staff. And we all agree that we have seams with this in our country. And full. And in the case of the legalization of the short barrel, all of a sudden, everything will be all right with us! ..
One more thing. From films about American cops. Think about the actions of our police officers in the event that the wearing of short barrels is allowed. No matter how cynical it sounds, but I fully admit the execution of detainees simply because of the possibility of using pistols against employees.
Not so climbed for documents and received a bullet from an employee. And it's legal. The employee in this case is a representative of the government. And he is not obliged to deal with the fact that the criminal is going to shoot at him or a law-abiding citizen took out a gun to give to an employee. He has one life, family, children and everything else is present in the same way as other men and women.
This is probably why I believe that the legalization of short barrels is not a solution to the problem, but, on the contrary, an aggravation of this problem. Precisely due to the fact that our society has not yet matured for this. How many corpses do we have "on account" of premium weapons? How many hunters die every year at the opening of the hunt? Units, you say? Yes, the numbers are shocking. But these are trained and repeatedly verified owners of officially registered weapons!
Preparation of a mobile reserve or another nonsense of those who want to have a gun
A beautiful picture of how trained, understand - having rifled weapons for personal use, men in a short time pour in from units and subunits and already trained go to the front line, caresses the heart of a simple layman. No need to bother too much with the retraining of the mobilized.
So what if the "new old" learned to work with AKM or AK-74. He will also be given an AK machine gun, only the number will be different - 12 or 15. He is a machine gun. FROM
a tank
is the same
история
. T-62 or T-90? Well, the tank, which means the "new old" with a personal PM, will be able to fight on it as well. Well, those who had carbines as personal weapons, generally ready-made snipers: what to shoot at a boar, what at the enemy, what's the difference?
Of course, I'm exaggerating, but the talk about the fact that shooting from a pistol once a year in a shooting range and readiness for mobilization is being taken quite seriously. They are trying to convince me that everyone who likes how "the gun warms the thigh" is better fighters than those who do without weapons in civilian life. They even try to convince me that a man without a weapon is like a defective man. Here is a quote from the Telegram channel:
"A weapon is, first of all, masculine strength and masculine confidence. It is not necessary to use weapons, and most importantly, the very fact of their availability in order to protect their rights. That's what gives confidence."
I wonder if the person with whom you have a conflict also thinks so? If so, and I'm sure of it just because his gun is also legal, then what happens next - after the demonstration of short barrels? Will we continue to "defend" or hide the trunks and disperse in peace?
I found the answer, by the way, from the same author in the Telegram. Think about the author's logic:
"By the way, showdowns on the roads with the use of one of the sides of the injury are not about the perniciousness of owning weapons, but about the fact that there are few of them, and the chance, having taken out a weapon, not to meet a weapon on the other side is very high. If there were more weapons on hand, there would be fewer such cases."
But back to mobreserve.
Do not mix sweet and cold. Do we want to live in the same conditions as the front-line Donbass? So let's introduce the same system as in Switzerland, for example. From the age of 18 the opportunity to buy a gun. He served in the army as a machine gunner - the opportunity to have a machine gun at home, as a grenade launcher - a grenade launcher, etc.
Beautifully so, one of the most armed countries in the world - eternally neutral Switzerland! 2,5 million trunks per 8 million population. All men who are fit for military service for health reasons are required to own weapons and be able to use them. This is part of the patriotic education of the nation. Do we just need it?
There are other data as well. It is Switzerland that has one of the highest rates of crimes involving firearms! It is in Switzerland that one of the world's highest rates of suicides with the use of firearms. It is Switzerland that, in terms of the level of depression of the population, ranks second (after Norway) in Europe.
There was and remains only one way to increase the quality of mobile reserves. Qualitative, from the point of view of education and training, military service and periodic, high-quality retraining at least up to 40 years. Once every three or four years for a couple of months in a unit and master new equipment and weapons or restore skills in working with known equipment.
Is it even possible to allow the sale of a short barrel?
Now I will write something unexpected for those who have already understood my position. Yes, the sale of handguns can be allowed after a fairly short time. To do this, it is necessary to change the legal framework. First of all, you need to clearly define the key concepts. Such as self-defense, for example.
Further, it is necessary to clearly separate hunting, sporting and military weapons. Is the rifled carbine of a hunter-fisherman a hunting weapon or a combat one? And the biathlete's rifle? Many questions, for example, are raised by pumps. Is it a combat or hunting weapon?
I stopped hunting for a couple of years. There comes a time when you have to say goodbye to your favorite hobby. Now I'm leaving as soon as possible to shoot at plastic bottles, breathe in the smell of gunpowder, feel the atmosphere of the hunt. And this is where the seditious thought comes to mind about why there are so few boys next to seasoned hunters.
I first shot with a single barrel at the age of 12. And I started hunting on my own at the age of 14. Under the supervision of my father, but I felt like a shooter. I am sure that it was hunting that brought up in me respect and love for weapons. I was not afraid of weapons. Why not allow boys from 14-15 years old to use hunting shotguns under the supervision of adults today?
Further. It is necessary to revive shooting galleries in schools and colleges. In grades 9-10, I shot small things almost once every two weeks. The NVP lessons were paired, so we shot a lot. For most, this was enough.
So, access to sporting and hunting weapons needs to be softened. This will give the population the necessary skills in shooting training, but with a short barrel, serious restrictions must be introduced. In order for a person to be able to obtain the right to purchase and store (note - store, but not concealed carry), it is necessary to undergo a medical, including psychological, examination.
In addition, it is necessary to organize special courses on the study of weapons and the procedure for their use with the issuance of a license for storage. Moreover, the passage of such courses should be annual with the renewal of the license. Including knowledge of laws and other documents related to the storage of weapons.
Well, for concealed carry. Everything is quite simple here. A concealed carry license can be obtained by completing special courses. By type of bodyguard or private security courses. At the same time, the punishment for the illegal use of weapons should be as tough as possible.
We summarize
I understand that the issue of legalizing short barrels will periodically arise in the future. There have always been and will be people who, by hook or by crook, will want to have something for their personal use that, in their opinion, will distinguish them from the general mass of people, which will make them exclusive, privileged.
Having a weapon, being able to use it to achieve your goals, controlling other people in the end is one of the easiest ways to achieve such superiority. Weapons as a way to be slightly above the rest. But at the same time, they will constantly talk about the fact that it is the weapons in their hands that make the world safe.
It is useless for these people to say that any weapon is intended for forceful influence on another person, up to and including murder. There are no weapons for self-defense. It all depends on who is using it and for what. Even the weapons that are created for sports competitions and hunting kill! The most terrible weapon of all time, as many people know, is an ordinary kitchen knife.
There will come a time when we can safely buy pistols or rifles in the store, but for this we must change. To do this, laws must change. To do this, society itself must change.
In the meantime, provided that at least part of what I suggested above is fulfilled, it is possible to allow the purchase and storage of a short barrel. No more. Allow with the understanding that such a decision will cost the lives of a certain number of people ...