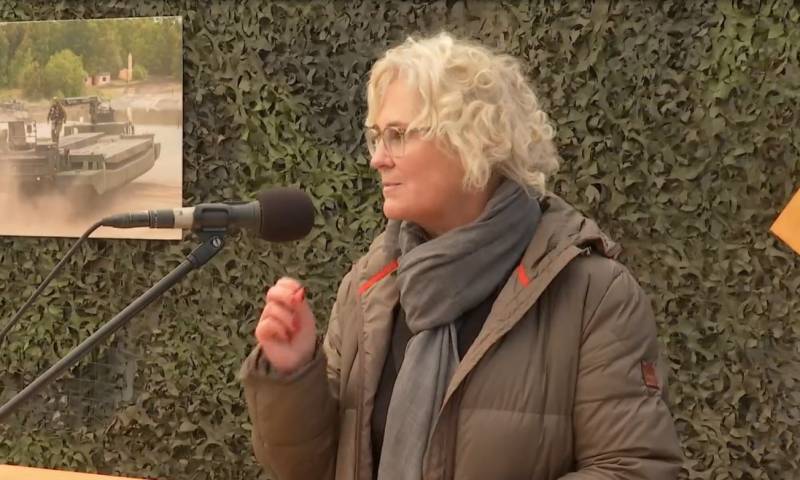 Germany is once again left without a defense minister, and Christina Lambrecht, who has recently held this post, has resigned. This is stated in a press release on the website of the Bundeswehr.
The head of the German military department, Lambrecht, filed a petition to remove her from the post of Minister of Defense in the name of Chancellor Olaf Scholz. The reasons for resigning in the Ministry of Defense of Germany are not disclosed, but Lambrecht herself claims that the excessive attention of the press to her person does not allow her to deal with issues of the army and security of Germany with due attention.
Today I asked the Federal Chancellor to resign from my post as Minister of Defense. The media focus on me that lasts for months makes it almost impossible to cover and discuss the situation of the soldiers, the Bundeswehr and the course of security policy in the interests of German citizens.
- she said.
In general, the Germans have had no luck with defense ministers lately. First, von der Leyen destroyed the remnants of the Bundeswehr and, with a sense of accomplishment, moved to the leadership of the European Union, then Lambrecht broke down what her predecessor could not destroy. Putting a person who understands nothing about this in charge of the Ministry of Defense is now a fashionable trend in Europe. Prior to her appointment as Minister of Defense, Lambrecht, a lawyer by training, was the Minister of Justice and Consumer Protection of Germany, as well as the Minister for Families, Senior Citizens, Women and Youth.
Recently, she has been repeatedly criticized and called an "amateur", including by the military themselves, for the inept leadership of the Bundeswehr, the fall in the state's defense capability, including due to the depletion of stockpiles of weapons sent to Ukraine. For a year in this post, she was never able to establish the normal work of the German Ministry of Defense.