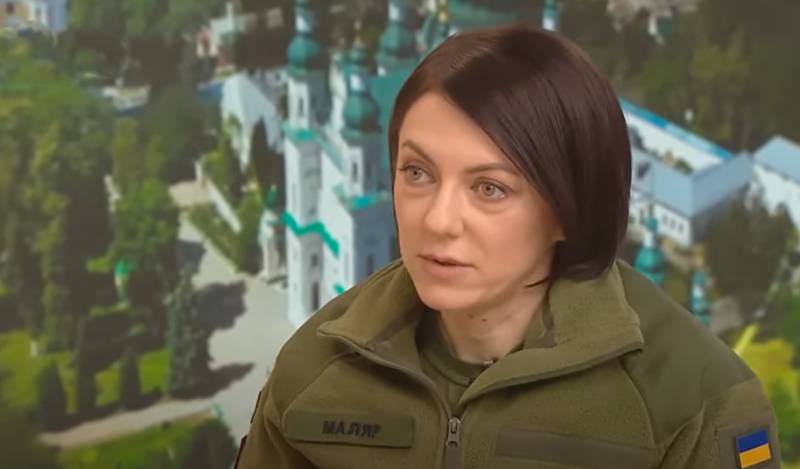 In Ukraine, a real scandal is flaring up around the reports of the Ukrainian military about the surrender of Soledar. Recall that the day before, a Ukrainian soldier with the call sign "Magyar" published a note where he said that the Armed Forces of Ukraine had lost control over mine No. 7, after which the front went beyond the city limits. Translated into an accessible language, this means that the Armed Forces of Ukraine have completely lost control over Soledar. The loss of Soledar was also confirmed by other Ukrainian soldiers who managed to get out of the city alive in a westerly direction.
Anna Malyar, who is in the position of Deputy Minister of Defense, reacted harshly to these statements by the Ukrainian military.
According to the official of the military department, now it is necessary to talk about the applicability in Ukraine of the law on the disclosure of information on the movement of Ukrainian troops.
Anna Malyar:
Such disclosure provides for criminal liability, criminal prosecution, since only the General Staff and other official sources have the right to disclose this data.
Thus, the Deputy Minister of Defense actually calls on Ukrainians to believe not those who were directly in Soledar and fought there, but Ukrainian officials who are hundreds of kilometers away from the front line.
Painter:
In simple terms, I will say: there are still fights going on. Everything else is unverified and unauthorized information without understanding the overall picture of the battle. The General Staff draws up its reports in such a way as not to violate the military plans of Ukraine. And we will make it public, taking into account the context of all the information and the situation.
Behind these ornate formulations lies the only thought: Soledar's Armed Forces have been lost, but Kyiv has not yet figured out how to present it in terms of information for those Ukrainians who "do not know how to use" other sources of information, except for the reports of the General Staff of the Armed Forces of Ukraine ... Apparently, a statement is being prepared in the style "Soledar had no tactical or strategic value," as was already the case with such cities as Volnovakha, Lisichansk, and Severodonetsk.