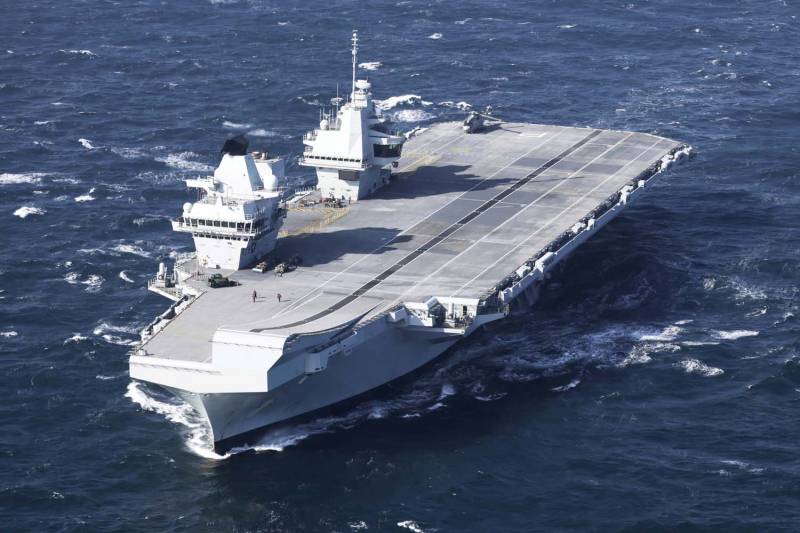 In Britain, a new film "The Warship: Tour of Duty" is scheduled to be shown, dedicated to the campaign of the aircraft carrier Queen Elizabeth to Asia, which took place in 2021. In this regard, separate fragments of the film are published, in particular, an archival video of the "collision" of the ship with a group of Russian combat aircraft is shown.
It was a dramatic moment when a squadron of Russian bombers buzzed over HMS Queen Elizabeth in a menacing maneuver.
- noted in the publication The Sun.
As indicated, the incident occurred when the aircraft carrier was near the Suez Canal, heading to the Far East on a seven-month trip. Three Russian Su-24s, having taken off from a Syrian air base, were detected at a distance of 10 km, flying at an altitude of 2 km. From the aircraft carrier, their crews were sent a dangerous approach signal:
This is a coalition warship. Your actions seem threatening. Change course immediately, or I may take action against you.
Despite the warnings, the Russian bombers continued their movement and eventually flew over Queen Elizabeth.
To drive them away, F-35 stealth fighters were raised into the air from the British ship, and the crew went on full alert
- says the film.
Reportedly, another incident was the "pursuit" of the aircraft carrier by Russian ships:
HMS Portland [a frigate of the Type 23 project from the AUG security group] discovered the Admiral Gorshkov in the North Sea, a Russian warship with new, uninterceptable, hypersonic missiles flying at a speed of 11 thousand km / h. Portland followed him until he left for the Atlantic with great fanfare.
What does "with great fanfare" mean in this case is not specified.