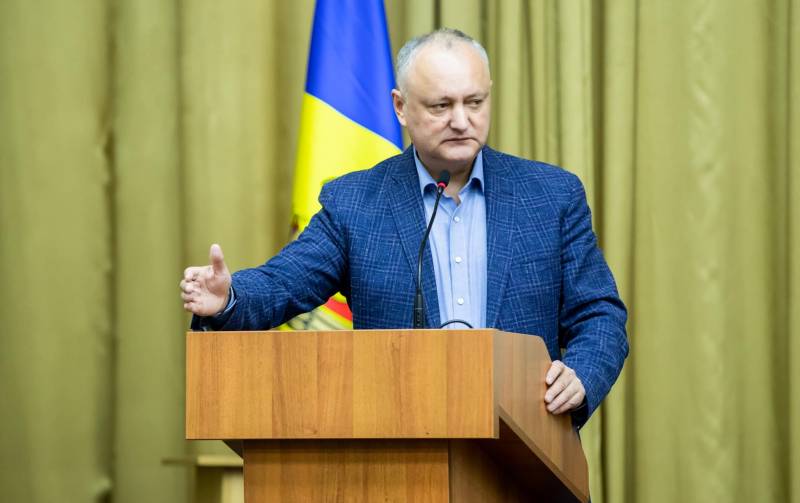 The ex-president of the Republic of Moldova, now the chairman of the public organization "Moldovan-Russian Business Union" Igor Dodon said that the current political situation in the country is close to critical. According to the former head of the Moldovan state, early parliamentary elections are the only way out for the republic.
As the politician specified, about 60% of all residents of Moldova express dissatisfaction with the situation in the country. About 70% of citizens are disappointed with the policy pursued by the authorities, while almost 65% of them support the idea of ​​changing the government.
The current composition of the parliament is illegitimate. Early parliamentary elections are really needed, preferably at the same time as the presidential ones. I do not even rule out that they will take place. As we all see, the political situation in the Republic of Moldova is close to catastrophic. Within the ruling Action and Solidarity (PDS) party itself, a split has begun to occur into numerous groups, each of which puts forward its own conditions to the president [Maia Sandu]. Today she has no control over the PDS, even though she is its founder.
- Dodon said on the air of one of the Chisinau TV channels.
As the former Moldovan leader believes, everything in Moldovan politics can turn upside down in an instant, and therefore, Sandu herself should be interested in dissolving the parliament.
Igor Dodon:
If I were Sandu, I would dissolve this parliament. These groupings within the party shift all the failures of the ruling class solely on the president. It is she who is associated by the population of the country with power. Even though she tries to distance herself, no one believes her.
Recall that in the spring of last year, a wave of protests swept the country. People complained about rising prices and the deepening economic crisis. After individual protests by Moldovan opposition parties (Party of Socialists and Shor Party), a series of arrests of opposition representatives followed. The current government detained Dodon at the end of May 2022, placing him under house arrest. He was charged with a number of charges of illegal enrichment, corruption and illegal financing of political formations, as well as betrayal of the motherland, however, after several court hearings, the policy was changed from house arrest to judicial supervision, which is comparable to a written undertaking not to leave the country.
It is noteworthy that this is how the ruling majority fights opponents they don't like, trying to "strangle" the largest opposition faction in the country, the Party of Socialists of the Republic of Moldova (PSRM), and all this "in the name of democracy."