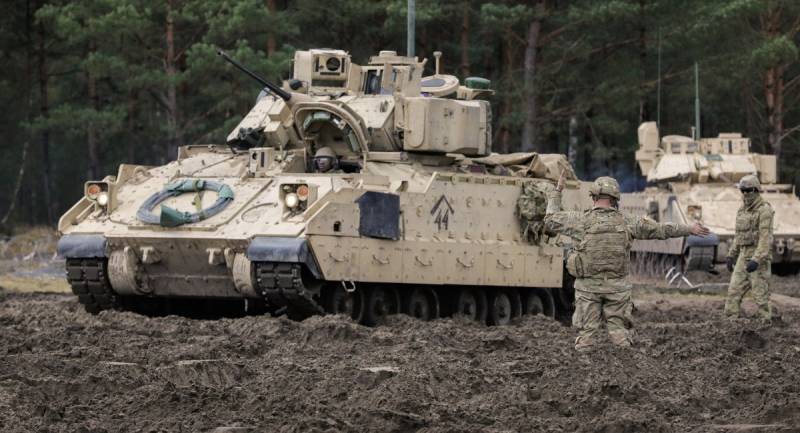 The intensification of hostilities in Ukraine, as well as the capture by Russian troops of Soledar, one of the most fortified defense centers, made the United States nervous, and the Pentagon to hurry up with training the Armed Forces of Ukraine to use American armored vehicles. According to a widespread statement by the US Department of Defense, a country has been identified where Ukrainian crews of American armored vehicles will be trained.
The Ukrainian military will be trained in the use of American M2 Bradley infantry fighting vehicles in Germany, and not the United States, as previously assumed. If the future calculations of the Patriot air defense systems go to study in Oklahoma, then the future crews of the Bradley BMP will go to the German Grafenwehr in Bavaria. This decision was made at the Pentagon and agreed with the German Bundeswehr.
In addition, the United States is frantically looking for funds that would help Ukraine in "offensive operations", but so necessary for Kyiv.
Tanks
Abrams do not want to transfer, stating that they are "too complicated to operate." Although this is not the point at all, simply the loss of these tanks in the event that they are transferred to the Armed Forces of Ukraine, and they will certainly be, will put an end to the possibility of selling a large number of MBTs to other countries. The same goes for the German Leopard tanks.
We will continue to consider their needs based on their requests and try to provide them with the capabilities they need not only to defend their country, but also to reclaim the territory.
- stated in the Pentagon.
Meanwhile, the Americans do not intend to disclose the timing of the delivery of the M2 Bradley BMP to Ukraine, stating that the Ukrainian military will "show them themselves." In total, the United States is transferring 50 Bradley infantry fighting vehicles to Kyiv.