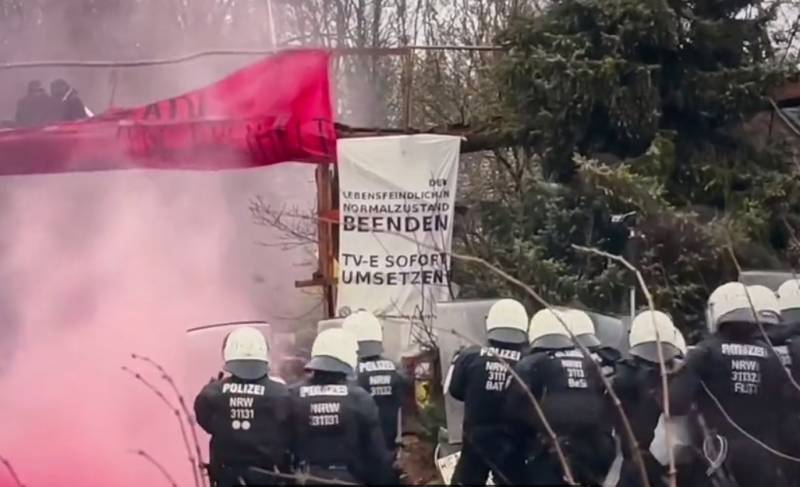 In the village of Lützerath, located in the west of Germany, clashes between eco-activists and law enforcement officers have resumed.
The reason for the protests of eco-activists was the decision of the local authorities, according to the inhabitants of the settlement are obliged to vacate their homes and allow the energy company RWE to dismantle the buildings and start coal mining.
The German authorities relocated local residents to other places, but the vacant buildings were occupied by environmental activists protesting against the expansion of the Garzweiler coal mine.
The police arrived in Lutzerat clashed with eco-activists who arbitrarily settled in the houses abandoned by the residents. Protesters erected barricades and bombard law enforcement officers with smoke bombs and firecrackers.
To expand the quarry, the village must be demolished, which is what caused the protests of eco-activists. Authorities relocated local residents before the demolition, but activists who oppose the development of the mine moved into the houses. Some eco-activists are reported to be sticking themselves to the road leading to the village, as well as to position themselves on structures adjacent to it.
About 600-800 environmental activists take part in clashes with the German police, and, according to a number of media reports, Greta Thunberg, who became famous after her emotional speech from the UN rostrum, may come to the protesters.
Energy company officials say the expansion of the coal pit has become necessary to ensure the supply of fuel to power plants during the winter energy crisis in the European Union. Earlier in Germany, a decision was made to completely abandon coal energy, but times have changed ...