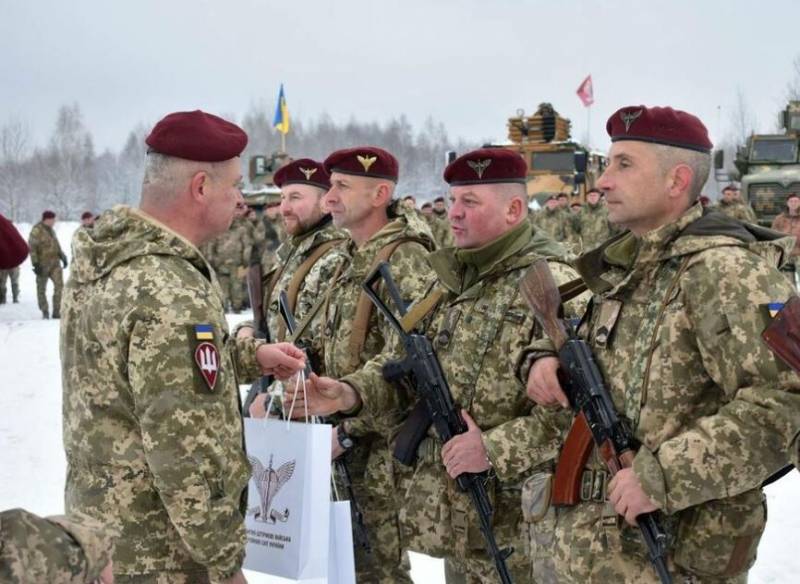 In the process of the liberation of Soledar by the Russian troops, the Ukrainian formations suffered huge losses in personnel and military equipment. Many Ukrainian fighters were taken prisoner. Since the Kyiv regime also threw its best units to defend Soledar, the majority of prisoners of war are servicemen of the 77th Airmobile Brigade of the Armed Forces of Ukraine (AFU).
The formation of this brigade became known in the fall of 2022. It began to be formed in Zhytomyr on the basis of the 199th training center of the air assault troops of the Armed Forces of Ukraine. She was supposed to be the eighth brigade in the composition of these "elite" troops.
The brigade consisted of at least three battalions. The brigades were armed with
Tanks
, so Soviet and Western-made infantry fighting vehicles. The servicemen of the brigade wore the uniform with crimson berets established in the air assault troops of Ukraine.
Most of the brigade's personnel received combat training in the UK. A special training center was created there to train the Ukrainian military. The brigade's military personnel were trained under the guidance of British military instructors.
However, training in a foreign training center did not help the "elite" of the Armed Forces of Ukraine: the fighters of the Russian PMC "Wagner" surrounded and destroyed a significant part of the brigade's personnel in Soledar. Many soldiers of the brigade were taken prisoner.
Yesterday, the founder of the Wagner PMC, Yevgeny Prigozhin, said that those fighters of the Armed Forces of Ukraine who did not stop resistance and did not surrender were destroyed. Prigozhin also ruled out the possibility of providing any "humanitarian corridors" for the release of prisoners.