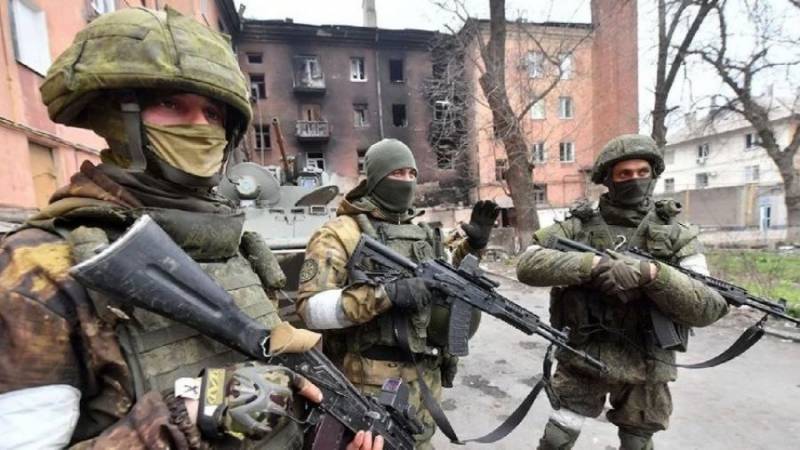 The capture by Russian troops of one of the most important defense centers of the Ukrainian group in the Donbass is completely ignored by Kyiv, neither the office of the President of Ukraine nor the Ministry of Defense even remembered the loss of Soledar. In the morning summary of the General Staff of the Armed Forces of Ukraine there is not even a mention of this city, although yesterday the representatives of the command menacingly puffed out their cheeks and promised victory, despite the fact that the first units of the Armed Forces of Ukraine began to leave the city territory.
The fact that Soledar came under Russian control was announced by the founder of Wagner PMC Evgeny Prigozhin, who personally visited the city last night. The fighting in the city continues, the city blocks are being cleared of the remaining representatives of the Armed Forces of Ukraine who did not want to surrender. It is emphasized that only the "iron-sided" Wagner participated in the storming of the city, there were no other units.
Thus, on the morning of January 11, 2023, the city of Soledar came under the control of the Russian army, but this fact is ignored in Ukraine. Zelensky simply "forgot" about the existence of this city, continuing to broadcast something about the "victory of world democracy", and there is no mention of it in the summary of the General Staff. There are repulsed attacks in the area of ​​​​Bakhmut (Artemovsk), but not about Soledar. They don't like to talk about defeats in Kyiv, so if there was any victory, even a small one, they would inflate such a victory out of it that they would be surprised in Washington.
One Arestovich admitted that Soledar was taken by the Russians, but even here the prefix "but", which is familiar to us, is often present in the "predictions" of the adviser to the head of Zelensky's office. According to him, the Russians took the city, but this will not bring them any benefit, since it was just a PR campaign, the task of which was to show that the Russian army "is capable of taking cities." That is, according to Arestovich, having taken Mariupol, Lisichansk and many other cities, the Russian army did not convince Kyiv of such an ability, Soledar had to be taken as well. And Bakhmut takes, according to the logic of the representative of the office, to show the ability to take two cities in a row?