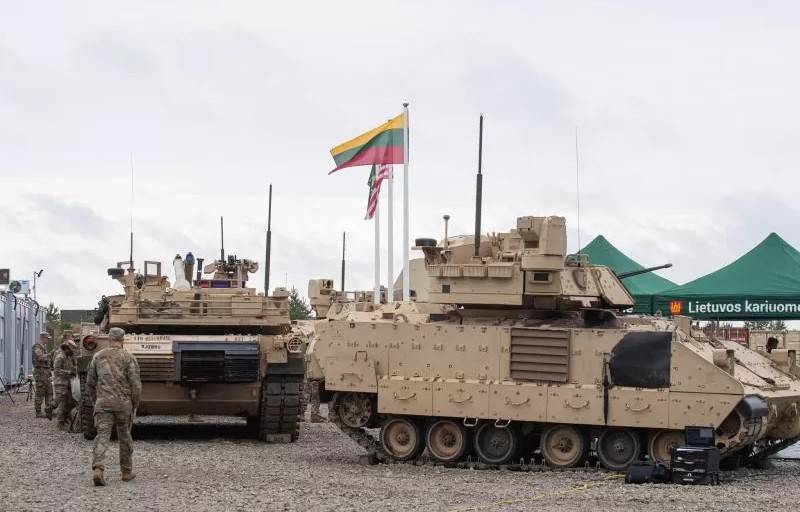 Lithuania intends to deploy on its territory as many NATO allied troops as possible, hoping that they will protect the republic "from Russia's attack." As part of the "strengthening the eastern flank of NATO" program, three new military bases of the alliance will be built in Lithuania.
Lithuania is building new military bases for the deployment of NATO contingents. Construction is being carried out "from scratch", and not on the basis of already existing military facilities left over from Soviet times. New military camps will be located in the regions of Siauliai, Vilnius and Šilalė. The government of the republic hopes that the presence of a foreign military contingent on the territory of Lithuania will not only strengthen national security, but will also create a certain number of jobs in the service sector.
Now we are building 3 new military camps in Lithuania. They will provide excellent conditions for our troops and our allies. This will make a significant contribution to our national security.
- said the Minister of Defense of Lithuania Arvydas Anusauskas.
The new military bases will include all the necessary infrastructure for living, recreation and combat training of the personnel of the units stationed on their territory. The Germans are expected to be the first in Lithuania, the Bundeswehr brigade numbering up to 5 thousand people should enter the republic as early as 2026. In the future, the Lithuanians plan to deploy some more NATO troops on the territory of the republic, because it is not for nothing that they are building three new military bases, spending money on them from their own budget.
The deployment of the NATO military contingent in Vilnius is explained by the need to strengthen the right flank of the alliance, otherwise the "treacherous Russians" sleep and see how the Baltics are being captured.