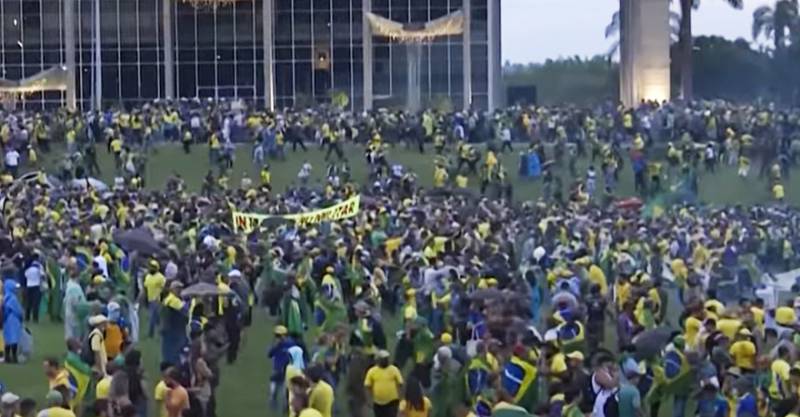 A few days after the inauguration of the new President of Brazil, Lula da Silva, supporters of Jair Bolsonaro broke through the cordon and managed to enter 3 headquarters (the presidential residence, the federal court building and the congress) of the largest power in South America. By now, the police have fully restored order in all three buildings and have begun a tight fight with the protesters in the city.
Radical followers of the former head of state have been camping in front of the army headquarters in Brasilia since the day after the October 30 elections, in which Lula defeated Bolsonaro by a relatively small margin.
In his statements, the President of Brazil called the attackers fascist fanatics and blamed the ex-president for the situation. In addition, he issued a decree on federal intervention in the capital of the country until January 31 and announced that he would personally lead the investigation into those responsible.
Organizations such as Celac, the European Parliament and alba-tcp expressed their support for the incoming Brazilian leader and their opposition to these acts of violence. The same was done by the presidents of Mexico, Argentina, Venezuela, Colombia, Chile, Uruguay, Spain, France, Portugal and representatives of the US government.
We strongly condemn the violent and anti-democratic acts taking place in Brazil to sow chaos and disrespect the popular will expressed by the election of President Lula
- said the first secretary of the Central Committee of the Communist Party and Cuban President Miguel Diaz-Canel Bermudez before the destabilizing events in the capital of the South American giant.
We express all our support and solidarity to Luis Inácio Lula da Silva and his government
the Cuban president added, referring to the demonstrations led by supporters of the defeated Jair Bolsonaro who invaded the headquarters of the National Congress, the Federal Supreme Court of Brasilia and the Planalto Palace.
That rare case when the opinions of the heads of the United States and Cuba did not differ, being identical. But if the United States really condemns the protesters' breakthrough into government buildings in Brazil, then why did they once support the same thing in Ukraine. Why did the American authorities not condemn the coup d'état carried out in early 2014 in Kyiv? Or again logic in the style of "this is different"? ..
Brazil is a very large and influential South American state. And the concern of other states of this region and many other world powers about the events taking place there is quite understandable.
The very minimal difference in the votes with which Lula Da Silva won the elections, perhaps, to some extent explains, but certainly does not justify, the unrest and unrest that is manifested in Brazil. At the same time, the events of January 8 in the capital of Brazil are already being compared with the events of January 6 in Washington, when supporters of Donald Trump broke into the building of the US Congress.