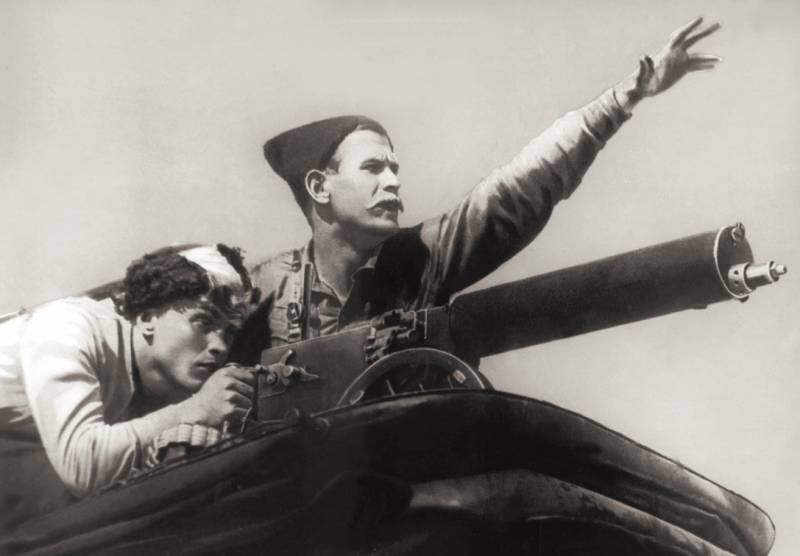 Frame from the film "Chapaev"
Having reached unprecedented power, propaganda could instantly elevate any person to the rank of a national hero or turn him into an enemy and a traitor. In the 1930s, after newspaper publications, many were deprived of their positions, freedom or life. But it is necessary to tell about the opposite examples, when little-known personalities, through the efforts of propaganda, turned into heroes known throughout the country.
This is how hundreds of people became famous, including party leaders, military leaders, industry leaders and many others. However, there is nothing surprising in the fact that, for example, Alexei Stakhanov became a well-known personality. The country needed coal, and the miners who extract it worked better when there was an example to follow before their eyes.
For the same article, I selected only three equally well-known, but, in my opinion, the most atypical examples. One of them is a Civil War commander, almost unknown during his lifetime, but who became famous 15 years after his death. The other two are generally children who have not done anything remarkable, but thanks to propaganda they have become known throughout the country.
Vasily Chapaev
One such example is Vasily Chapaev.
During his lifetime and in the first years after his death, this division commander was almost unknown, his merits differed little from the merits of dozens of other division commanders known only to colleagues during the Civil War. And therefore, they didn't talk about it.
The beginning of the creation of the heroic myth around Chapaev was laid by his commissar Dmitry Furmanov, who wrote a novel about the division commander in 1923.
However, the divisional commander, who died in 1919, became popular among the people after being shot in 1934 based on Furmanov's novel by the Vasiliev brothers (who are actually not brothers, but namesakes) "Chapaev".
It was a resounding success, it was played many times in all Soviet cities where there were cinemas. According to rough estimates, about 60 million people watched it in the first seven years alone. Many, including Stalin, have watched the film more than once.
Soon, thanks to the film, a real cult of Chapaev appeared. Streets in many cities and towns were named after him, he was put on a par with the most famous generals of the Civil War, such as Frunze, Tukhachevsky, Budyonny or Voroshilov. And no less important - there were thousands of jokes about him.
The image of Chapaev in the official Soviet mythology became inseparable from the film, and few people asked themselves questions: what were the real merits of this man during his lifetime? What did he do that set him apart from hundreds of other Civil War commanders?
Historical
Chapaev commanded an ordinary division, and his actions did not radically affect the course of the war. The death of Chapaev is also difficult to call something out of the ordinary in the conditions of 1919, when commanders and above his rank died.
So little known before, the division commander became a popular favorite and one of the most famous participants in the Civil War, about whom many jokes were later invented.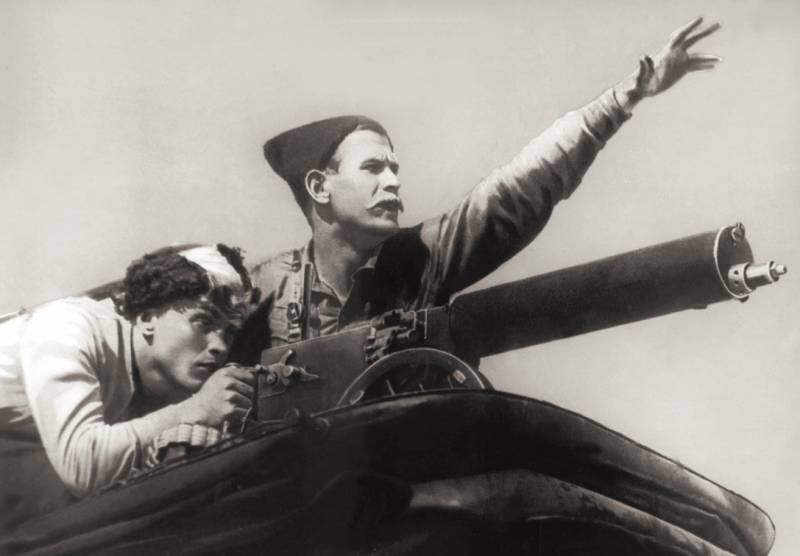 Frame from the film "Chapaev"
Pavlik Morozov
Morozov is a fairly common surname, and many famous personalities wore it. However, even today, at her request, "Wikipedia" is the first to show "Pavel Trofimovich", that same Pavlik.
Propaganda made his name known throughout the country, monuments were erected to him, even in our time, many argue about this 13-year-old schoolboy, who did not shine with any merit, did not do anything outstanding, did not write, did not invent, did not create. But on the other hand, he was an ideological communist and denounced his non-ideological father where he should. This circumstance became the reason for the loud PR around his name.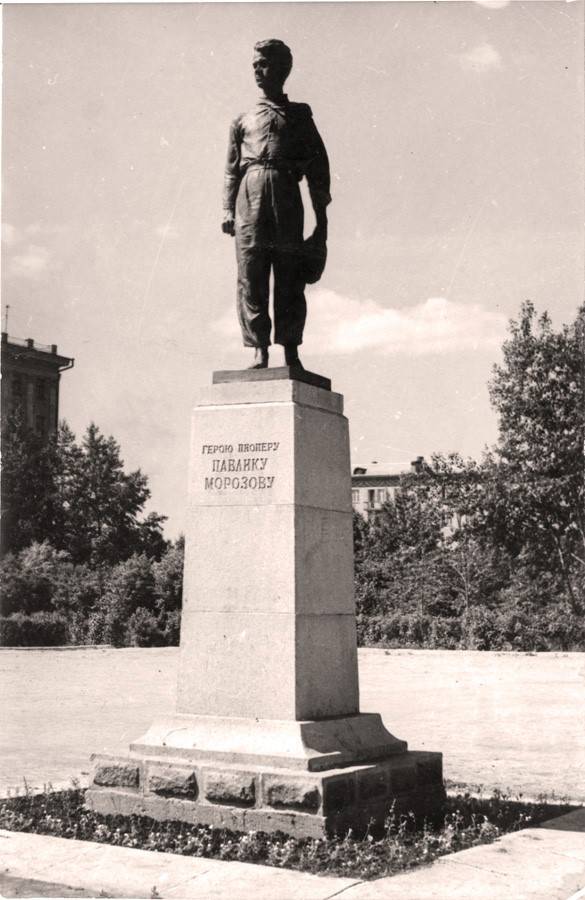 One of the many monuments to Pavlik Morozov. Sverdlovsk (Yekaterinburg). Now demolished
This was the case then.
The year was 1931, the height of collectivization and dispossession. Pavlik's father Trofim Morozov, a participant in the Civil War, served as chairman of the village council in the village of Gerasimovka, Sverdlovsk Region. This village was a place of exile for dispossessed peasants. That is, those from whom all property was taken away and declared enemies. Trofim gave them false certificates, thanks to which they could leave the place of exile. This was the reason for the denunciation of his son Paul. The 13-year-old student also spoke at the trial, where he repeated the accusations against his father. According to the Case of the Murder of Pioneer Pavel Morozov, his speech was as follows:
"Uncle, let me tell you! It was I who filed a lawsuit against my father. As a pioneer, I refuse my father. He created a clear counter-revolution. My father is not the defender of October. He helped kulukanov Arsentiy in every possible way. It was he who helped the fists escape. It was he who hid the kulak property so that the collective farmers would not get it ... I ask you to bring my father to severe responsibility so that others do not give the habit of defending the kulaks.
Later in the same document we read:
"The 12-year-old pioneer witness Pavel Morozov finished his testimony. No. It was not a witness statement. It was a merciless indictment by the young defender of socialism against those who stood on the side of the frenzied enemies of the proletarian revolution.
Trofim Morozov, exposed by his pioneer son, was sentenced to 10 years in prison for liaising with local kulaks, fabricating false documents for them, and hiding kulak property.
And when Pasha's grandfather, Sergei Morozov, hid kulak property, Pasha ran to the village council and exposed his grandfather.
In 1932, in the winter, Pasha brought the kulak Silin Arseniy to fresh water, who did not fulfill a firm task, and sold a cartload of potatoes to the kulaks. In the fall, the dispossessed Kulukanov stole 16 pounds of rye from the village Soviet field and again hid them from his father-in-law, Sergei Morozov. Pavel again exposed his grandfather and kulukanov."
Let me remind you that in 1932 a terrible famine raged throughout the country, especially in rural areas, which claimed more than seven million lives. And denunciations of those who were forced to steal food in order not to die already speak eloquently about the moral character of the young informer. Naturally, in conditions when people are starving, and here a certain pioneer is constantly scribbling denunciations that someone sold a cartload of potatoes to someone or stole 16 pounds (260 kg) of rye, this could not but give rise to responses.
In September 1932, Pavlik, along with his brother Fyodor, were stabbed to death in the forest by their own relatives - grandfather Sergei (Trofim's father) and cousin Danila Morozov.
Here I note that there are several versions about the circumstances of the denunciation and subsequent trial of Pavlik's father and his relationship with his grandfather and other relatives. In this case, we are only interested in how it was presented in the official media by propaganda. And then what image was created from this schoolboy.
This image elevated ordinary informing to the rank of a heroic deed. So, from an early age, denunciation was encouraged among Soviet citizens, which a few years later in 1936-1938. will play its part in the course of mass repressions.
Such characters were elevated by Soviet propaganda to the rank of "heroes". In addition to the monuments already mentioned, many newspapers wrote about Morozov's "exploits", poems and songs were dedicated to him, streets in many cities, pioneer camps, etc. were named after him.
As you can see, the dead Morozov became a tool in the hands of propaganda.
However, less often they say that during his lifetime he became its victim. It is well known that people who are most exposed to propaganda are uneducated, inexperienced, with a lack of critical thinking. That was the 13-year-old teenager. Probably, he himself was so besotted by the propaganda that blinded him that he could no longer soberly assess the consequences of his actions.
Gelya Markizova
Photos of the leader with children were replicated in millions of copies, published in newspapers, books and magazines. A large number of posters were also created, where Stalin is next to the children or holds them in his arms. The propagandistic function of this kind of images is obvious: to show Stalin in the form of a loving and caring father. The image of a child will not cause rejection in anyone, and the consumer of propaganda, seeing this ostentatious care, should also be imbued with confidence in Stalin himself.
Subsequently, in the second half of the 1930s, the slogan "Thanks to Comrade Stalin for our happy childhood" also appeared, which was hung out in many schools and kindergartens.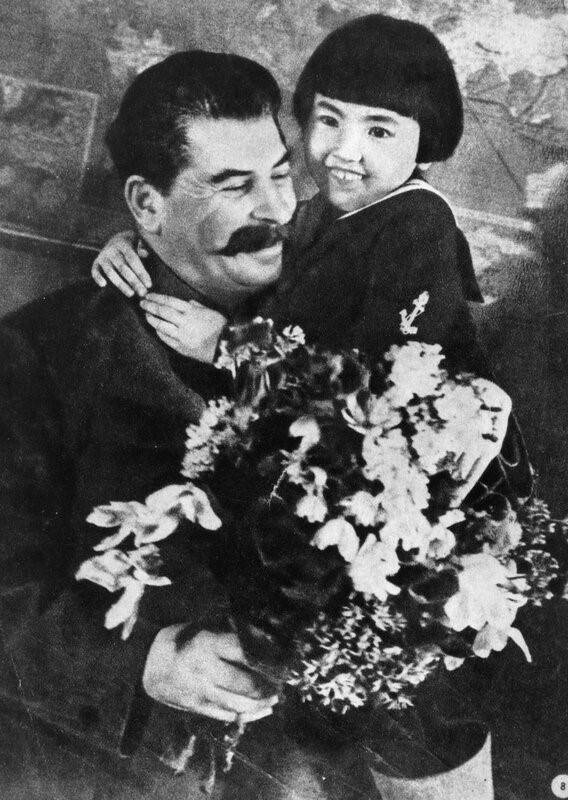 Stalin with Gelya Markizova. 1936
It must be said that here the Soviet propaganda was not original. Images of the ruler with children were massively used in other countries at that time. Including, for example, many photographs of Hitler with children are known, where outwardly he does not at all resemble a criminal who destroyed millions of people. This is how propaganda creates the image of a "good ruler".
The most famous and widespread is the photograph of Stalin with Gelya Markizova, a seven-year-old girl, the daughter of Ardan Markizov, People's Commissar for Agriculture of the Buryat-Mongolian Autonomous Soviet Socialist Republic. It was made in January 1936 in the Kremlin at a solemn event, where the father took the girl with him. After the publication of this photo, the girl became a celebrity, she was envied, millions of other Soviet children wanted to be in her place.
She later recalled:
"The return to Ulan-Ude was triumphant - they met me, as later astronauts. Invited to all presidiums. I was very popular for a year and a half…"
However, this story had a continuation, knowing which, no one would want to be in the place of Geli Marquisova.
Already at the end of 1937, the girl's father, Ardan Marquizov, was arrested, accused of espionage and participation in a counter-revolutionary organization, and was shot on June 2, 1938. Soon after that, Geli's mother died under unclear circumstances: the official version spoke of the suicide of a woman who could not stand the death of her husband. So 9-year-old Gelya turned out to be an orphan.
The girl was adopted by her father's relatives, for security reasons they changed her surname and patronymic. Subsequently, Engelsina Sergeevna Cheshkova - that was the name of Gel in her mature years - said that soon after the arrest of her father, she wrote a letter to Stalin with her own hand, where she said that her father was no spy, and asked him to be released. But the girl did not wait for an answer.
Propaganda poster with a child
Meanwhile, millions of Soviet citizens in those years could not have known all this. Even after the death of Geli's parents, the photo continued to spread, a haircut like Geli's became popular among children and adolescents, posters were drawn on the basis of the photograph with the invariable caption "Thanks to Comrade Stalin for our happy childhood." Subsequently, this slogan began to be perceived as a symbol of the hypocrisy of the era. A lot of jokes have appeared on this topic among the people, one of which sounds like this:
"At the May Day demonstration, a column of very old people carries a banner: "Thank you, Comrade Stalin, for our happy childhood."
A plainclothes man runs up to them:
- Are you kidding me? When you were children, Comrade Stalin was not yet born!
"That's what I thank him for!"
As you can see, Geli's own childhood was not happy.