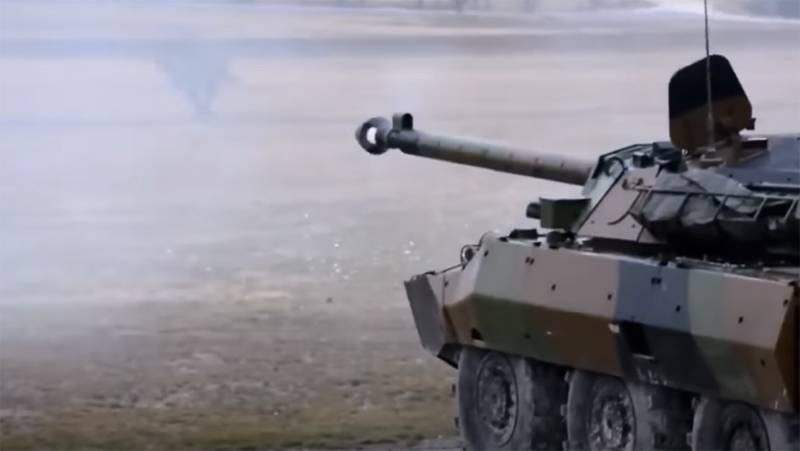 The West is analyzing new packages of military aid transferred to Ukraine. At the same time, the estimates often look rather strange.
Thus, the British edition of the Telegraph published an article stating that "France, following the decision of Emmanuel Macron, opens a new page of military assistance to Ukraine, transferring a batch of AMX-10RC armored vehicles to the Armed Forces of Ukraine."
These are wheeled
Tanks
with a gun caliber of 105 mm. As of last year, there were about 250 such armored vehicles in the French arsenal. Moreover, France is the second country in the world in terms of the number of AMX-10RCs, despite the fact that it was in France that they were developed at the time. It happened in the late 1970s. In the first place in terms of the number of vehicles of this series (AMX-10) is Saudi Arabia, which has more than 360 units.
From the Telegraph:
The red line in terms of supplying Western-style armored vehicles to Ukraine has been crossed. A military taboo that had been in place for several months was broken. Moreover, it was violated by those from whom this was little expected - the French.
The statement of British journalists is somewhat strange in the sense that Western-made "shooting" armored vehicles have been transferred to Ukraine for a long time and systematically. For example, we are talking about the NATO self-propelled guns PzH-2000, which Germany supplied for the needs of the Armed Forces of Ukraine. And here there is no longer much difference, whether NATO countries supply self-propelled guns or wheeled tanks to Ukraine. It is quite clear that if the armed conflict drags on, they can supply Kyiv with anything, up to the same French, German and American tanks: Leclerc, Leopard and Abrams.
The supply of NATO-style equipment also indicates that the stocks of Soviet weapons, which have remained from previous years in the arsenal of individual Western countries - primarily the countries of the so-called former socialist camp, have exhausted themselves.