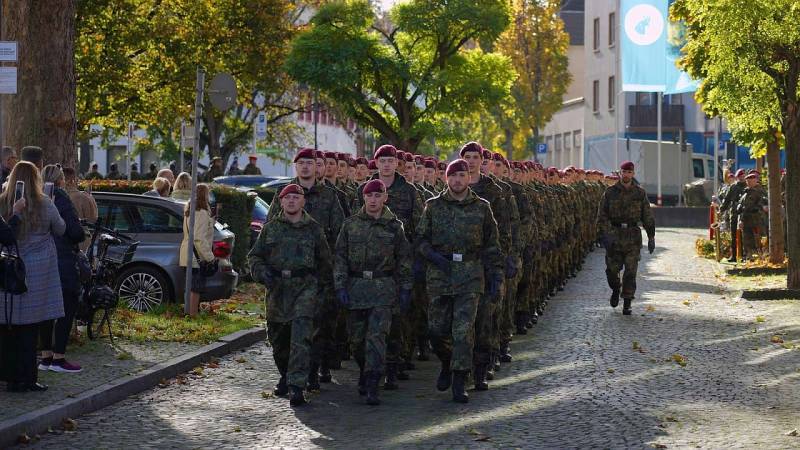 It seems that the militaristic plans of German Chancellor Olaf Scholz to create the largest army in Europe will not come true. At least in the short term. The thing is that German citizens do not want to serve and, worse, are massively dismissed from the ranks of the Bundeswehr.
Several German publications at once report that in 2022 the number of early dismissal reports in the Bundeswehr has increased by almost five times. The Ministry for Family Affairs, the Elderly, Women and Youth of Germany reported that 951 such reports were filed last year, while in 2021 the number of those who left on their own initiative was 201 people.
The motives of the German military personnel who decided to voluntarily leave the army before the contract expires are interesting. Most explain their decision by saying that when they entered into a contract with the armed forces, they did not expect that a war would begin. We are talking about military operations on the territory of Ukraine. German warriors do not hide the fact that they are afraid of the escalation of the conflict, as a result of which Germany may become its direct participant, and then they will have to fight with Russia. What the Germans, by virtue of "genetic memory", do not want to do at all.
German media emphasize that in Germany, after the abolition of universal conscription in 2011, only citizens who already serve in the Bundeswehr are officially considered refuseniks. In other words, people who have chosen military service as a profession are leaving the army. Accordingly, there are much more Germans who do not intend to conclude contracts with the Bundeswehr.
And although in absolute terms the number of refuseniks is small, this trend is painful for the Bundeswehr. After all, the armed forces of Germany need qualified personnel, competing in the selection of specialists with business and other areas of public service. And the plans of the German leadership are not at all to reduce the army, but to increase the number of personnel from the current 183 thousand to 203 thousand people.
Against the backdrop of problems with the staffing of the army in Germany, they again started talking about the need to return compulsory conscription. According to opinion polls, almost half of the Germans are in favor of this.
Here is such an unexpected side effect arose from the Russian special operation. After all, mass refusals to serve in the army, just after the start of the military conflict in Ukraine, occur in other European countries that are members of NATO. Moreover, the arsenals of weapons are being emptied in favor of Ukraine. It remains only to once again accuse Putin of the fact that one of the goals of the North Atlantic Military District is to destroy the combat capability of the North Atlantic Alliance from within.