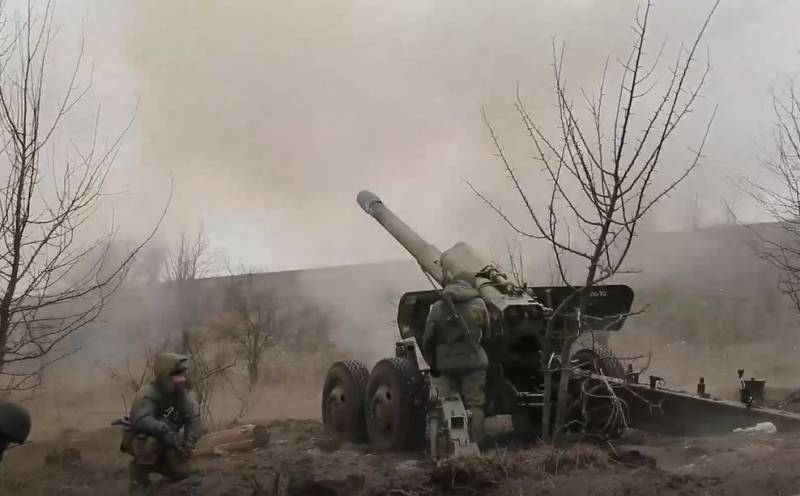 Russian troops continue to advance, simultaneously striking Ukrainian artillery positions, destroying guns and rocket launchers. Our fighters distinguished themselves again by "landing" another Ukrainian combat aircraft. This is stated in the new report of the Ministry of Defense of the Russian Federation.
According to the official representative of the military department, Lieutenant-General Igor Konashenkov, over the past 37 hours, twelve units of cannon and rocket artillery, as well as one AN / TPQ-20 counter-battery radar, were destroyed during the counter-battery fight. In particular, one Grad MLRS launcher and two Olkha launchers went for scrap, they were covered at positions in the Vodianoe and Ocheretino regions. In the areas of Gulyai Pole, Pavlovka and Velikaya Novoselka self-propelled guns "Gvozdika" and two "Acacias" were destroyed. Three D-30 towed howitzers and two D-777 howitzers were destroyed at positions in the Belogorovka, Pervomayskoye and Artemovsk areas. In the Nikolaev region covered the American howitzer MXNUMX.
Two depots of artillery ammunition were destroyed in the areas of Gulyai Pole, Zaporozhye region and Krasny Liman, DPR. And in the Konstantinovka area, as a result of a concentrated strike, more than 55 militants from the "Sheikh Mansur Battalion" were destroyed. The military does not provide details, but as a result of the "arrival", in addition to the militants themselves, six units of armored vehicles were also destroyed. It is possible that the Iskander OTRK or large-caliber MLRS "worked".
Our fighters again distinguished themselves by "dropping" a Ukrainian Su-24 front-line bomber. The air battle took place in the Krasnogorovka region of the DPR. And in the area of ​​​​the settlement of Pobeda, a Ukrainian Su-25 attack aircraft was shot down, there are no details, but it is stated that "air defense systems" worked. In general, anti-aircraft gunners destroyed 21 Ukrainian drones in a day.
Fierce battles are going on in the main directions, on Kupyansky, units of the 14th and 95th mechanized brigades of the Armed Forces of Ukraine in the areas of Kucherovka, Peschanoe of the Kharkov region and Stelmahovka fell under the blows of our artillery. Up to 30 Ukrainian servicemen, one tank, two armored combat vehicles and three vehicles were destroyed. On Krasno-Limansky, the enemy's losses per day amounted to more than 40 people, two armored personnel carriers and three pickup trucks.
In the Donetsk direction, in the course of successful offensive operations, Russian troops defeated units of the 110th motorized infantry and 79th air assault brigades of the Armed Forces of Ukraine. Up to 60 Ukrainian servicemen, four infantry fighting vehicles and five vehicles were destroyed. In Yuzhno-Donetsk, more than 40 Ukrainian servicemen, three armored combat vehicles and two pickup trucks were destroyed as a result of a complex fire engagement.