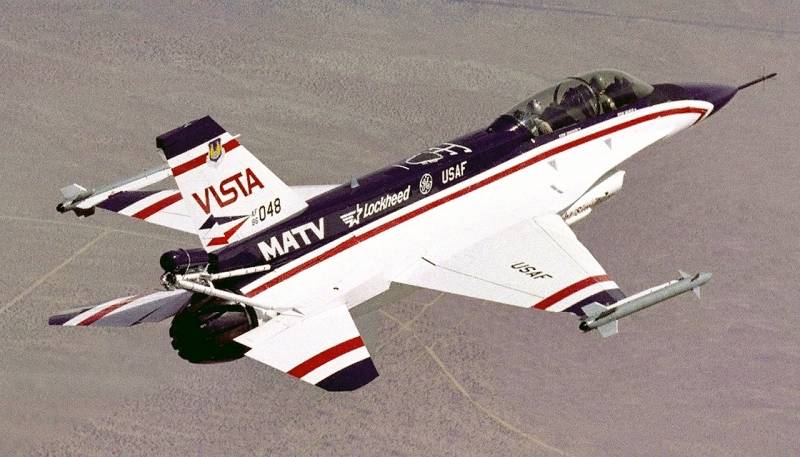 Having not figured out to the end with the intermittent technical problems of the F-35 fighters and options for its modernization, the Pentagon continues to report on successful tests "
weapons
future." The American military-analytical publication Breaking Defense reports that in December last year, the US Air Force conducted the first successful flight tests of a modified F-16 fighter using the VISTA artificial intelligence system.
Test flights were performed over the Mojave Desert in southern California. The pilot lifted the fighter into the air, after which he transferred control to the AI ​​system, which autonomously controlled the aircraft for some time. Two hours later, another test flight of the F-16 was made, piloted by an alternative artificial intelligence system.
Developers of software algorithms for autonomous piloting of combat aircraft note that these tests will help improve the AI ​​system. At the same time, any software can be installed on modified F-16s, regardless of which company developed it.
The US Air Force Command reported that thanks to successful test flights, a program to create new unmanned aircraft capable of flying autonomously for a long time and coordinating their actions with other aircraft can be launched as early as the next fiscal year.
Chris Kotting, director of research at the Air Force Test Pilot School, told a correspondent that in order to change the flight task of an experimental F-16 aircraft in autonomous mode, he just needs to set new software settings and reboot the system. During two test flights, the fighters performed various tasks. The first sortie simulated situations of autonomous air combat with a mock enemy, including those who were out of sight. During the second test, the AI ​​solved the main
aviation
and navigation tasks.
Despite two successful test flights, the US Air Force, which is responsible for the implementation of artificial intelligence systems for controlling combat aircraft, is still mainly working out the software on special X-62 ground simulators. During the simulated flight, the work of the AI ​​is constantly monitored by a specially trained pilot, who is ready at any time to intervene in the "control" of the aircraft.
In a typical test flight, the pilot takes the X-62 to the desired altitude and speed, then loads the simulation system for any aircraft flight controls that will be used during the exercise, and runs the simulation.
When aircraft and drones under the control of artificial intelligence will be able to fully autonomously take off, complete a flight mission in combat conditions and land, representatives of the US Air Force did not say.