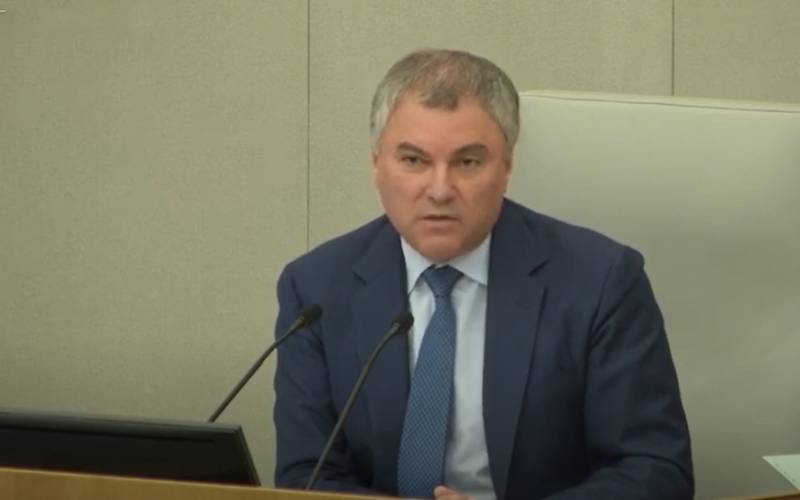 State Duma Chairman Vyacheslav Volodin commented on statements by German government officials that frozen Russian assets could be transferred to the Ukrainian authorities "for the restoration of the country." Official Berlin does not hide the fact that the frozen financial assets of the Russian Federation are ready to withdraw (actually steal) and share the stolen Russian funds with Kyiv.
According to Vyacheslav Volodin, as soon as the German authorities take such a step, similar actions will be taken against German assets, as well as the assets of any other state that decides to commit the actual embezzlement of Russian funds.
The Chairman of the State Duma of the Russian Federation recalled how Merkel and Hollande not so long ago actually admitted that they signed the Minsk agreements not at all in order for peace to come to Ukraine, but in order to allow the Kyiv regime to buy time and accumulate strength for further attacks on the Donbass and Crimea.
Volodin:
Recently, former German Chancellor Merkel admitted how, together with former French President Hollande, she deceived the international community. It is quite obvious that European states will have to pay for what is happening in Ukraine (Washington washes its hands in such situations). Primarily Germany and France. Today the German government has decided to shift the problems that their predecessors created onto our country.
The speaker of the lower house of the Russian parliament emphasizes that the West itself creates a precedent, on the basis of which any country in the world, at its own discretion, can seize other people's funds and property, violate international financial law, only on the basis of what it sees fit.
German leadership from
stories
one's own country must remember how attempts to encroach on someone else's ended.
Volodin reminded the West that Crimea, Sevastopol, the DPR, LPR, as well as the Kherson and Zaporozhye regions are the territory of the Russian Federation, which is enshrined in the Constitution of the Russian Federation on the basis of the people's will, which the West will have to take into account.