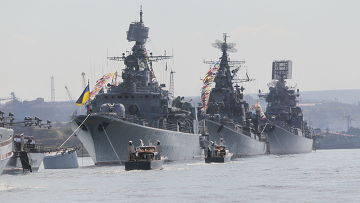 In Russia, they again talk about the replenishment of the Black Sea
fleet
new ships. This time, sources at the main headquarters of the Russian Navy said that by 2020 18 new ships and submarines should appear at the Black Sea Fleet. According to the source, this is included in the Russian state armament program for 2011-2020. It is, in particular, about six new frigates of project 22350, six diesel submarines of the Lada class and two large amphibious ships of project 11711. Recall, last week, Russian Minister of Defense Anatoly Serdyukov, after meeting with his Ukrainian counterpart Mikhail Yezhel, said: in the near future we plan to sign an agreement on the replacement of equipment and weapons of the Black Sea Fleet. "
The first frigate of the 22350 project, the Admiral Gorshkov, plans to launch the 29 on October 2010. After all the tests, he will join the Baltic Fleet (BF) of Russia. The second, "Admiral Kasatonov," is at the stage of "starting assembly of the hull." It is intended for the Black Sea Fleet and, according to the plan, should be included in its composition in 2012. The newest diesel submarine of the Lada class is now available in a single copy, under the name of St. Petersburg, this year the submarine became part of the BF. 13 years passed from the start of its construction to the introduction into service - longer than the 2011-2020 armament program of the Russian Federation had in general. Two more Lads, Kronstadt and Sevastopol, are planning to be launched not earlier than in 2013 and 2015 respectively. The large landing ship of the 11711 project began to be built in the 2004 year, but now only the hull is completed. They plan to launch the ship at the end of 2011, at the beginning of 2012, subject to adequate funding.
Earlier, the commander-in-chief of the Russian Navy, Vladimir Vysotsky, announced plans for 15 new ships and submarines for the Black Sea Fleet before 2020. According to other sources, the Black Sea Fleet allegedly had to transfer the Fearless and Yaroslav the Wise sentry ships to the Baltic Fleet, upgrade bomber and anti-submarine aircraft, etc. In general, the cost of implementing such plans is estimated at 100 billion rubles.