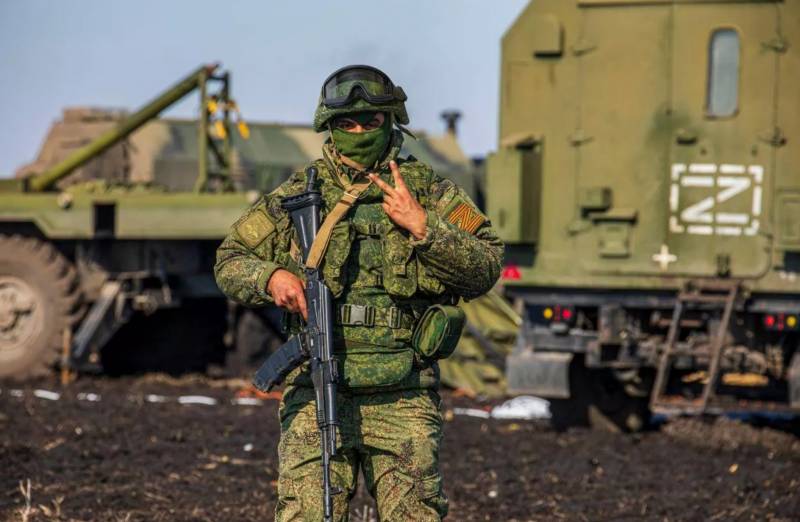 Here comes another year of the 21st century. Noisy parties are over. The country enters its usual rhythm of life. With the amendment that the trials that have fallen to the lot of each of us have not ended. The tests that our state is going through, too.
In the past year, each of us, citizens of Russia and citizens of other countries, quite often faced a choice: which path to take, which position to take, which side to fight for. We made a very difficult choice between good and evil. We searched in ourselves for the answer to the question of what is good and evil. In the political, economic, ideological and even moral sphere.
We, the Russians, and Russia itself have been very rigorously tested and are being tested "weakly". They check whether the core that helped our ancestors to defeat the hordes of enemies remains in us. And you know, it turned out that we were molded from the same dough. We have the same blood. Regardless of our nationality, faith, traditions and way of life. We remained the same Russians as our fathers, grandfathers, great-grandfathers were...
Last year, we came to understand that today we are not fighting with Ukrainians. Understanding that the Ukrainians were simply turned into "Ourfin's wooden soldiers". And after everything is over, they, just like these soldiers, will be happy to plant flowers and trees, build houses and roads, create families and raise children.
Today we are at war with the Anglo-Saxons, with NATO. USA and Britain with sing-alongs from European countries. All these Germanys, Frances, Spains, Italys and other Estonias... I have emphasized many times that the main task of many wars, including the one that is taking place on the territory of Ukraine, is the economic enslavement of the country, turning it into its own colony into a slightly modernized form.
Washington, London, Brussels do not care what flag will hang over their colony. They do not care what regime will be established in their colony. They don't care how the people of this colony live. The main thing is that resources come from there. Today we can already say that the neighboring state has become just such a colony. Ukrainians are used in every sense of the word.
The same fate awaited us. Our territory, our natural resources, our human potential are of great interest to the West. And they were always interested. This is the main reason for frequent visits to our territory by foreign invaders.
They went, now they are trying to come and, alas, they will come in the future. Looking for reasons for their raids, creating a fifth column inside Russia, creating huge armies, exerting diplomatic pressure, but they will always look with greedy eyes at our country. War with us is the vital necessity of the Anglo-Saxon world.
About friends
Very often we hear from the opposite side the phrase that "the whole world is with us." And very often in response we give a lot of arguments in favor of the fact that the "world" uses Ukraine as a condom, a disposable item and completely unusable after use. And we have? Who are our friends?
Remember those who even today call us friends and allies? At the same time, they support Kyiv and vote against us in various organizations. Kyrgyzstan, Kazakhstan, Armenia, Tajikistan... It is somehow strange to see how the governments of these countries, which in many ways simply owe their existence to Russia, the Russian blood shed there quite recently, today spit on our friendship.
Perhaps the past year has been a revelation for many of us regarding friendship. It turned out that those whom we "feed", even tearing off food from our own people, whom we protect, losing resources and soldiers, are not friends at all. No matter what our politicians say at the next summit.
Even the PRC, which is not at all obliged to help its competitor in the world political arena, behaves much more honestly than these friends in the "give-want" style. China helps as much as it is beneficial to it, and does not hide it. We talk a lot about the cunning of the Chinese. But it must be admitted that after the issue is settled, and Moscow and Beijing have come to some kind of agreement, the Chinese behave honestly. Showing the world that China is truly an independent country.
Belarusians have been and remain our true friends. We have been told for many years that President Lukashenko has usurped power, that the people of Belarus are deprived of the right to choose, and so on. What do we see today? A small European country, which few people took seriously until recently, not only did not kneel before the "formidable" West, but is also ready to respond to any provocation, including a military one.
I confess that I have seen the pressure from Kyiv and Warsaw on the Belarusian people. How the West wants to drag Belarus into the war. How they beat the President of Belarus "on the nerve" so that he could not stand it and respond. To the credit of the President and the people of Belarus, they hold on. We, the Russians, do not need military assistance from Minsk.
It is enough that the Belarusians provided us with training grounds for our troops. It is enough that the Belarusians are aiming at the eastern flank of NATO. The fact that the Belarusians are ready to be the first to meet the blow. And this readiness largely cools hot heads in Brussels, Warsaw and other Baltic states.
I was amazed this year by our new friends. First of all, Iran! For many years, for the sake of the West, we have been talking about this country in a negative way. We supported sanctions against this state. And what answer did we get from the Persians? They perfectly understood and understand everything - and in the current situation they clearly took a pro-Russian position.
The North Koreans were even more surprised. For many years, a monster country was "sculpted" from the DPRK. With a starving population, with a brutal regime, with no economy. Rogue country - and that says it all. And today, the leader of North Korea repeatedly declares his desire to help Russia with manpower, weapons and ammunition.
In fact, the DPRK today has become a kind of outpost of Russia in the Far East. Yes, the Koreans are doing their job. They are opposed to the American, Japanese and South Korean armed forces. But at the same time, it is the DPRK that practically neutralizes the Americans and the same Japanese in their attempts to present yet another claim to our eastern lands.
About Ukraine and Ukrainians
Probably the most difficult thing to sum up in relation to the Ukrainians and Ukraine. Difficult already because for many of us the words "fraternal people" are not just a phrase. This is real life. These are relatives, friends, classmates with whom we are connected, and now very often we had long-term relationships. It's one thing to talk about political connections, about what's up there, high up in the offices of power. And quite another, about their own relatives and friends, about their own friends and acquaintances.
I was struck by the rapid degradation of Ukrainians. I would never have thought that quite adequate, kind and sane people can so quickly turn into brutal sadists, for whom murders and bullying of people have become the norm. Talking to the few remaining contact people in Ukraine, I can see very well how they have changed.
Many people remember the medieval execution, which suddenly appeared on the territory of Ukraine. I'm talking about the pillory where men, women, children are tied, and then everyone can do whatever they want with them. Probably, many saw adults with their pants down or their skirts up, who were beaten by everyone who wanted it.
I was surprised by the reaction of ordinary Ukrainians. "That's right!", "They are thieves!", "These are hidden separatists," etc. There was not even any talk of any law. The power of the crowd and the decision of the crowd. A sort of revolutionary chaos. Any argument about humanity, mercy, democracy is finally swept aside. Evil and more evil. And self-righteousness.
Honestly, it was anger that caused the break in relations with some acquaintances. When Ukrainian soldiers hit Donbass civilians, it is taken for granted. They are separatists and should all die. Even those who have not yet been born. And when it began to fly in response, a completely different song began. Known to everyone under the name "And what about us?".
And one more thing that I noticed in the past year. The people of Ukraine have turned into an uncomplaining herd. Probably, since July-August, in conversations with Ukrainians, I have never met a desire to build something, to develop the economy in general. One main idea for everyone. We will win, we will take a lot of money from Russia, and someone will build a paradise for us for this money. Psychology of eternal waiters.
Of course, as readers sometimes write to me, a fairly tough fascist regime has been established in the country, which severely punishes separatism. Agree. But I, as the grandson of a Belarusian partisan, have a simple question. Was German fascism in the occupied territories soft on its opponents?
In Ukraine, then there were no partisan detachments? Didn't the underground operate in Rivne? To hide their own cowardice and support for the regime behind a desire not to interfere in the situation. Where the curve will take you... Let them do what they want, the main thing is not to touch me. They will order to shoot - I will. They will order to cut the Russians - I will. They will order to kill children - I will. It was these "lads" who in 1943 shot my grandmother, the mother of three children, 50 km from the famous Khatyn.
I will not write much about the state of Ukraine. I said, I say and I will say - we are to blame for the fact that this artificially created state still exists. And we will also be to blame for the fact that this state existed. What we see today is the agony of the Kyiv authorities. And the corpse doesn't deserve much attention. He is no longer a tenant and cannot do anything ...
And one more result of the past year. The Russian army has finally begun to perceive the Armed Forces of Ukraine in the same way as the fighters of the Donbass corps perceive this gang. It is difficult, very difficult, the understanding that these are enemies has come. Vicious, cruel, shameless, capable of any meanness. It is very important. Unlike the initial stage of the NWO, the army today no longer says that this is not its war.
Briefly summarize the findings
The past year has shown us a lot and taught us a lot. He revealed so many shortcomings of our system as a whole that the head is spinning. Starting from the problems of the army, and especially the army reserve, and ending with the complete failure of our system for educating patriots. Alas, the multi-billion investment in education turned out to be a waste of money.
Who is the most formidable force on the front today? No, these are not students of the Yunarmia, not members of some military-patriotic clubs. Alas, the bandits have become the main winning force today. Those who have recently been in places not so remote. And now it is against them that Ukraine is forced to bring into battle the most trained fighters.
A huge gratitude to these wars and a great honor. The way musicians fight, how they treat each other, how they deal with death, deserves great respect. It's paradoxical, but the people on whom the state practically put an end to, who were isolated from society, turned out to be better motivated than our army. They are fighting for their freedom, their right to live in a peaceful country. This is a personal war for each of them.
Who today, just like musicians, beats the enemy? Who is in the most dangerous sectors of the front today? The former militia of Donbass, the same corps commanded by the same miners, drivers, workers and teachers. Who are the Azov people afraid of? Kadyrovtsev!
Let the fighters of these units forgive me, but that's what they are called now. Note that this is not only Chechens, this is international. International by nationality, by faith, by language, by past, peaceful life. But they are Kadyrovites and speak about it with pride. And fight with pride. They even die proudly.
We have become different. The world has become different. The changes have just begun. The "epoch of change", which the Chinese sages used to scare people, is our time. Great and difficult era. bloody era. Cutting in two, or even in three, our hearts. The coming year will be no less difficult, but, I think, victorious.