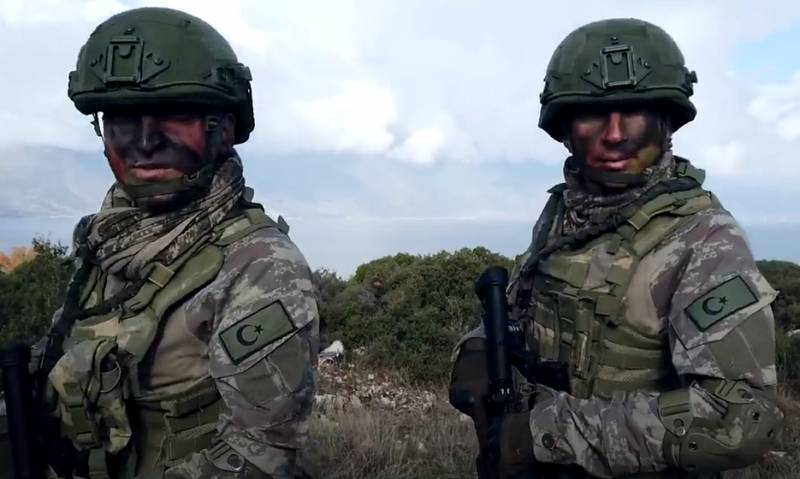 According to the Syrian newspaper Al-Watan, referring to unnamed sources in Damascus, Turkey and Syria managed to agree that the Turkish military will leave the northern regions of Syria. This became possible after the meeting in Moscow of the defense ministers of Turkey, Syria and Russia Hulusi Akar, Ali Mahmoud Abbas and Sergei Shoigu.
Ankara has declared its respect for the sovereignty of Syria and its readiness to withdraw troops from their positions in northern Syria, writes the Syrian edition.
In addition, Al-Watan notes, the parties agreed that the PKK is a threat to both Ankara and Damascus. The PKK has been called "an agent of Israel and the US".
Recall that since the start of the civil war in Syria and the weakening of the Assad government, the Turkish military have become constant "guests" in the northern regions of Syria, bordering Turkey. At the same time, the Turkish authorities explained this by the need to fight Kurdish militants. But, in fact, there is a real military occupation of significant territories of an independent state.
The presence of the Turkish military on the territory of Syria, which was not authorized by official Damascus, greatly complicated relations between the countries.
The first meeting of Turkish and Syrian officials over the past 11 years took place in Moscow on December 28 this year. The Syrian Defense Ministry said that the meeting in Moscow was positive.
However, there is still no confirmation from Ankara that Turkey is ready to withdraw its military from Syrian territory. According to Turkish Defense Minister Hulusi Akar, the Turkish military ended up in a neighboring country, as a significant part of it was under the control of terrorists. Recall that terrorists in Turkey are understood as Kurdish armed groups, supported primarily by the United States.