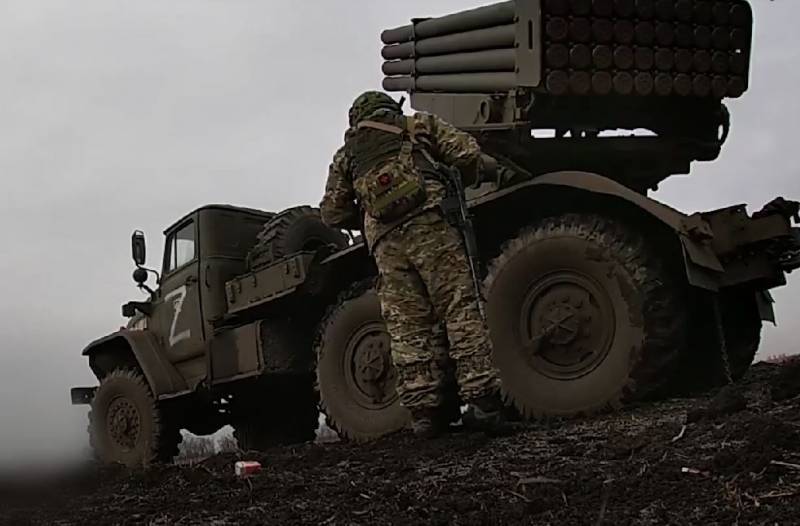 In Maryinka, the Russian armed forces continue to storm the positions of Ukrainian formations. But, despite the notable success in this settlement, Ukrainian troops fiercely resist attempts to advance the RF Armed Forces. The Avdiivka area is under fire from Russian artillery, and there are also attempts to attack Ukrainian positions.
In the area of ​​Artemovsk (Bakhmut), Russian troops continue military operations against the Ukrainian formations defending the settlement. Under the settlement of Sladkoe, with the help of an unmanned aerial vehicle, the exact coordinates of enemy positions were established, after which they were struck.
By the morning of December 30, the Russian military liquidated a group of enemy motorized infantry in pickup trucks. Also on the night of December 30, an enemy sabotage and reconnaissance group (DRG) in the Yakovlevka area was destroyed, and a Ukrainian officer was captured.
In the area of ​​​​Konstantinovka, an S-400 missile attacked the positions of a detachment of Georgian mercenaries fighting on the side of the Armed Forces of Ukraine (Armed Forces of Ukraine). The Spetsnaz Archangel Telegram channel writes that the enemy is trying to operate in small groups in cars. Such groups are used for reconnaissance in combat and a breakthrough at once in many areas of combat contact.
Meanwhile, in the Kleshcheevka area, attacks on Ukrainian positions by Wagner PMC fighters continue. Attempts are also being made to attack the "Wagnerites" at Bakhmutsky, Podgorodny, Yakovlevka, Razdolovka, Vesely and Vyemka.
Russian troops are also attacking in the Luhansk direction. Here, according to the WarGonzo Telegram channel, attempts are being made to advance in such directions as Krasnopopovka and Ploschanka, to the north - Stelmahovka and Dzherelnoye. Ukrainian formations in these areas do not yet demonstrate high activity. In the Kherson direction, the RF Armed Forces are shelling Lozovoe, Kozatskoe, Gornostaevka.