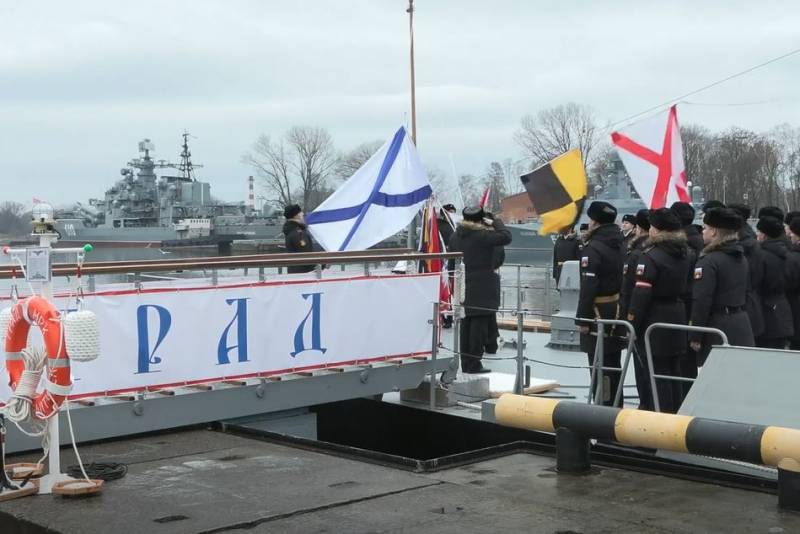 The Navy has been replenished with the project 127000 mine defense ship "Alexandrite" and the project 21631 small missile ship "Buyan-M". Solemn ceremonies of raising the St. Andrew's flags were held in Vladivostok and Baltiysk. This was reported by the press service of the Ministry of Defense.
The admission ceremony took place in Vladivostok
fleet
mine defense ship "Anatoly Shlemov" project 127000 "Alexandrite". The minesweeper became part of the 114th brigade for the protection of the water area of ​​​​troops and forces in the North-East with a deployment in Kamchatka.
The ship PMO "Anatoly Shlemov" is the seventh minesweeper of project 12700 "Alexandrite", laid down at the "Sredne-Nevsky" Shipyard in July 2019, launched in November 2021. It was delivered to Vladivostok via the Northern Sea Route by towing this summer together with the minesweeper Pyotr Ilyichev. Named in honor of Vice Admiral Anatoly Fedorovich Shlemov (1949-2018), who served in the Main Directorate of Shipbuilding of the Navy.
In Baltiysk, a solemn ceremony of accepting the Grad small missile ship of project 21631 Buyan-M into combat took place. The ship became part of the 36th RTO Brigade, which includes the 1st Guards Missile Boat Battalion and the 106th Small Missile Ship Battalion, stationed at the main base of the Baltic Fleet.
RTO "Grad" was built at the Zelenodolsk Shipyard, it is the tenth RTO of project 21631 "Buyan-M" in a series of twelve ships. RTOs of project 21631 "Buyan-M" are a modernization of project 21630 "Buyan" and belong to multi-purpose ships of the "river-sea" class. Designed to protect the economic zone of the state. The main armament is the Kalibr-NK universal long-range missile system for eight vertical shafts. Displacement 949 tons. Length 74,1 meters, width 11,0 meters, height 6,57 meters, draft 2,6 meters. The maximum speed is 25 knots. Cruising range - 2500 miles, autonomy - 10 days. Crew - 52 people. A water jet has been installed.