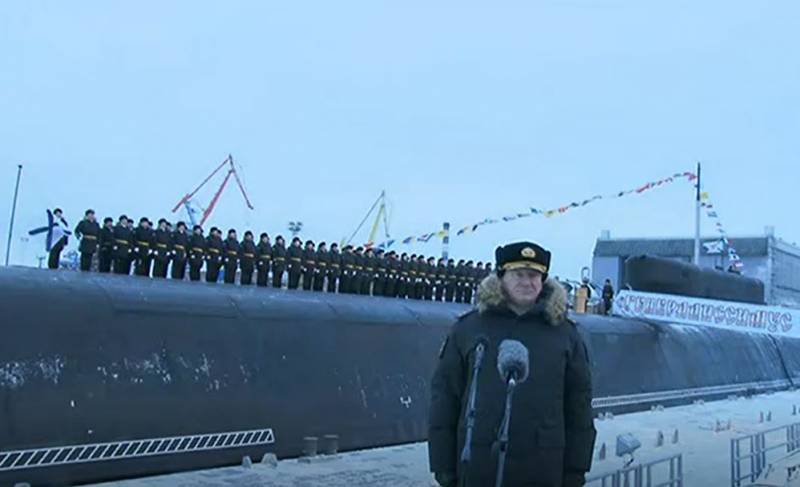 Nuclear submarine strategic missile cruiser "Generalissimo Suvorov" entered the combat structure of the Naval
fleet
Russia, the solemn ceremony of raising the Andreevsky flag was held today, December 29, in Severodvinsk. This was reported by the press service of the Ministry of Defense.
The second serial submarine missile carrier of the modernized project "Borey-A" was accepted into the fleet, as promised, "under the Christmas tree", and on the same day with the launching of the third serial "Borey-A" "Emperor Alexander III". "Generalissimo Suvorov" will go to serve in the Pacific Fleet, but not immediately. As previously reported in the military department, until the summer of next year, he will remain in the Northern Fleet, and then make an inter-naval transition to Kamchatka.
The completion of the state tests of the Generalissimo Suvorov became known in early November of this year, the final stage of the tests was the shooting of the Bulava from the White Sea at the Kura training ground in Kamchatka. After that, the submarine returned to Sevmash, where work was carried out to prepare the submarine for transfer to the military.
"Generalissimo Suvorov" is the second serial strategic nuclear missile carrier of the modernized project "Borey-A". Laid down on December 26, 2014, decommissioned on December 25, 2021, launched on January 11, 2022. It was transferred to the combat strength of the fleet on December 29, 2022.
Underwater displacement - 24000 tons, diving depth - 480 meters, crew - 107 people, autonomy - 90 days, underwater speed - 29 knots. It is armed with R-30 Bulava SLBM, 533 mm torpedoes, RPK-6M Vodopad torpedo missiles. It has high maneuverability and acoustic stealth.