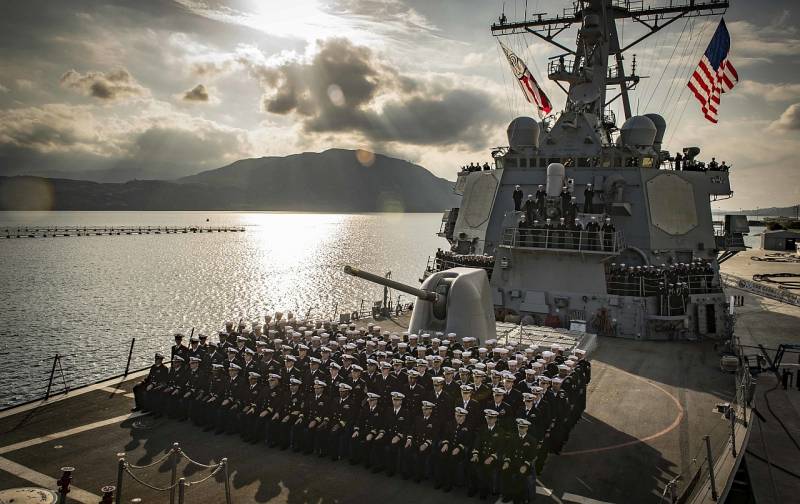 The fire on the destroyer USS Carney of the US Navy, moored at the Mayport Naval Base near Jacksonville, Florida, occurred early in the morning on December 23. Navy spokesman Jason Fisher told Military.com that the sailors on board the ship quickly responded to the fire, along with the Jacksonville Fire and Rescue Service and a crew from the nearby destroyer USS Mason.
By joint efforts, the fire was quickly extinguished. As a result of the fire, six sailors were poisoned by combustion products. They were provided with emergency medical care, on the same day they were all released from the medical facility.
To investigate the cause of the fire, the command of the naval
fleet
called agents of the Federal Bureau of Alcohol, Tobacco, Firearms
weapons
and explosives (Bureau of Alcohol, Tobacco, Firearms and Explosives - ATF) of the US Department of Justice. The duties of the service staff, in addition to monitoring the illegal circulation of alcohol and tobacco products, include the investigation of terrorist acts, arsons and explosions. According to Fischer, the military had difficulty determining the cause of the fire, which is why they turned to the ATF for help.
Military.com writes, citing an open source intelligence blog, that the cause of the fire in one of the destroyer's compartments could be simple negligence. Bloggers intercepted radio transmissions of military sailors stationed at the Mayport base. From them it follows that the fire was assigned class A. Such fires occur when igniting objects such as wood, fabric, paper, rubber or plastic. In other words, ordinary trash or rags.
The incident is the second publicly acknowledged fire to have occurred on board a ship in Mayport. In late July, a fire broke out aboard the light cruiser USS Milwaukee due to a malfunction in the electrical system. Then the fire was also quickly extinguished.
The most destructive ship fires in recent history
stories
The US Navy tended to take place during shipyard repairs. So, in 2020, the amphibious assault ship USS Bonhomme Richard, which underwent two-thirds of the planned repairs, was destroyed by fire. The ship was decommissioned and sent for scrapping. One of the junior sailors was accused of arson, but the case never reached the tribunal due to the lack of hard evidence against him
In 2012, the nuclear submarine USS Miam burned down during maintenance at the shipyard. One of the shipyard workers was blamed for the incident and was sentenced to more than 17 years in prison.
The construction of these ships cost the Pentagon billions of dollars. The restoration of Bonhomme Richard, which, after modernization, was supposed to serve at least until 2035, after a fire, according to the calculations of the Navy, would cost 2,5 - 3,2 billion dollars. Its disposal was estimated at "only" $30 million.