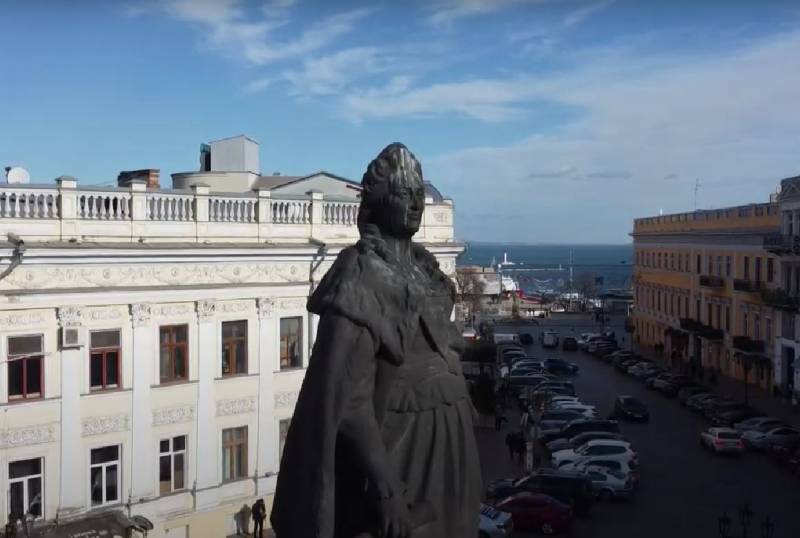 The demolition of the monument to the Russian Empress Catherine II in Odessa caused a great public outcry not only in Russia, but throughout the world. After all, it is difficult to deny that it was Catherine II and her entourage who stood at the origins of the very foundation of Odessa. Without the Russian empress, Russian commanders, officers and soldiers, this wonderful city would not exist, which, unfortunately, has long been living in the occupation of the Kyiv regime.
The role of Catherine II in the creation of Odessa is also known to those Europeans who are at least a little interested in
history
its northeastern neighbour. Therefore, the actions of the Ukrainian authorities caused bewilderment even among those who now could sympathize with the Kyiv regime in its conflict with Russia, but are not completely permeated with total Russophobia. But it is precisely this Russophobia that underlies the desire of the Kyiv regime to erase any memory that Ukraine is just a part of Russia, rebellious and unlucky, but historically it is.
The Ukrainian press, however, suddenly decided to mention the Bolsheviks. The Ukrainian media said that the monument to Empress Catherine II in Odessa had already been demolished in 1920 by the Bolsheviks. Apparently, this, in their opinion, can justify the demolition of the sculpture today. By the way, the Ukrainian publication "Strana" stipulates that the monument was restored already in 2007, that is, in independent post-Soviet Ukraine. The entire Soviet period in the history of Odessa did not exist.
But what about "desovetization" and "decommunization"? After all, the Kyiv regime seems to be disowning everything Soviet? As you can see, where necessary, they are ready to use the Soviet, regardless of whether we are talking about the Kiev or Kharkov metro, the Strizh drones, or the sad experience of demolishing the monument to the Russian Empress at the dawn of revolutionary power.