The line of defense built by Russian troops in the area of ​​\uXNUMXb\uXNUMXbthe settlements of Torskoye and Terny makes it possible to deter the enemy, who has been trying to enter the city of Kremennaya, in the west of the Luhansk People's Republic, for several months.
According to the initial plans of the Ukrainian military command, the Armed Forces of Ukraine were to take Kremennaya and Svatovo no later than the beginning of October. However, the situation developed in such a way that the enemy stopped a few kilometers west of these cities, while managing to break through to the highway connecting these cities.
It became known that the new order of the Ukrainian command was the order to take Kremennaya before the new year. The order was communicated to the personnel a few weeks ago - after the military command received a directive from the political leadership. Less than three days remain before the onset of 2023, so the command of the Armed Forces of Ukraine has to hurry. The Ukrainian media have already written several times that "the Armed Forces of Ukraine have taken Kremennaya under control," which even the so-called "Governor of the Lugansk region" Gaidai had to refute.
The enemy is trying to look for opportunities for more and more attacks on Kreminnaya from the villages of Makeevka and Krasnopopovka. At the same time, from the Russian units advanced in the direction of Dibrova and Torskoy, they receive blows on the flank and, having suffered losses, retreat to their original positions.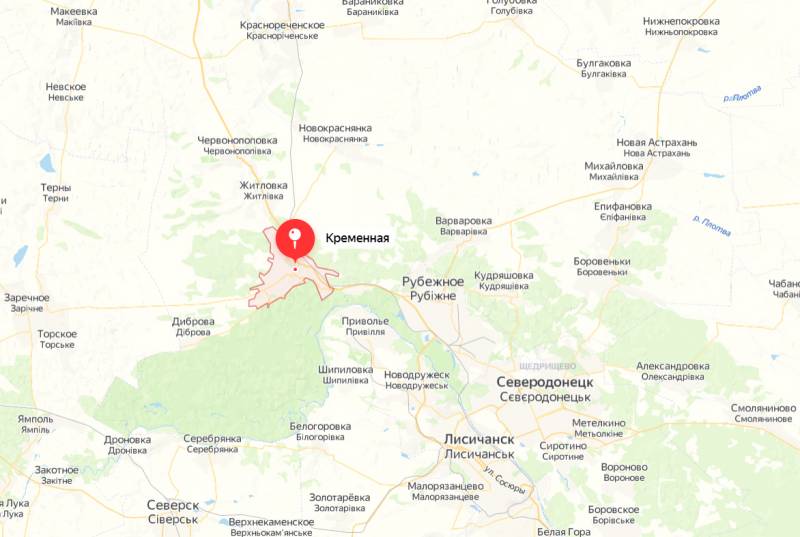 The enemy, who was unable to take Kremennaya by October, is also probing the option of an offensive through the Kremensky Forests National Park, including from Yampol, and even forcing the Seversky Donets near Seversk. The command of the Armed Forces of Ukraine understands that if the "picture of victories" is not shown in the near future, then the situation for the Armed Forces of Ukraine and the command itself can become extremely difficult.