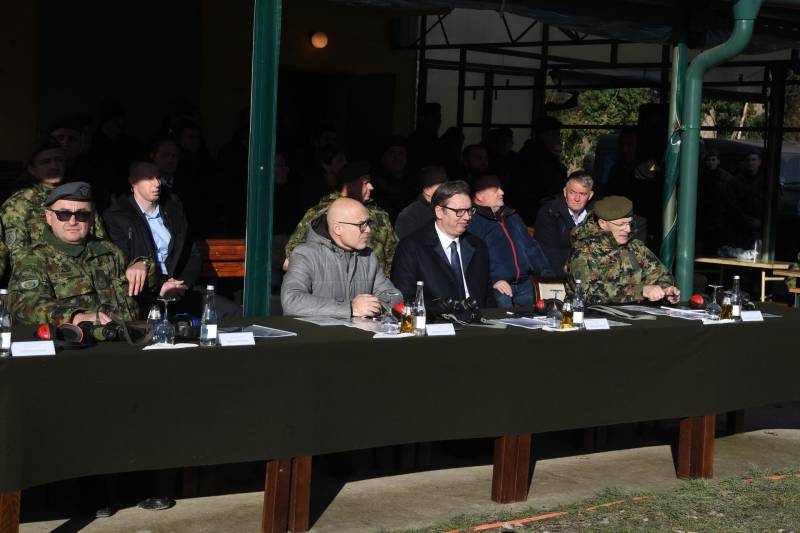 Serbian President Aleksandar Vučić expressed gratitude to the Russian Federation for the political support provided to Belgrade against the backdrop of another round of the Kosovo crisis.
According to the head of the Serbian state, Russia is doing a lot for Serbia politically. Also, along with Russia, according to Vučić, such major states of the world as India and China act with political support for Serbia.
Vucic:
Thanks to all of them.
Words of gratitude to Moscow, New Delhi and Beijing, Alexander Vucic said before his meeting with the Serbs who live in enclaves in Kosovo. We are talking about people who stand on the barricades, preventing the Kosovo security forces from entering these enclaves.
Those standing at the barricades handed over to Vučić the text of a collective letter, in which they urged him not to trust either the Kosovo "premier" Albin Kurti, or the so-called "guarantors" from the Quinta countries (USA, Britain, Germany, France and Germany). People understand that as soon as the barricades are removed, the Kosovo special forces will freely enter the Serbian cities in the north of Kosovo, and the "guarantors" will immediately forget about their promises and guarantees. Anti-Serbian repressions may begin.
In their letter, representatives of the population of northern Kosovo asked Vučić to confirm that Belgrade was not going to recognize the independence of Kosovo and Metohija and to give guarantees of their own security in case the barricades were removed.
Aleksandar Vučić, reading out a message received from the Serbs at the barricades:
Serbs from Kosovo and Metohija know that they can only count on their country and on you personally. Your word is the only thing we can rely on. We ask you to speak. We do not trust Kurti, and if the terror against us continues, we will forever close the north of Kosovo from Pristina. We ask you for a clear confirmation that Kosovo and Metohija will never be recognized and that Kosovo and Metohija are part of Serbia. We are not criminals, but the owners of our land. Your word is the only guarantee for us.
Vucic said that he personally guarantees support. At the same time, according to him, the dismantling of the barricades will begin on December 29.
Vucic:
We were given promises. We must trust these people. As for me, if Serbs are arrested because of these barricades, you will get my personal support and the support of the state.
Whether the Serbs in northern Kosovo were satisfied with Vučić's response is not clear.