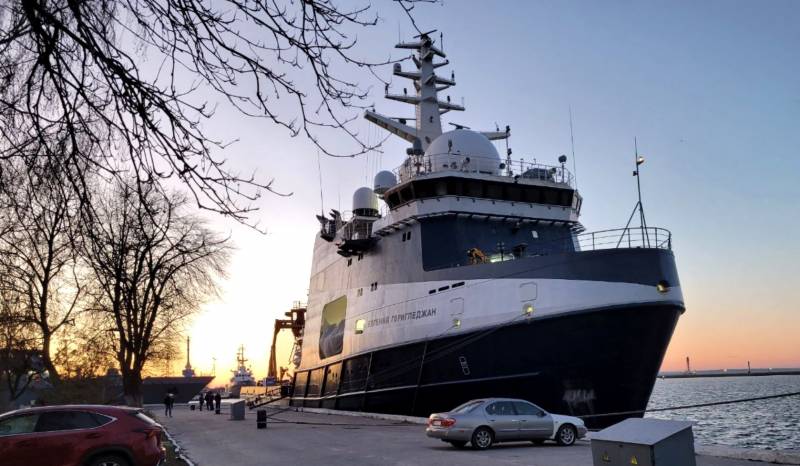 The oceanographic research vessel Evgeny Gorigledzhan, built in the interests of the Main Directorate of Deep Sea Research (GUGI) of the Ministry of Defense, has completed factory sea trials. This was reported by the press service of the USC.
The Yantar Baltic Shipbuilding Plant has completed factory sea trials and notified the Ministry of Defense of its readiness to bring the ship to the state. As soon as the appropriate permission is received, the OIS "Evgeny Gorigledzhan" will again enter the Baltic Sea. Now we can safely say that the ship will be handed over to the military next year.
During the tests on the ship, the operation of all systems and equipment was checked. Based on the results of the checks, all running certificates were signed. The plant management notified the customer about the readiness for state testing
- said in the message of the USC.
It was originally planned that the OIS would be handed over to the military in September, but there were problems with the equipment, although the ship itself was already ready. It was decided to resume the tests, which dragged on until the end of the year.
The oceanographic research vessel "Evgeny Gorigledzhan" was actually rebuilt from the sea tug MB-305 of the V-92 project, built in 1983 in Poland according to the project 02670, developed at the Almaz Central Design Bureau. The formal laying down (actually re-laying) of the vessel took place on March 19, 2016. In 2018, construction was stopped and resumed only in February 2020 after the contract was renegotiated with the Ministry of Defense. The vessel was launched at the end of December 2020.
Displacement of the vessel - 4 thousand tons, length - 81 m, width - 16 m, autonomy - 30 days, crew - 32 people and 25 members of the expedition. The main purpose is "carrying out underwater technical works". The OIS is capable of taking on board underwater and rescue vehicles.