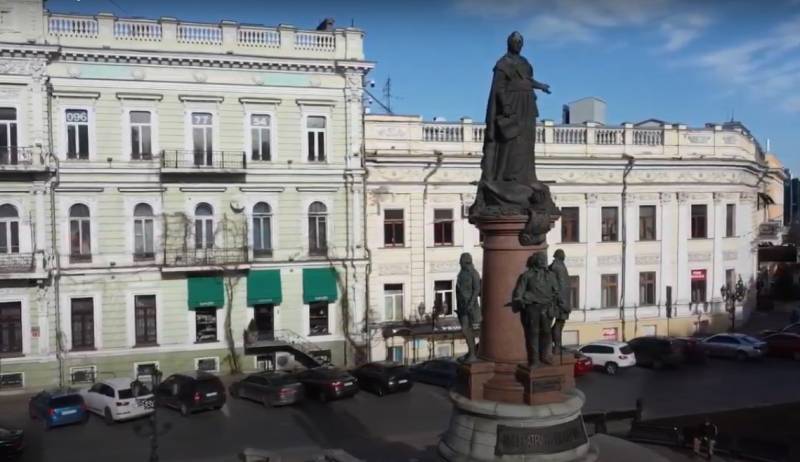 According to Ukrainian media, early this morning in Odessa, work began on the dismantling of the monument to Catherine II. In this regard, traffic on the square was blocked, and the perimeter of the monument was cordoned off. According to local media, a wooden sarcophagus has been dismantled near the monument to the founders of Odessa.
Note that at the end of October, the Odessa City Council voted to remove the monument from the city center. Also, the city council told about the future fate of the monuments to Catherine II and Count Suvorov, which, after dismantling, are planned to be temporarily transferred to the Odessa Art Museum. Petitions even appeared on the website of the President of Ukraine regarding their demolition.
It is important to emphasize that this is far from the first case on the part of the Ukrainian authorities of the destruction of objects of the country's historical and cultural heritage and the manifestation of frenzied Russophobia and hatred towards Russia. This month, a monument to the Russian poet Alexander Sergeevich Pushkin was also dismantled in Dnipro.
Recall that the monument to the Russian Empress bears the official name of the monument to the founders of Odessa, because in addition to Catherine II, who founded the city in 1794, it also includes sculptures of her associates - Joseph Deribas (the builder of the first port on the site of Odessa), Franz de Vollan (the first architect of the city), Grigory Potemkin and Platon Zubov, who at that time held the posts of governor-general of Yekaterinoslav (now the Dnieper).