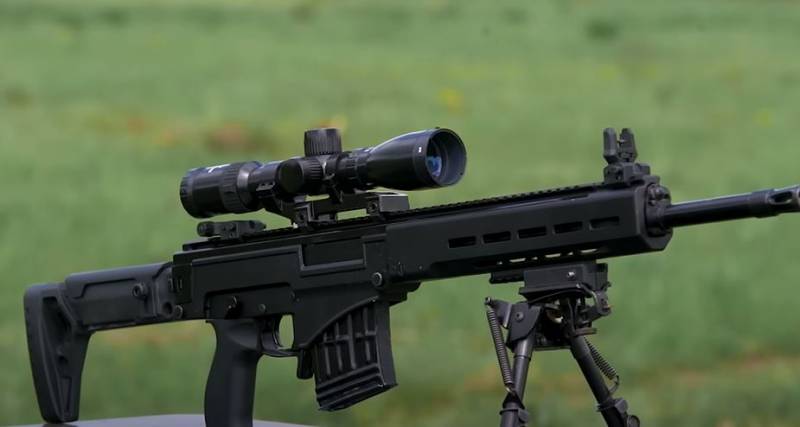 The Chukavin sniper rifle (SVCh), sent by the Kalashnikov concern to the zone of a special military operation for operation in combat conditions, showed high accuracy rates. This was announced by the president of the concern "Kalashnikov" Alan Lushnikov.
The SVCh rifle used by Russian snipers in the SVO zone demonstrates higher accuracy than that of the SVD predecessor. According to Lushnikov, this indicator for the microwave is at the level of the sniper rifle of the older SV-98 line. In addition, the SHF has a higher effective range than the SVD.
This is a very good rifle. Of a fundamentally new quality. (...) It allows you to conduct aimed shooting at a distance of up to a kilometer, and the previous version - SVD - up to 800 m. And its accuracy parameters, of course, are significantly better than those of SVD. This is already at the level of the senior sniper line: we still have such a product, it is produced in small quantities - SV-98
- said the head of the concern.
The new Chukavin sniper rifle (SHCh) was developed by the Kalashnikov concern on the instructions of the Ministry of Defense to replace the outdated Dragunov sniper rifle (SVD). For the first time the microwave oven was shown to the public in 2017 at the Army-2017 forum. The rifle was originally available in three calibers - 7,62x54R, 7,62x51 NATO (also known as .308 Win), and .338 Lapua Magnum (8,6x70 mm). At the same time, in the 7,62x54R caliber, the microwave rifle is fully compatible with magazines from the SVD sniper rifle.
The microwave length, depending on the version, ranges from 995 to 1015 millimeters, and the mass is 4,2 kilograms with an empty magazine and a mounted optical sight.
Weapon
equipped with a barrel length of 410 millimeters. Sighting range - 1000 meters, although some sources indicate 1200.