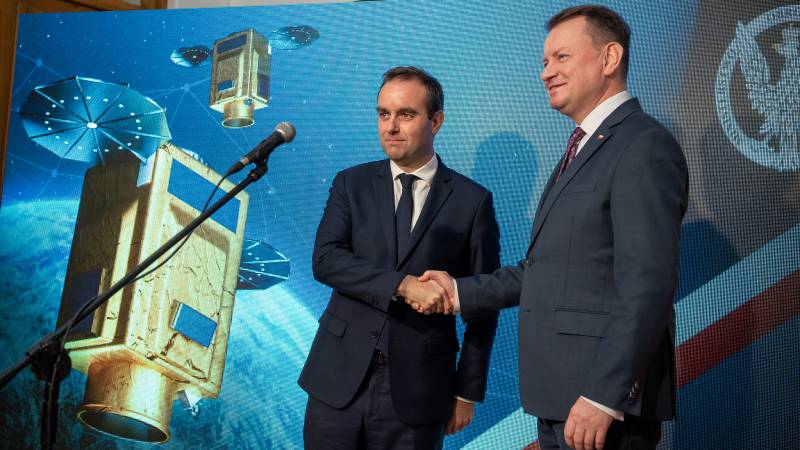 Poland will receive two observation satellites, which will be included in the early warning system for missile attacks, etc. An agreement on the transfer of reconnaissance spacecraft to Poland was signed with France.
On Tuesday, December 27, 2022, French Defense Minister Sebastian Lecornu met with Polish Defense Minister Mariusz Blaszczak in Warsaw. As part of this meeting, an agreement was signed for the supply of two reconnaissance satellites and a receiving station to Poland, which will be located on the territory of the country.
As Blaszczak explained, the French will supply the Polish Ministry of Defense with two satellites that will allow them to receive intelligence data with an accuracy of up to 30 cm, and if the spacecraft are planned to be put into orbit before 2027, then Warsaw will get access to intelligence information from the French satellite constellation right now.
Today we had the opportunity to approve an agreement on equipping the Polish Army with reconnaissance satellites. This is a good opportunity to strengthen the ability to recognize threats at an early stage.
- added the head of the Polish military department.
This news made Kyiv very happy, in which they hope that Poland will share the information received with the General Staff of the Armed Forces of Ukraine. Currently, Ukraine officially receives information from the satellites of the Finnish company ICEYE. Unofficially, Kyiv is supplied with satellite intelligence data by the United States and Great Britain. According to the Main Intelligence Directorate of the Ministry of Defense of Ukraine, during the hostilities, satellites made it possible to detect almost 2,6 thousand units of Russian armored vehicles, the movement of troops and prevent missile attacks.