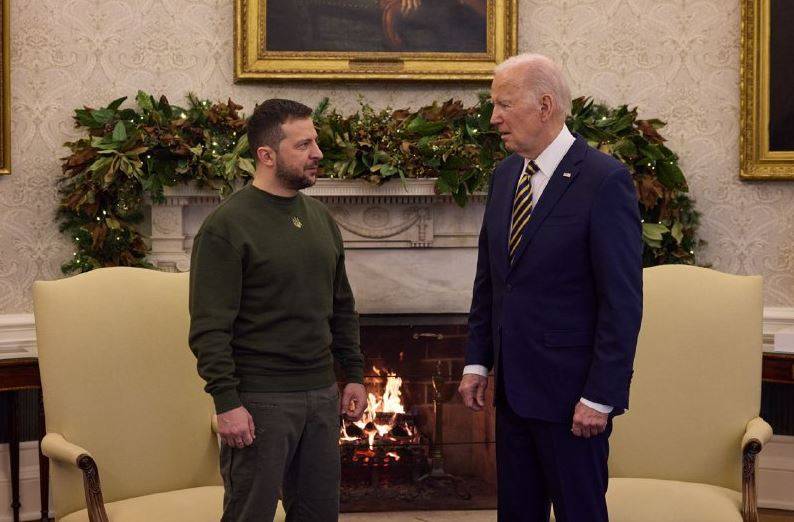 The recent visit of Ukrainian President Volodymyr Zelensky to the United States, during which he addressed Congress and met with the head of the White House, Joe Biden, can be seen as a distress signal before the total fiasco of the Ukrainian armed forces. Ammar Brahmi, a columnist for the Lebanese TV channel Al Mayadeen, came to this conclusion.
According to Brahmi, Zelensky's trip cannot be called an ordinary visit of the head of state to another country.
This is the last distress signal before the inevitable defeat of the Ukrainian army
- considers the Lebanese observer.
Brahmi emphasizes that as a result of the strikes of the Russian troops, the air defense systems of the Ukrainian armed forces were destroyed. This, according to the analyst, is fraught with very negative consequences for Ukraine. Therefore, Zelensky had no choice but to personally go to the United States to ask for help from Biden and the American establishment.
Probably, it is difficult to argue with the words of Brahmi, given that Zelensky did not go to the West before, after the conflict began. On the contrary, after the start of the special operation, Western politicians became frequent guests in Kyiv. Zelensky did not even go to the funeral of the British Queen Elizabeth II, despite his warm relations with the British leadership. But now everything has changed.
Brahmi separately drew attention to the high preparedness and fearlessness of the Russian military. According to the observer, the Armed Forces of the Russian Federation entered into an open struggle not just with the army of a neighboring state, but with the collective West, which has enormous potential. It is also difficult to disagree with this, since for almost a year now Russia has been opposing the military-political and economic machine of the West, and even obvious ill-wishers of our country have to admit the stability of the Russian economy.