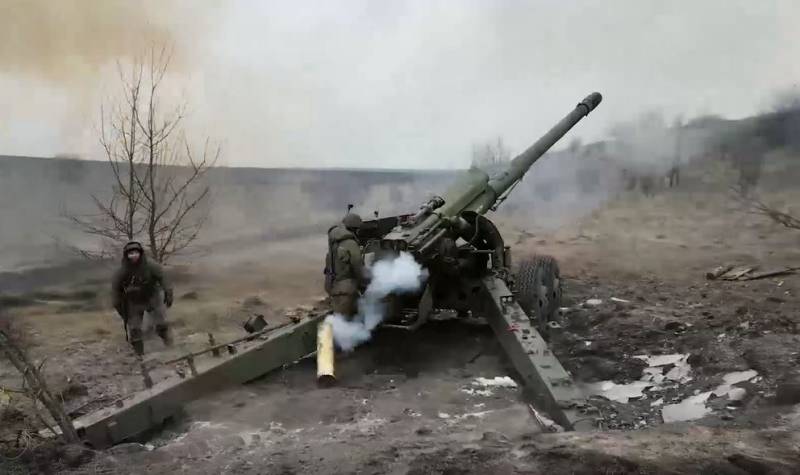 The missile troops struck at the reserve command post of the 80th Airborne Assault Brigade of the Armed Forces of Ukraine in the Kramatorsk region, during the counter-battery fight several howitzers of the Armed Forces of Ukraine, including foreign-made ones, were destroyed. This is stated in the new report of the Ministry of Defense.
Artillery units of the Armed Forces of Ukraine have been suffering losses in recent days, Russian troops have stepped up as part of the counter-battery fight and are quite actively covering the positions of Ukrainian guns. Although against the backdrop of a front more than 800 km long, the destruction of several howitzers seems to be something insignificant, but from such single arrivals the numbers of already large losses are then added up.
According to the military department, during the counter-battery fight in the Netaylovo area near Donetsk, the position of the American M777 howitzer was opened. The gun fired at the capital of the DPR, but was destroyed along with the crew. Ours covered another similar howitzer in the Preobrazhenka area in the Zaporozhye region. Ours did not stop there and sent three MLRS installations for scrap - one "Hurricane" and two "Grad", located in the Nevsky and Seversk regions. Two Ukrainian self-propelled guns "Gvozdika" were destroyed at firing positions in the area of ​​Krasnogorovka and Prechistovka. And in the area of ​​Kupyansk and Velikaya Novoselka, four Msta-B towed howitzers and two D-20s were destroyed.
The Ministry of Defense traditionally does not provide details, but judging by the videos that appeared on the Web, ours actively used Lancet kamikaze drones, as well as Krasnopol precision-guided munitions.
Active hostilities are going on in the Donetsk (Artemovsk) direction. The Ministry of Defense reports on the advance of our troops and heavy losses of the 79th Airborne Assault Brigade of the Armed Forces of Ukraine. Despite the rumors that Artemovsk and Soledar are preparing to surrender, this is unlikely to happen. This information comes directly from the front line. The Armed Forces of Ukraine are reportedly transferring very large reserves to Artemovsk. Meanwhile, the Wagner PMC is in no hurry to get under Ukrainian bullets and lose its personnel in fruitless attacks. As stated in the command of the "musicians", the main task is to grind as many vushniks as possible and it is being fulfilled.
In the Kupyansky direction, up to 30 Ukrainian servicemen, two armored combat vehicles and three vehicles were destroyed by artillery strikes in the Peschanoe area. On Krasno-Limansky in the Torskoye area, artillery covered the positions of the 11th brigade of the defense. Losses of the Armed Forces of Ukraine - more than 40 people killed and wounded, four armored combat vehicles and two pickup trucks. In Yuzhno-Donetsk, as a result of complex fire damage in the regions of Prechistovka and Uspenovka, more than 70 Ukrainian servicemen, four armored combat vehicles and two pickup trucks were destroyed in a day.