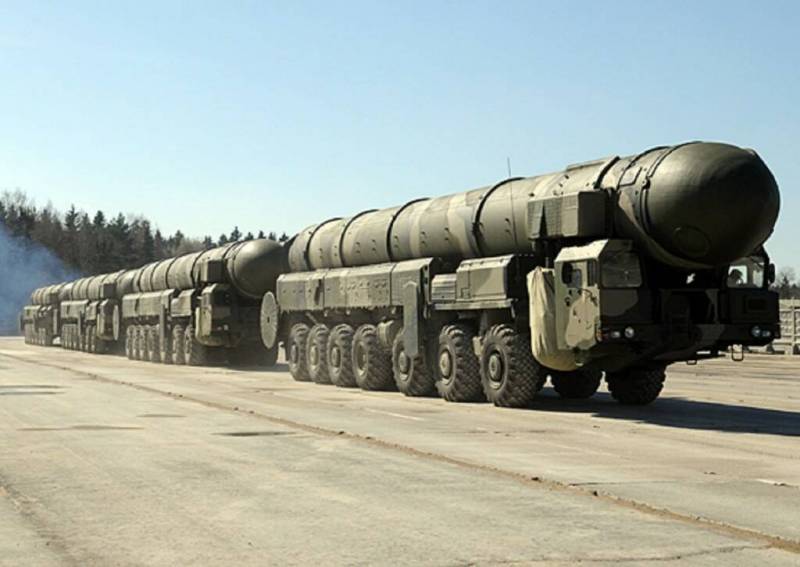 The events of December this year make us remember some of the dogmas that have been instilled and are being instilled in humanity for many decades. For as long as I can remember, and I have been living in this world for quite a long time, I was inspired by two thoughts that really ingrained themselves in my brain.
The first thought sounds simple, as it is repeated almost daily in various media by politicians, analysts, columnists and other media personalities. Nuclear
weapon
- this is not a weapon in its classical form, but a tool to deter the enemy.
Now, if the enemy uses such weapons against our troops or our territory, then we will respond! We will answer even when we die! The whole world is in ruins ... But then! We just don't have to answer.
There, in the camp of enemies, they are also not idiots and do not want to die either. In general, it's understandable. I do not think that other fellow citizens have never heard such statements.
And the second no less replicated idea. Our nuclear triad is so well protected that no enemy will even come close. Moreover, most of the objects of the nuclear triad are located in our deep rear.
As long as an enemy missile or drone flies, someone will definitely shoot it down! And if they don't shoot down, then there are such bunkers made of kilometer-long reinforced concrete that not a single bomb will take ...
And here again and, to put it mildly, bad luck. On December 5, some creature nevertheless flew to one of the objects of this very nuclear triad. And not only flew in, but also caused quite a tangible damage. And on December 26, another arrived.
True, as they say, the air defense missile "pushed" this creature off its combat course, and it banged not in the parking lot, but in one of the buildings of the airfield. More precisely, based on the reports of American intelligence - into empty containers, and there it has already detonated. The officers of the ground service, who were in the trailer for heating the personnel, died.
Well, what is the result? Our nuclear triad has been hit. And twice. But inflicted by a non-nuclear state. And our military doctrine "hung". It is necessary to answer, but it is not yet clear how.
Most likely, we will soon see another attack by drones and missiles on infrastructure facilities. Again, half-hearted measures that will only strengthen the enemy's confidence in his own security ...
Are there weapons of deterrence or weapons of sedation?
Indeed, is there such weapons in principle? Probably happens. A knife or a gas pistol, a gas spray or some kind of baseball bat will quite "keep" hooligans from attacking. A machine gun or a tank will also make you think about whether to attack. They will also hold back. The presence of almost any weapon in the hands of the defender is a deterrent.
But what happens when this weapon is in the hands of the attacker? Never mind. The weapon hasn't changed. Only the purpose of its application has changed. Now this is a classic weapon. For an attack and for a rebuff - in case of an answer from the defender.
That is why we view US missiles in silos as a real threat, and the Americans view our missiles in the same way. That is why our Yars terrify the American military. Everything that is connected with nuclear weapons and can quickly move and change positions, especially if they are launchers, is extremely dangerous for the enemy.
Today, strategic nuclear weapons do deter other nuclear states from directly using such weapons in numerous military conflicts around the world. But the example of Ukraine shows a completely different situation. A non-nuclear state strikes at the territory of a nuclear state.
I am sure that in this situation it is necessary to act adequately. For such countries, there is a completely different "weapon of calm". We look, for example, at the Ukrainian capital. "Ghost town", as one of the former advisers to the President of Ukraine said yesterday.
Residents of the capital are scattered to other cities and countries. Cruel? Isn't it cruel to blow up the bridges that provide life for the whole peninsula? And shelling Donetsk and other Donbas settlements is not savage? And killing more civilians every day than those who die in strikes all over Ukraine in one city is not brutal.
To be honest, I thought that the actions that Russia demonstrated after December 5 would bring Ukrainian society and the Ukrainian leadership to their senses. Kyiv will understand that there will be no more impunity. Ukraine has finally convinced Russian society that we really are no longer brothers. Alas, but, in my opinion, the majority of Russians, like the majority of Ukrainians, today do not really see the brotherhood of our peoples.
President Vladimir Putin has repeatedly stated that "we haven't started yet." And when will we start? When will the same drone suddenly appear within the Moscow MKAD? Or when the number of Ukrainian DRGs trying to cross the Russian-Ukrainian border. reaches tens or hundreds? Isn't it time to use that very weapon of calm?
Do we really need, for example, a government quarter in Kyiv? Do we really need the buildings of the administration of the President of Ukraine, the Ukrainian Ministry of Defense or the Ministry of Foreign Affairs? Human losses in such strikes? Let's not be cynical, the losses will be minimal already because the structures that lived there before the NWO have not been working in these buildings for a long time.
And yet, the Ukrainians quite deliberately struck a blow at a specific Russian official of the highest echelon of power. Will we answer? Or our officials do not deserve it? I personally have no doubt that at the first even minimal opportunity, Ukraine is 100% likely to strike at any Russian statesman, including the president.
It is time to move from deterrence to the normal use of weapons. We will understand what kind of particular weapon belongs to later, after the victory.
This is not the impudence of Ukraine, this is an order from Washington
And I would like to consider one more aspect of what happened on December 2 and 26. For some reason, we are only talking about what "buns" Kyiv receives after each high-profile terrorist attack. Be it the blowing up of the Crimean bridge, the shelling of an airfield, the injury of a major Russian official, and the like. At the same time, no one doubts that the main task of the West was and is today to destroy Russia as a single state.
This is rather strange. What did Ukraine get after December 5? A bunch of problems with logistics, with electricity, with heat and so on. Although outwardly it looked impressive. But let's look at the results. Biden patted the clown on the shoulder, held his ass and… Nothing but what was already promised. And with a difference in time. Not here and now, but later, during ...
Now let's look at the situation more broadly. In terms of global politics. Let us recall the international treaties on the non-proliferation and limitation of nuclear weapons. Do you remember what it is about? About the quantity and quality of not only nuclear charges, but also the carriers of these charges. Moreover, the parties thoroughly consider each carrier. Not everything in general, but each of the possible carriers specifically.
Strategic bombers are just one of the types of such carriers! On December 5, two were damaged. Tu-22M3 Backfire-C and Tu-95MS Bear-H (according to Western terminology). Luckily this didn't happen yesterday. The Americans report that the UAV nevertheless flew and was indeed tangentially hit by an air defense missile. That's why he plopped down in the area of ​​\u2b\uXNUMXbthe steering track number XNUMX.
It turns out that at this particular moment we have two nuclear weapons carriers less. On the one hand, this is not critical in peacetime, and we do not have a war with the United States. On the other hand, the situation in the world today is such that it can break out at any moment. And not only in Ukraine.
It is foolish to hope for a quick repair and return to service of strategic bombers. These machines are too unique to be repaired in a short time. What if yesterday's attack had succeeded? How many cars would miss the 22nd
aviation
heavy bomber division? How many carriers would lose our nuclear forces?
Instead of a conclusion
Russia's nuclear shield has been and remains a certain guarantee of our independence. Far from complete, but quite a serious guarantee. The fact that we continue to exist as a sovereign state, despite all the reforms, perestroika and other betrayal, is largely the merit of those who continue to serve in one of the components of the nuclear triad.
I have heard many times the words that today we are fighting not with Ukraine and Ukrainians, but with the global West and Western armies. Ukrainians are just extras in this battle. Consumable. So, we must clearly share the punishment. For those who do and for those who give orders.
I expressed my point of view on the first question. On the second, everything is much more complicated. It seems to me that the confrontation with the West is for a long time. At least, I do not know of a time when such serious pressure would have been exerted on Russia, when we would have been so fiercely hated and wished for our death.
Our break with Europe and the USA is for a long time. For decades. We must be ready for this. For those who hope that the supporters of the Western idea will somehow win another victory, and the West will accept us as slaves, as it was in the 90s, this will not happen. No longer. Our "partners" will not miss the second chance. They also understand that Russia is a special world, capable of not only reviving in difficult times, but also self-cleansing.
Our nuclear shield must not only be kept in perfect order, but also developed. So that the West does not even have the thought of the possibility of an unanswered strike. And Ukraine is temporary. And, I think, not for long. Here we and the Ukrainians have lost it. Breakdown is inevitable.
The only pity is that we had a hand in this disintegration. For terror against one's own people, one often pays with one's own statehood. Here we have to agree with President Putin...
PS
Russian Foreign Minister Sergei Lavrov expressed the opinion that the statements of "unnamed officials" from the Pentagon about inflicting a "decapitation blow" on the Kremlin, in fact, speak of the threat of the physical removal of Russian President Vladimir Putin. He said this in an interview with TASS on December 27, 2022.