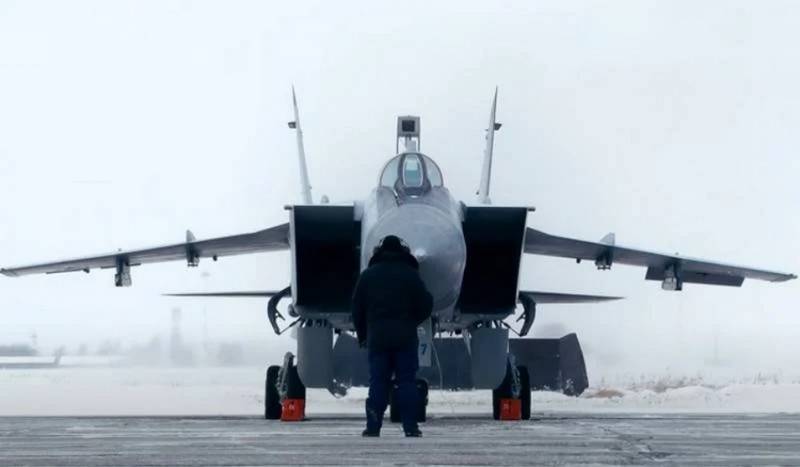 The Russian Aerospace Forces continue to receive modernized MiG-31BM high-altitude fighter-interceptors, a couple of overhauled aircraft have arrived in Kamchatka. This was reported by the press service of the Ministry of Defense.
Already the second pair of upgraded MiG-31BMs is entering service with the Russian Aerospace Forces this month. In early December, two fighters joined the aviation regiment of the Central Military District stationed in the Krasnoyarsk Territory. Now a pair of MiG-31BMs has arrived in Kamchatka, where a solemn ceremony of welcoming the aircraft crews was held at the Yelizovo airfield. The commander of the mixed aviation regiment accepted the report of the pilots on the accident-free flight from the western part of Russia to the east.
The aircraft have been accepted by the engineering and technical staff of the regiment, they will undergo the necessary maintenance and in the near future will begin combat duty for air defense both in Kamchatka and in the Arctic.
The modernization of the MiG-31 to the level of the MiG-31BM was carried out at the Nizhny Novgorod aircraft building plant "Sokol". As part of the modernization, the aircraft underwent a comprehensive factory repair of technical components and assemblies, avionics, navigation equipment and electronic systems were updated, and tactical characteristics were improved. The efficiency of the MiG-31BM in comparison with the MiG-31 has increased two and a half times.
MiG-31 (NATO - Foxhound - Foxhound) is an all-weather two-seat long-range supersonic interceptor fighter. It is designed to intercept and destroy air targets in any range of altitudes, at any time of the day, in simple and adverse weather conditions. According to the plans of the military department, the MiG-31 will serve until the appearance of a new high-altitude interceptor, which will replace the "thirty-first".