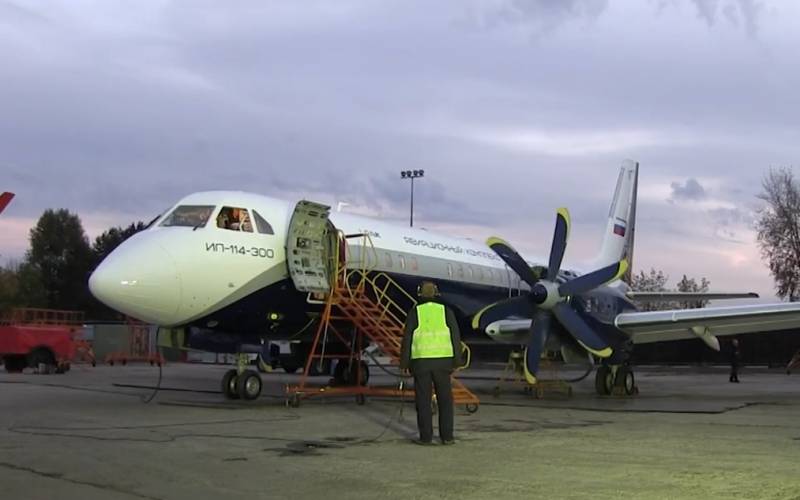 The Il-114 passenger aircraft will be finalized, the Russian government plans to allocate significant funds for work on the aircraft, but already next year. This follows from the relevant order of the Cabinet.
United Aircraft Corporation in 2023 will receive under the state program "Development
aviation
industry" more than 550 million rubles for the revision of the Il-114 passenger aircraft. There are no explanations in the document itself, but it is most likely about the modification of the Il-114-300, which has been created in recent years. Last year it was reported that the aircraft was at the stage tests, he made his first flight in December 2020, the second - in January 2021.
To provide in 2023 from the federal budget to the public joint-stock company "United Aircraft Corporation" (...) in order to finance the costs of finalizing the Il-114 aircraft (...) budget investments in the amount of 554400 thousand rubles
- the government says.
Work on the aircraft will be carried out by UAC together with the Ministry of Industry and Trade and the Federal Property Management Agency.
The Il-114-300 passenger aircraft is designed for operation on local airlines and is a modernized version of the Il-114 turboprop aircraft. It was planned that the latest Il-114-300 would replace the aging An-24 and a number of similar foreign aircraft.
The military was very interested in the aircraft, the Il-114-300, which has a flight duration of more than eight hours, low cruising speed with minimal fuel consumption, was considered as a promising patrol aircraft, reconnaissance or electronic warfare aircraft, etc. But so far everything is at the level of conversations.