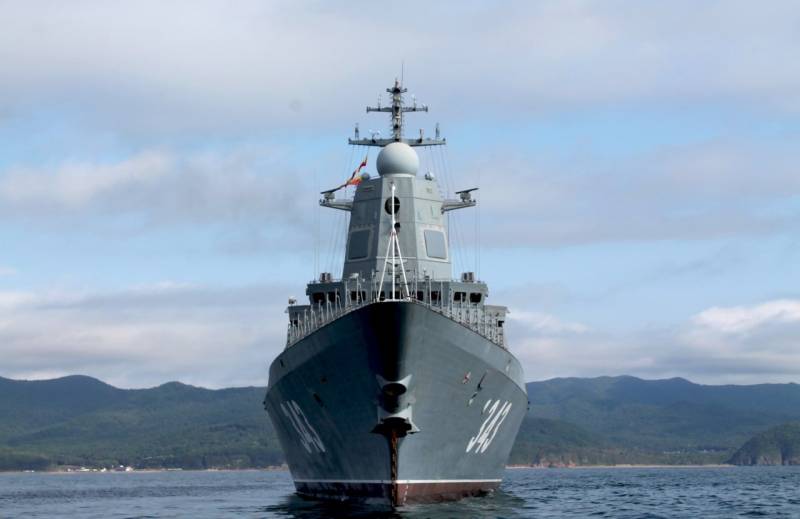 The newest multi-purpose corvette "Sharp" project 20380, built for the Pacific
fleet
, began passing state tests. This was reported by the press service of the Amur shipbuilding enterprise.
The corvette left the delivery base of the Amur Shipyard in Vladivostok and went to the Pacific Fleet's sea ranges, where state tests will take place. How long they will last, there is no information, earlier it was reported that the "Sharp" should enter the combat fleet before the end of this year, but time will tell whether it will be in time or not.
In accordance with the decision of the Ministry of Defense of the Russian Federation, on December 25, the fourth production corvette of project 20380, built for the Pacific Fleet, "Sharp" entered the first stage of state tests from the delivery base of the Amur Shipbuilding Plant in Vladivostok
- said in a statement.
Corvette "Rezkiy" is the fourth project 20380 ship built at the Amur Shipyard for the Pacific Fleet. It was laid down on July 1, 2016, launched on July 1, 2021, and sent to a delivery base in Vladivostok in November. Currently, the Pacific Fleet has three corvettes of this project - "Perfect", "Loud" and "Aldar Tsydenzhapov". In total, the Pacific Ocean will receive six corvettes of this project, then the plant will build project 20385 corvettes.
Corvettes of project 20380 are classified as multipurpose surface combat ships of the 2nd rank of the near sea zone. Features of the ships of this project are compactness, stealth, high percentage of systems automation. Designed for the search and destruction of submarines, surface ships and enemy ships, the defense of naval bases.