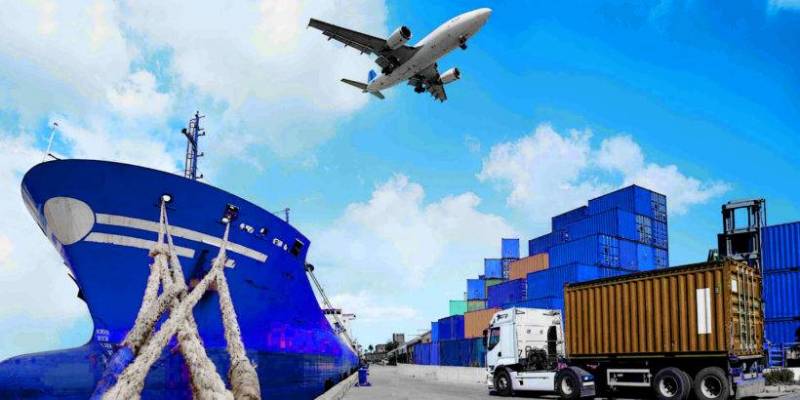 Difficulties of logistics
This year, for obvious reasons, the issue of sanctions is being discussed in full swing, which affect not only settlements between trade participants, but also trade routes. It is no particular secret that, just as Russia seeks to create potentially sanction-safe trade logistics, our dear neighbors also periodically think about creating alternative routes to Russia. Calculation of these paths is usually covered by quite complimentary rhetoric, but the diplomacy of words is just the diplomacy of words.
The difference (and significant) of the current period and similar projects from the situation of past years is that in the past the construction of such alternative trade branches was carried out, rather, on the principle of investing free investment funds. Today, players are already trying to look at these routes as something more substantive and concrete. Moreover, in addition to the threat of sanctions, logistics over the past two years has also encountered objective difficulties associated with both a drop in demand and failures in the pricing system for maritime transportation.
Seeing such a change in approaches, a number of economists and political scientists periodically release alarmist materials that these alternative projects threaten Russian interests and form a kind of external, bypass trade belt around our country. However, to what extent do such expectations and assessments correspond to reality, and is there a substitution of concepts here, when the theoretical narratives of geopolitics begin to prevail over everything else in the minds?
Three directions
If we understand this issue in detail, then, in the opinion of the author, these "paths" and "streams" should be divided into three uneven and even not fully dependent on each other directions.
The first direction can be called "energy", and it concerns the generation of electricity and the distribution of this generation.
The second direction is raw materials, it is the extraction and / or transit of the three main types of hydrocarbon raw materials: oil, natural gas and coal. The third direction is already trade and, in turn, is divided into three unequal shares: the movement of goods of own production, imports and net goods transit.
These directions at the upper, political level are mixed, but at the level of practical implementation they do not have direct interdependence, and each of them depends on many specific circumstances, where political strategy and goal setting are necessary, but far from sufficient conditions for their implementation.
If we take it "according to the compass", then in a broad sense we see two major directions: the so-called. East-West and North-South corridors. Observers, considering these directions, usually single out one starting point of routing - China, and two main end points - the markets of Europe and India.
However, in practice, the globe narrows, and quite significantly - to three main lines. Two of them are directly Russian transit: the ports of Primorye and the north of mainland China - Manchuria to the Trans-Siberian Railway, China - Kazakhstan (Alashan - Dostyk): either a similar connection with the Trans-Siberian Railway, or access to the Saratov region. The third is China - Kazakhstan - Azerbaijan - Georgia - Turkey. Actually, this is all that the regional geography and transport network can seriously offer as a logistical alternative to sea transportation to and from China through the south.
Of course, there are other entry points to the Russian transport network, for example, through Mongolia, but, firstly, everything rests on the same capacity of the Trans-Siberian Railway, and secondly, Mongolia itself is not ready to increase this flow - reconstruction is needed everywhere. Reconstruction and electrification is a natural scourge of Eurasian transportation. We need second tracks, we need to bring generation, build intermediate sorting and overexposure points. In Siberia, there is another problem - bridges and tunnels.
Explosive growth in rail traffic to Europe
And there is no serious alternative for the railway in terms of deliveries to Europe through Eurasia and bypassing Eurasia. Road transportation is at least 2,5 times more expensive, and not at all because of the greed of the carriers, and the Northern Sea Route, for all its purely theoretical attractiveness, does not allow, simply due to climatic conditions, to carry a significant range of goods.
Let's consider those volumes that go along the northern corridor through Russia and to the EU, and along the southern corridor - through the Caspian Sea. In both directions, about 2022 containers will pass through the northern route in 750, and 40 containers through the southern route. In order for the reader to roughly imagine the scale as a whole, it should be said that one port of Shanghai handles up to 18 million units of containers a year in the European direction, and in total - over fifty million. But there is more than one such port hub in China.
The explosive growth of rail transportation to Europe was actively discussed in 2021, when a kind of scissors arose as a result of the Covid-19 pandemic: a decrease in the volume of sea transportation disrupted logistics, some containers were removed from the lines, some went half-empty, the dispatch-acceptance process chains were disrupted, the cost rent has gone up.
On the other hand, fluctuations in the fuel market raised the price of freight directly. The chain reaction in pricing forced logisticians to pay attention to railway routes that are less voluminous in terms of throughput, but more stable in price, which caused an increase in traffic, even according to formal indicators - explosive (due to the "low base"), but about no as we see, it was not and is not necessary to speak of a global alternative.
Therefore, this year, as soon as consumption stabilized and logistics and fuel began to bounce back, the growth of transportation to Europe via land routes stopped. And the point here is not even the beginning of a military special operation in Ukraine, because the southern route also did not grow significantly in scale.
And why, in this case, the growth of traffic along the trans-Caspian (southern) route and the Baku-Tbilisi-Kars (BTK) branch attracts such attention of observers?
But because this branch is now gradually drawing on itself not container, but volumetric cargo transportation from Central Asia and even from Russia itself to Turkey. If earlier the forest without alternative went by sea, today it is more convenient and cheaper to transfer the forest through the BTK, and not only the forest.
But this is a more substantive and concrete problem than the talk that the BTK "will take away the route from China to Europe from Russia." Moreover, it will be a very non-trivial task for the entire "Central Asian" and Turkish consortium to increase the volume of cargo transportation even to the minimum 5 million tons stipulated in the BTK project.
Unique management challenge
And here we are faced with some unique managerial problem of Russian goal-setting. We have a specific task - to find the optimal ratio between the transportation of goods in the southern direction. To prevent a serious redistribution of the flow to the Transcaucasian route. But we can talk about this only in the context of some global schemes and projects. Otherwise, the scale, apparently, is not the same, not interesting.
Similar
история
with rail transportation via the Trans-Siberian Railway to the European Union. We in Russia need this route, we need to expand it. But not so much for Europe, but for themselves. We have a lot of cargo that we can send to China. For our market, we also need Chinese goods, and we also need to develop Siberia through the railway network.
But logisticians and business are forced to talk about these issues at the level of public administration through the prism of hypothetical geopolitics. Although it is transit along the China-Europe line, as we can clearly see, this is only a kind of logistical "bonus", additional income for our operators, important and necessary, but only as an addition to the main task - our own export, our own import for our market and our own connectivity Russia into one.
Political scientists usually wonder why China is investing so sparingly in the organization of Eurasian transportation. Yes, in principle, because of the scarcity, which considers transshipment from Shanghai and the real potential of transportation by land and gives exactly as much as this potential contains a practical result.
The Russian market of 150 million people is solvent and capacious, but it turns out that its scale and tasks are not enough for our "strategists" if something global is not attached to these issues. They say that now we are reconstructing the Trans-Siberian Railway, and a third of shipping by sea to the EU will go to us. And if it does not leave, then it is not necessary to build? It is similar, after all, with discussions about the Northern Sea Route, if "global commodity flows" do not go along this route, then it seems that it is not really needed, but we, it turns out, are building and preparing for this particular global challenge.
Or maybe we need this route even without a call, because the North is undeveloped, deserted and empty? And when the North comes to life, it is quite possible that some kind of freight traffic will go there as an additional income. And with us, on the contrary, we need to revive the North in order to prepare for transportation. Is it possible to do without a global project?
Corridor "North - South"
This unique ability of our management is to put the cart before the horse, because it manifests itself not only in terms of the Europe-China route. We also have a project for a trade trip to India. It is called the "North-South" corridor and runs in the project through the whole of Iran, then through Pakistan.
The problem, however, is that in India they look with some surprise at this overland route, and no wonder, because even though the railway from Iran to Pakistan exists (Zahedan - Quetta), but the volume of traffic on it per year ... about 50 thousand . tons. This is because Pakistan and Iran each have their own port infrastructure on the coast: Bander - Abbas, Chabahar, Gwadar. It is easier and cheaper to get large volumes from there, acting independently, and then redirect goods deep into your territory, distributing cargo along internal lines.
Does this mean that the southern route for Russia is a theory?
And it depends on how to set the task. If you put it as usual - through the prism of geopolitics, in the form of a hypothetical overland alternative to the world's traditional trade, then it is a theory, but if you set the goal of covering the Iranian market, then a very specific practical meaning appears in all this.
The Iranian market is more than 85 million consumers, and taking into account trade with Iraq and Afghanistan, it is even approaching one hundred million. Today, Iran intends to build the railway network in such a way that from the east it would connect with Chinese supplies through Turkmenistan, and from the north the railway would enter the Russian market through Azerbaijan, and the Caspian ports would fit into it, through which it would be possible to import goods (formerly total food) from Kazakhstan and Russia.
The China-Kazakhstan-Turkmenistan section is working and connected Iran with the Chinese Alashan, and upon completion of the construction of the Rasht-Qazvin section and the Russian-Azerbaijani route will get access deep into the territory of Iran - to Yazd, Isfahan and further - to Beluchistan.
In theory, this will be the very route to India, but in practice, with a minimum of geopolitics, it will make it possible to multiply the volume of deliveries to Iran of specific commodity groups: grain and leguminous crops, vegetable oil, timber and lumber, which our neighbor consumes per year for amount only in relation to Russian selling prices for 16 billion dollars. Half of this volume of agricultural crops is imported by Iran, the timber is imported almost entirely.
Isn't a market size of one third of our exports a self-sufficient target? In this direction, there is room for our exporters to develop, especially since no one interferes with more complex projects, for example, flour for export to neighboring states - a market that Turkey has taken over in the Middle East today.
And here again, geopolitical narratives begin to play a negative role, because you can efficiently load the railway only by launching heavy, bulky cargo along it, but all the rhetoric around trade mega-corridors is the story of creating an alternative to container shipping - strategically unpromising. It turns out that in order to solve specific and really profitable tasks, all questions need to be pushed into the logic of creating monstrous and obviously economically inefficient schemes. And this is how we do it year after year.
If you want to work out the issue of state support for supplies to the south, you need to attach the topic to geopolitics, otherwise it will not take off. Question about specific rates? We need to play this record again. Is there a threat of part of the cargo leaving through the Caucasus to Turkey? This means that we again take into account the story that a route from China to Europe is being created bypassing Russia, and it does not matter that there is actually a small cart of goods from China there in total.
Conclusion
In general, it is time to start looking at the markets of Eurasia, and this is a total of 320 million consumers, as strategically self-sufficient and self-sustaining elements of international trade, without trying to build work there through the prism of European transit and European geopolitics. Our Central Asian neighbors are now building just that - small, but specific connecting sections of 70 km, 90 km, 140 km, maybe we need less, but better?