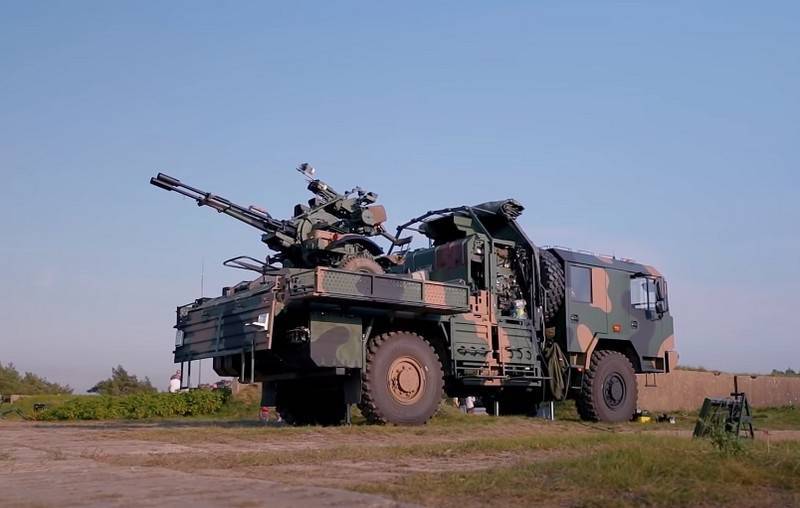 Poland continues to rearm its armed forces, purchasing new equipment and
weapon
, including anti-aircraft systems. Two Pilica air defense batteries entered service with the country's air defense forces. This was announced by the Minister of National Defense of Poland Mariusz Blaszczak.
According to the press service of the Polish military department, both batteries were delivered to units of the 3rd Warsaw Anti-Aircraft Missile Brigade. The contract for the production of six batteries of anti-aircraft installations in 2020 was received by the Polish state-owned company PGZ.
The battery of the Pilica short-range air defense system consists of six firing systems, each of which is separately transported or towed by a truck.
The PSR-A Pilica short-range anti-aircraft missile system includes the ZUR-23-2KG Jodek-G anti-aircraft gun, as well as two short-range Grom / Piorun guided missiles. The new version of the Pilica + system is equipped with MBDA CAMM missiles. One battery includes six combined complexes, as well as artillery tractors, a command post, a radar station, 2 transport vehicles and 2 vehicles with ammunition. The main purpose of this air defense system is to cover the batteries of the Patriot system.
ZUR-23-2KG Jodek-G was created on the basis of the Soviet 23-mm ZU-23, the Piorun complex (originally designated as Grom-M) is a further development of the Grom MANPADS, which was originally a licensed copy of the Soviet Igla-1 MANPADS. The declared firing range of the gun is 2 km, MANPADS - 5 km. Each installation can work both autonomously, as it has a computerized fire control system and optoelectronic devices, or be integrated into a layered anti-aircraft defense system, receiving target designation from an automated control system.