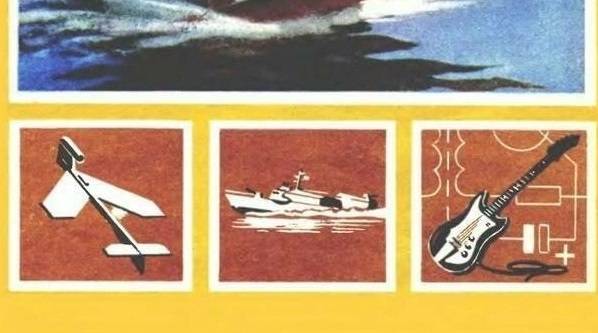 Images of rocket plane models were present in Soviet times even on the covers of the Modelist-Constructor magazine, they were so popular
"I'm flying to my death following a dream.
To know, my destiny is to cherish dreams.
And there with a sigh in the air
Scatter fiery tears.
Rocket. A. Fet, 1888
From model to something more...
And it happened that back in 1966 the Commission on Rocket and Space Models of the International
aviation
Federation (FAI) developed a sports code in which rocket planes were divided into four classes and given them "bird" names: "Sparrow", "Swift", "Eagle" and "Condor". In 1975 and 1989, in the FAI code, rocket plane models were divided into categories and classes, which differed in the total thrust impulse of the engines and in their launch mass.
The requirements for each category were also clarified, and at the same time the classes themselves became five at first, and then, since 2001, six. That is - everything is like in a serious sport. And this sport was also really serious. Not children, but adult uncles went to the start with models of rocket planes with wings made of the lightest balsa, which was not available in the USSR, but masters and champions got it somewhere. With carbon fiber hulls that weighed some grams, while their opponents from rural SUT came with democratic pine and plywood weighing tens of grams. In a word, everything was in the best Soviet traditions, when everyone was equal, but some were more equal than others. And ... they used this equality with maximum efficiency.
But now let's talk about something else. All these children's and adult homemade products, designed for the development of mass technical creativity in the country, have largely prepared the basis for the development of today's designs, moreover, at a completely new level and with a new purpose.
Take the same rocket planes. What was the essence of the competition with them? Whose fly farthest? Will it rise higher? No! Whose longer will plan! That is, they were rocket ... gliders. Only this glider had to be launched like a rocket, while not having any other lifting force, except for the power of the rocket engine, then wings should have appeared, straightened, opened, and ... this rocket plane had to plan to the ground. And not longer than a certain amount of time. And this time was limited by the burning of the Fickford cord. As soon as its segment, lit before the start, burned out, it burned through the thread that held the stabilizer in the "up" position, after which the Hungarian rubber band moved it to the "down" position, and the rocket plane quickly descended in a spiral. For three starts, therefore, it was necessary to score maximum points, that is, to fly stably in all respects!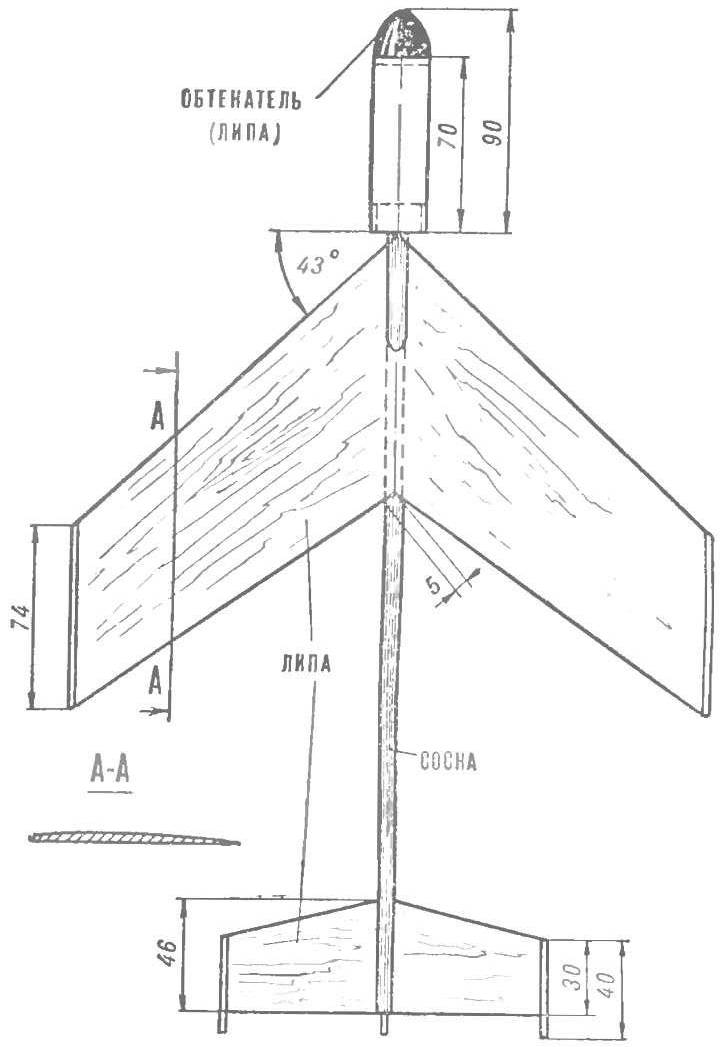 The simplest model of a rocket plane with a rigid wing
Several rocket plane systems have been developed. The simplest one is with a rigid wing and a stabilizer, similar to an aircraft, but not creating aerodynamic lift during takeoff. Here we needed a very light balsa wing, which in some way would be translated at a certain angle of attack at a height - and allowed the model to glide and land.
In 1972, modeler A. Gavrilov from Krasnozavodsk developed a model with a rotary wing along the fuselage, and modeler S. Morozov from Elektrostal proposed a wing whose consoles folded towards the center section. Moreover, before the start, the wing was also assigned to the tail section, where at the time of takeoff it played the role of a stabilizer.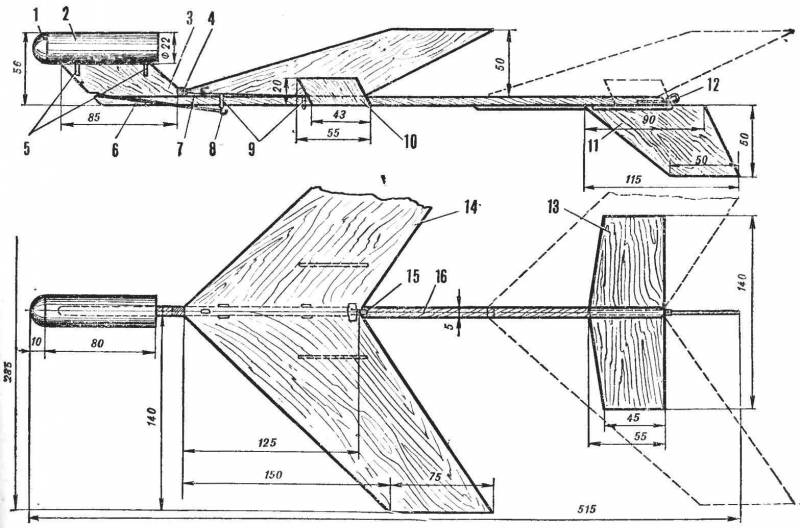 Model S. Morozov
After the expelling charge of the MRD (microrocket engine) was triggered, it moved forward, after which the model began to plan. In 1982, another original model appeared at the All-Union competitions, developed by Moscow modellers under the guidance of coach V. Minakov. She and the console folded and turned the wing. The scheme was called "Moscow", according to the place of its birth, and received the widest recognition in the USSR, that is, the rocket planes made on its basis turned into a rather massive sports "projectile".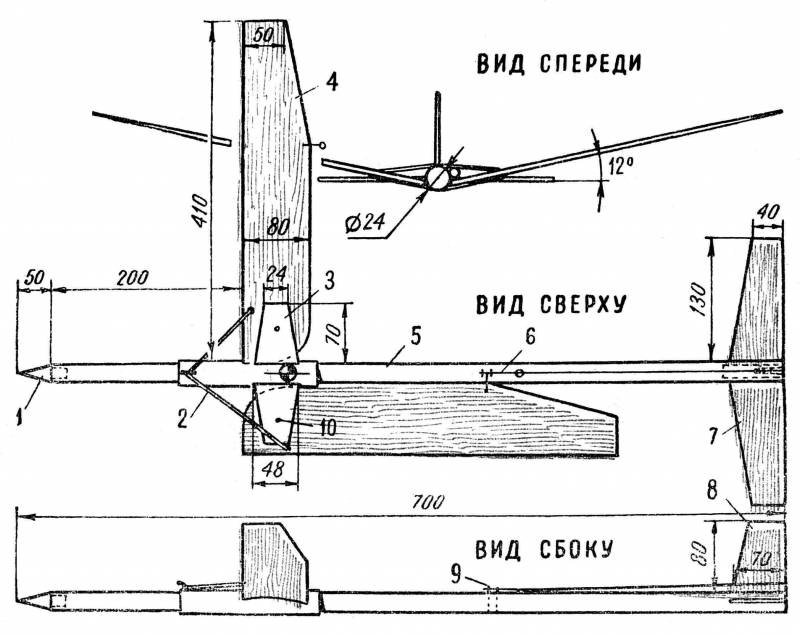 Rocket plane with folding wings
When folded (on takeoff), such a rocket plane resembled an ordinary rocket. Only now his wing was located along the fuselage. And after the MRD fired at an altitude of about 200 m, it turned around with the help of elastic bands across the fuselage, its "ears" (console) opened up - and the model began to soar like an ordinary glider.
Another group of rocket planes is made up of aircraft made according to the "flying wing" scheme. V. Khokhlov became its author and developer. Hence its name - "Khokhlovskaya"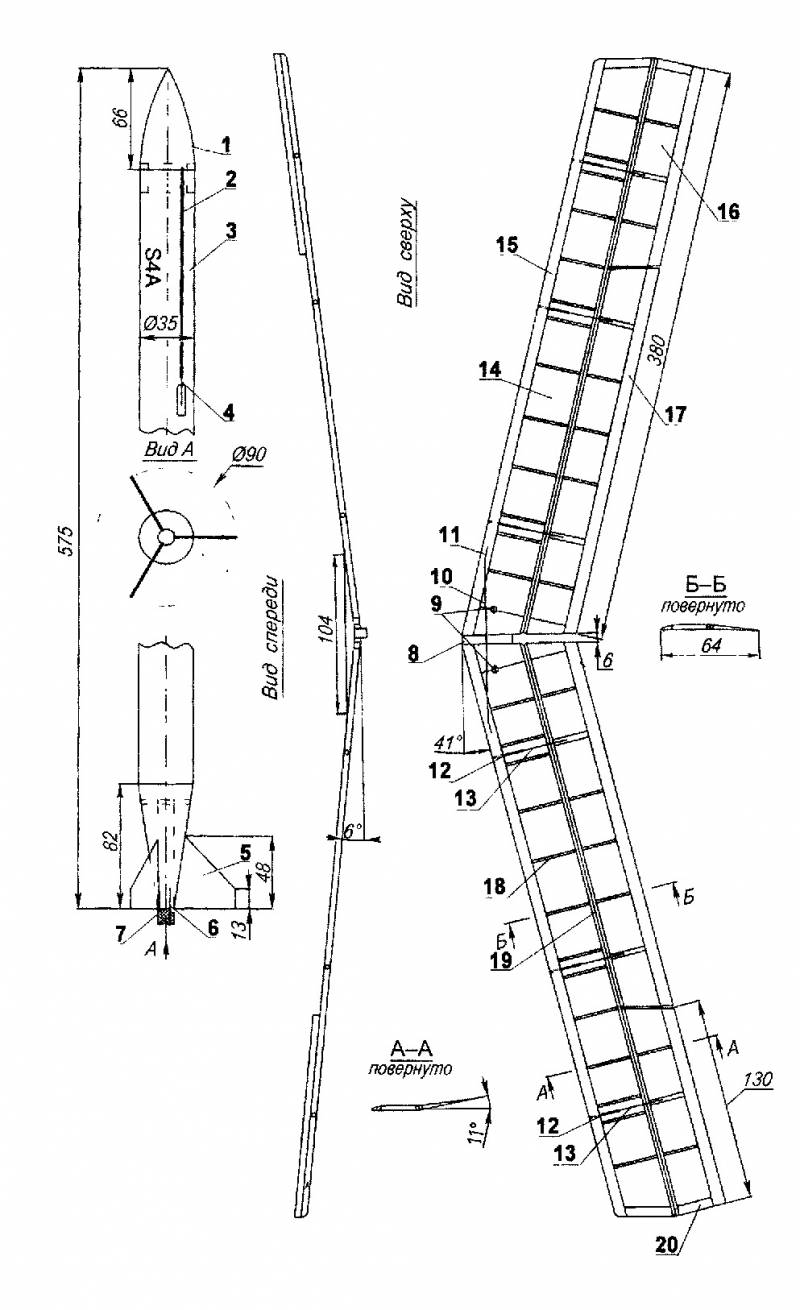 A model of a S4A class rocket plane of the "flying wing" type, made according to the "Khokhlov scheme": 1 - head fairing, 2 - rubber shock absorber, 3 - carrier model container, 4 - suspension thread, 5 - stabilizer, 6 - MRD, 7 - latch MRD, 8 - wing pylon, 9 - weights, 10 - wing opening elastic, 11 - hook, 12 - elastic, 14 - wing, 15 - fastening threads, 16 - end flap, 17 - trailing edge of the flap, 18 - rib, 19 - spar, 20 - ending
Its scheme turned out to be very unusual, but quite interesting. And most importantly, not too time-consuming for a modeller. In addition, it met all the technical requirements for this category of rocket planes, could take off with an inclination of up to 30 ° from the vertical and glide steadily. In addition, it had a small mass of the actual planning part and, consequently, also a small load on the wing.
Rocket planes made according to this scheme belonged to the container type, that is, they were folded inside the rocket body, while the glider itself - the "flying wing" - was folding, which made it possible to launch it to a very high altitude.
How then was this achieved? Yes, it's very simple: each wing of the airframe consisted of two halves, folding along the spar with flat sides to each other, and convex - outward. That is, such a rocket plane was launched, so to speak, "in the form of a rocket", but there, high in the sky, its body opened up and fell down on a streamer parachute. The wings, on the other hand, opened in width and acquired an aerodynamic profile, after which they were parted to the sides and received a V-shaped profile and a characteristic sweep along the leading edges. All this made it possible for such a glider (besides, it had a very long wing!) to stay in the air for a long time and fly a long distance, even for a model.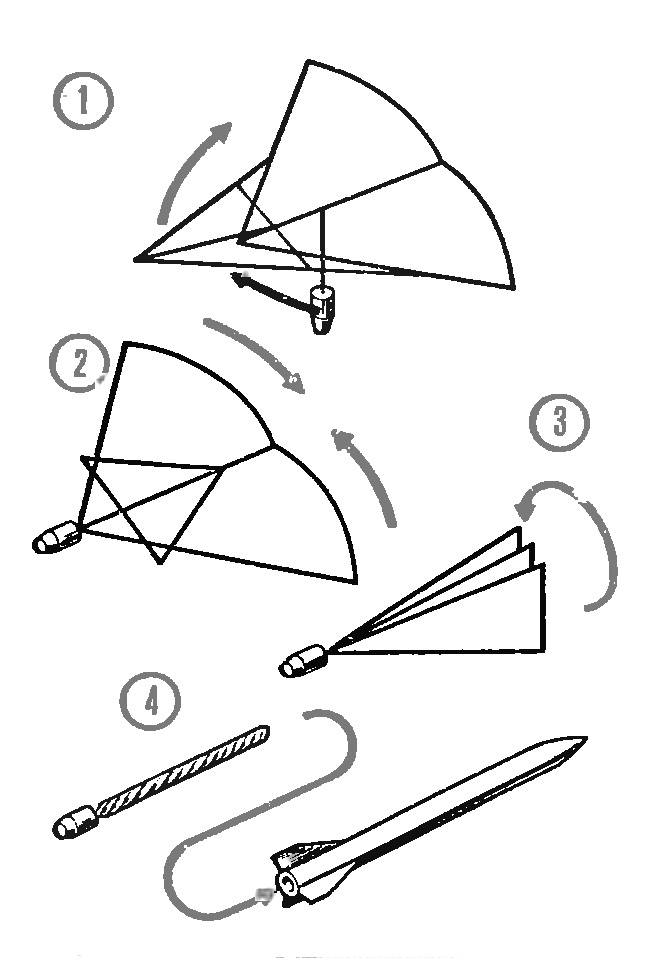 Rocketplane with a flexible container-type wing: 1 - this is how it looked before launch, and the nose fairing of its "rocket base", as it is very clearly visible, looks down. That is, if you put a video camera in it, then in this way you can get a high-altitude soaring reconnaissance glider without any problems! 2 - the wings of the rocket plane are folded in order to insert them into the rocket body; 3 - each time the wings are more and more compact; 4 - a rocket plane with a fully folded wing and with a head fairing (and it can be a GLONASS-guided warhead) is retracted into the rocket body
Rocket planes with a flexible wing made of lavsan film were also very popular. They were also of a container type: the fuselage of a rocket plane with a drop-down V-shaped flexible wing was inserted into the rocket body, which, together with the head fairing of the rocket body, was fired from it with an MRD expelling charge. And there were also such models in which flexible wings were extended from the body through the slots made in it.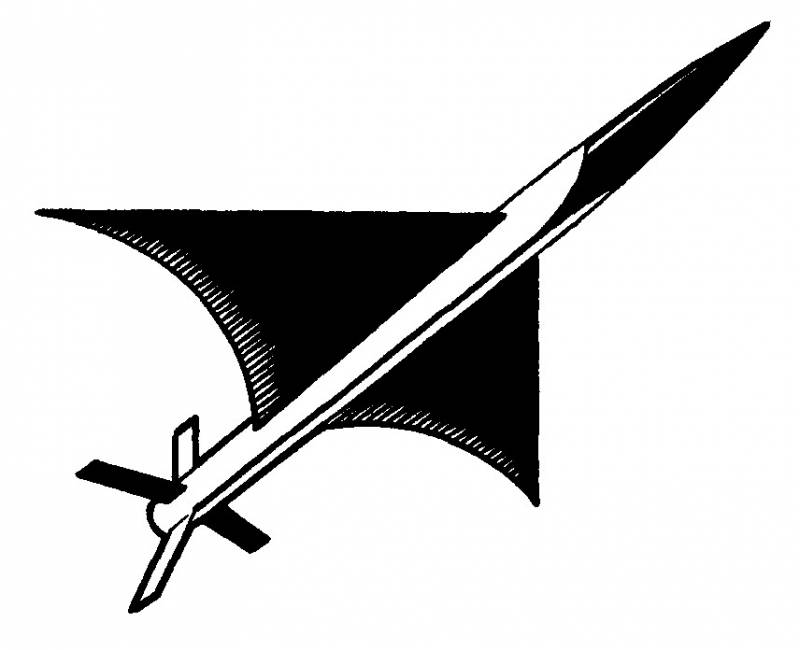 Rocketplane with a flexible wing that extends from the body
And now let's see how all this accumulated knowledge can be applied today within the same CBO. It is well known that the most diverse missile systems are used there today.
weapon
and UAV. Why not combine both in the interests of business and create long-range combat rocket planes for reconnaissance and strike purposes?
Let's start with the simplest: a short-range rocket plane with a folding wing. What is its advantage over mortars and the same "Cornet"? And its advantage is that its speed is relatively low, therefore it does not require anti-shock qualities from the design of the electronic filling, which is simply necessary for the same corrected mine "Daredevil". The wings make it possible to raise such ammunition to a very high altitude with the help of even a rather weak MRD, and from there, having seen everything down to the last soldier's latrine, he can easily dive there. And here its speed will be incomparably greater than the speed of any "copter", which means that it will be much more difficult for the enemy to "run away" from a strike from the sky.
Let's move on... On the basis of a rocket plane with a flexible wing, it is possible to create a high-altitude loitering ammunition with a low RCS, but at the same time capable of staying in the air over enemy territory for a long time. The same can be said about rocket planes of the "flying wing" type. Launched by Smerch and Uragan missiles, they will be able to fly many tens, if not hundreds of kilometers, while reaching the most remote enemy targets. Moreover, their design can be quite simple, although it will undoubtedly require modern materials and electronics, even the simplest ones.
Here it is necessary that serious workers in the military-industrial complex remember such a past of ours and those successful designs that were then created and sufficiently tested, even on models. Who knows what original designs may emerge from these yesterday's ideas and today's materials.
PS I have never particularly liked rocket plane models, as well as timer aircraft models. I didn't see any special meaning in them, except for "filling my hand", and I always considered modeling to be something completely different. But here's how it all turned out, and what kind of meaning was hidden in these "sports equipment"!