The assault operations of the Russian troops in Maryinka continue. To date, the fighting has moved from Druzhby Avenue, which actually divides the city along the central axis from north to south into two parts, to the western quarters of Maryinka. The Ukrainian military traditionally equip firing points mainly in high-rise buildings. If there are none on the ground, they try to use the private sector with previously created communications in the form of trenches and trenches, allowing them to move from one house to another to fire from a change of position.
To date, Russian artillery is firing at the positions of the Armed Forces of Ukraine, equipped in the area where Shakhtyorskaya, Kashtanovaya, Ivan Franko streets are located. This is the western part of Maryinka. Perhaps the main success of the RF Armed Forces in this area is that the enemy has lost the opportunity to shell Donetsk from the city limits of Maryinka, which was previously carried out by him (the enemy) systematically. At the same time, the enemy traditionally resorted to the tactics of deploying firepower, including MLRS, directly in urban areas, from where he hit Donetsk. The pushing back of the enemy goes further and further to the west, although not as fast as the Donetsk people themselves would like in the first place.
Detachments of the Wagner group operate in the city blocks of Marinka. The fighters of the assault units are moving from house to house, occupying, among other things, those positions of the Armed Forces of Ukraine for which the artillery has been intensively worked out.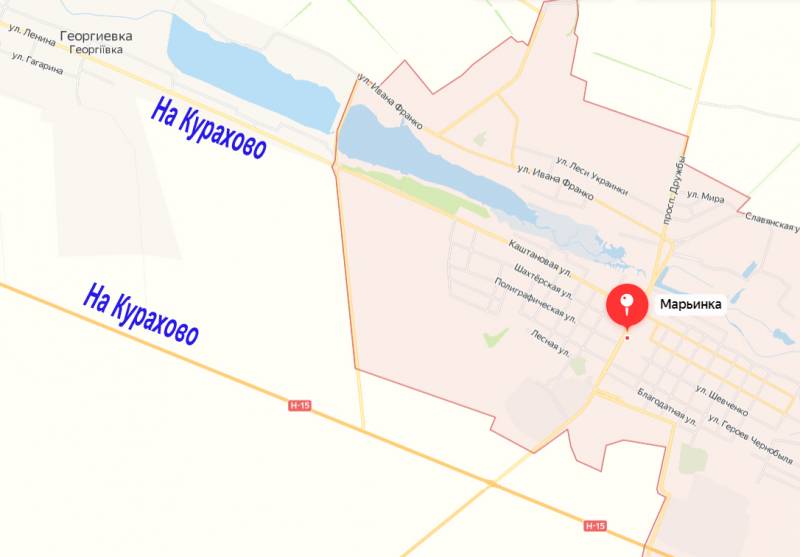 It is extremely important for the Ukrainian troops to retain full control over the highways from Kurakhovo. However, these roads are under fire control by Russian troops. It was during an attempt to transfer equipment to Marinka from Kurakhovo that equipment in the column was destroyed the other day. The Armed Forces of Ukraine lost three infantry fighting vehicles, several army vehicles, including those with personnel and ammunition.