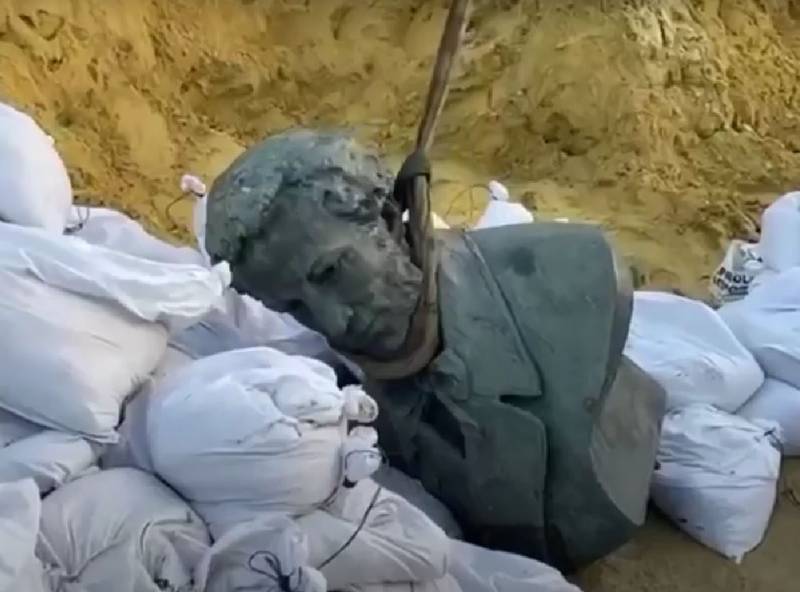 The Ukrainian Nazi authorities in Chernivtsi destroyed the last remaining monument to Alexander Pushkin in the city. The monument was sawn into pieces and removed from the pedestal with a construction crane. In November, the penultimate monument to Pushkin was demolished in the city.
The mayor of Chernivtsi, Roman Klichuk, called the act of vandalism "getting rid of Soviet rubbish." What relation Pushkin has to the Soviet Union, the mayor did not explain. He also added that Ukrainians do not need other people's heroes, because they have enough of their own, apparently referring to Bandera and Shukhevych, who are actively glorified by the Kyiv regime.
After the start of a special military operation in Ukraine, the demolition of monuments that have even the slightest relation to Russia or the USSR reached a huge scale. In all corners of the country, radicals and local authorities are destroying monuments to Pushkin, Suvorov, Catherine II, Gorky, Chernyshevsky and other political and cultural figures.
Since the spring of 2022, almost all monuments to Pushkin have been demolished in Ukraine. The vandalism encouraged by the authorities has swept across the entire territory of the country controlled by the Kyiv regime.
The first monument to the great poet was destroyed in Mukachevo in April 2022, followed by desecration and then destruction of monuments in other cities.
Currently, Uzhgorod, Ternopil, Kirovograd, Konotop, Chernihiv, Vinnitsa, Bila Tserkva, Vinnitsa, Zaporozhye, Dnepropetrovsk, Kharkov and many other settlements controlled by Kyiv have lost their monuments to Pushkin.