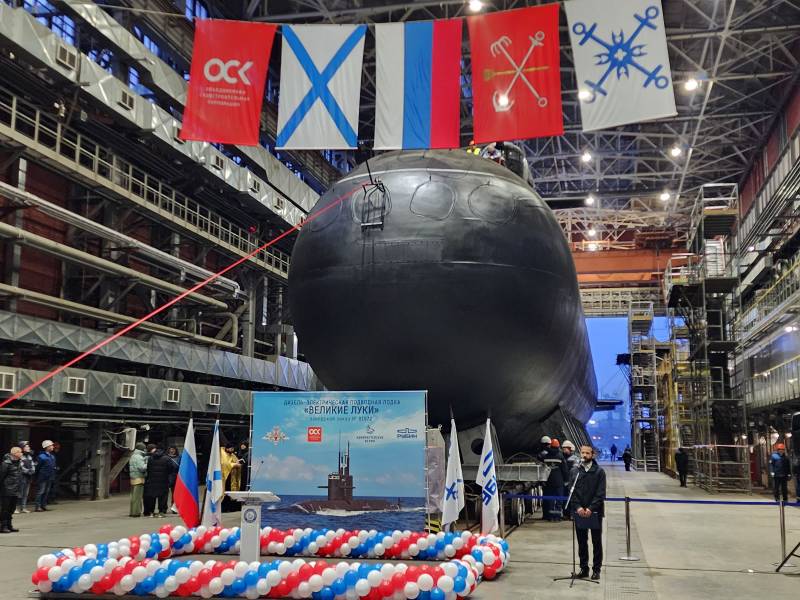 The second serial submarine "Velikiye Luki" of project 677 "Lada" was launched. The solemn ceremony was held at the shipbuilding enterprise "Admiralty Shipyards". This was reported by the press service of the CVD.
The Velikiye Luki diesel-electric submarine was laid down on November 10, 2006 under the name Sevastopol, but problems with this project led to the fact that the submarine was relaid in 2015 under the name Velikiye Luki according to a revised project, taking into account the trial operation of the lead submarine of the project " Saint Petersburg".
The first serial submarine of the Kronstadt project was launched in 2018, after which it was completed for three years, bringing it to factory sea trials at the end of 2021. The submarine is currently being prepared for state trials. The lead submarine of the St. Petersburg project became part of the Northern
fleet
in 2021, after 11 years in trial operation. Currently, two more diesel-electric submarines of project 677 are being built at the Admiralty Shipyards - Vologda and Yaroslavl. Both submarines were laid down on the same day in June of this year.
Unlike the lead submarine, which is armed only with mines and torpedoes, the Kronstadt and Velikiye Luki were armed with Caliber cruise missiles. In addition, both submarines are equipped with a new, more powerful and less noisy electric motor. Previously, it was planned to equip the submarines of this project with an air-independent (anaerobic) installation, but so far there have been no reports of the creation of VNEU.
It was the problems with the Lada project that led to the decision to build six Varshavyankas for the Pacific Fleet, although initially it was the Ladas with VNEU that were planned for the Far East.