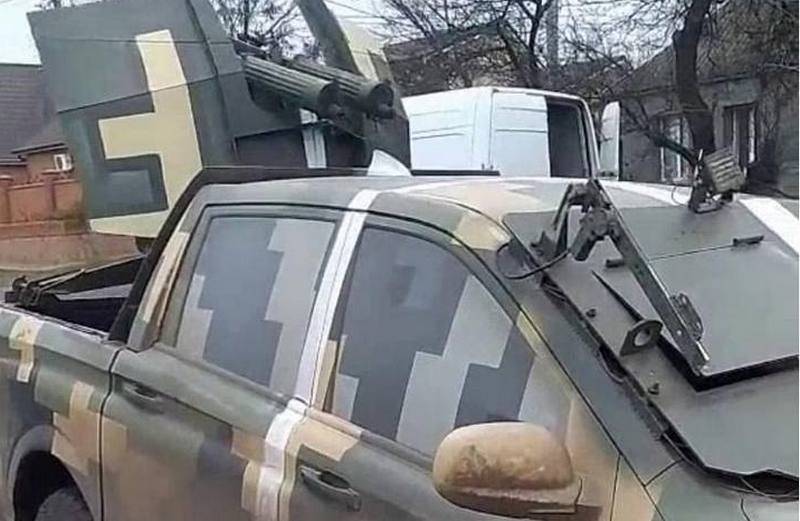 The heavy losses of the Armed Forces of Ukraine in armored vehicles since the beginning of the Russian military special operation are forcing the Ukrainian military to look for other ways to maintain mobility and the ability to fire. Basically, all this results in the creation of the so-called dumbbells.
The term "gantrak" (English gun truck - armed truck) first appeared during the Vietnam War, when the Americans faced heavy losses of trucks. To repel the attacks of the Vietnamese guerrillas, some of the American vehicles underwent makeshift armor and received weapons.
The Ukrainian army is now following the same path, also facing heavy losses of armored vehicles. If the personnel units of the Armed Forces of Ukraine are still supplied with factory equipment, mainly of foreign production, then the territorial defense units receive it on a residual basis. All this leads to the creation of "Ukrainian dumbbells".
A photo of another "masterpiece" of Ukrainian engineering thought appeared in Ukrainian public pages, from where it migrated to our resources. Judging by the photo, a pair of Maxim machine guns with self-made protection were installed in the back of the pickup truck, the car itself was "camouflaged", also installing something like armor protection on the front windows. The use of machine guns "Maxim" as the main
weapons
forced, heavy machine guns are simply not enough. Therefore, what is available is taken.
Recently, so-called groups of "drone hunters" on pickup trucks have appeared in the Armed Forces of Ukraine. The design of the "anti-aircraft installations" is no different from the "gantrucks", only an anti-aircraft sight is installed on the machine gun. The main task of such "hunters" is to identify and destroy Russian "Geran" kamikaze drones.