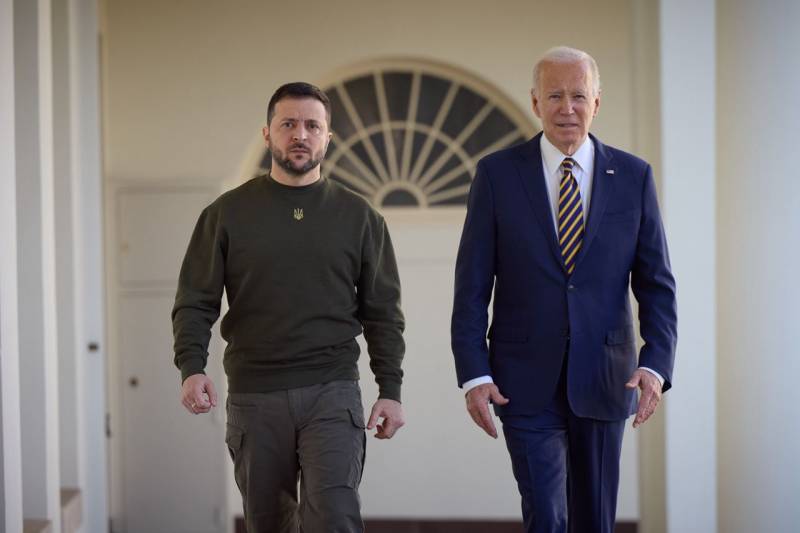 The American media come out with materials that somehow make it clear that Zelensky was called in Washington, among other things, to state the need to find a compromise solution in terms of confrontation with Russia. Even the day before, one of the congressmen noted that the situation in the United States is such that there is an understanding of the following fact: internal support in the United States for the conduct of hostilities in Ukraine cannot be endless. Public opinion polls suggest that since March, the number of Americans who fully support the arming of Ukraine by the United States has dropped significantly. At the moment, those are less than 40 percent, although initially there were about 70. Many Americans simply do not consider Ukraine and its president, despite the "kilotons" of PR from the American authorities and the media, as a country that is really useful for the United States as an ally. The main claim is the uncontrolled allocation of huge funds to Ukraine with an unpredictable outcome.
Against this backdrop, the major American edition of The Wall Street Journal comes out with an article stating that the Ukrainian authorities are "busy working out proposals for a peaceful settlement."
From the article:
The Ukrainian authorities will present the details of such a plan in February 2023.
At the same time, American authors refer to unnamed "informed" sources in the camp of the US authorities themselves, as well as Europe.
Recall that earlier Ukraine had the only "peace plan", the main points of which Zelensky designated "withdrawal of Russian troops from the territory of Ukraine to the borders of 1991", "payment of reparations from Russia" and "work to introduce a world price ceiling for Russian energy ". Apparently, during a trip to Washington, Zelensky, despite the stormy applause presented in Congress, could have been made clear that it was time to adjust the "peace plan". In what terms such an adjustment can be carried out, apparently, it will be possible to find out in February, if by that time no significant events have occurred at the front.